Maria Shriver on feeling 'invisible' while married to ex-husband Arnold Schwarzenegger and the sound advice she received to feel better
In a new interview, Maria Shriver reveals that she went to a convent to "be in silence and look for advice" following her 25-year marriage to ex-husband Arnold Schwarzenegger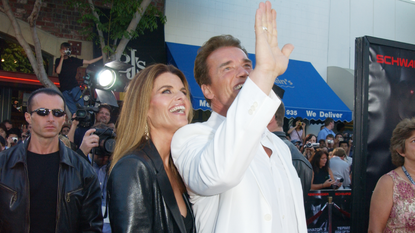 (Image credit: Jon Kopaloff / Contributor)
Over a decade after officially filing for divorce, Maria Shriver is speaking up about her 25-year marriage to Arnold Schwarzenegger, specifically addressing feeling "invisible" around him while in public.
"I would find myself getting angry at people who came up and didn't acknowledge that I existed when I was standing next to Arnold or when I was standing next to my uncle or somebody," Maria said while appearing on the Making Space with Hoda Kotb podcast earlier this week, referring to her late uncle, former United States president John F. Kennedy. "And then I [realized] they were teaching me a lesson that it's not about whether they see me [but] do I see me? Am I visible to me?"
---
Maria and Arnold were first introduced by NBC journalist Tom Brokaw back in the summer of 1977 at the Robert F. Kennedy Tennis Tournament.
The couple got married in 1986 and had four children together: the now 33-year-old Katherine Schwarzenegger Pratt, the now 31-year-old Christina Schwarzenegger and sons Patrick Schwarzenegger and Christopher Schwarzenegger, who are currently 29 and 25, respectively.
Back in 2011, Maria officially filed for divorce, just a few months after Arnold admitted to having fathered son Joseph Baena, now 25 years old, with Mildred Baena, the Schwarzenegger family's longtime housekeeper.
It took a decade, but the divorce was finalized in December of 2021. Despite the breakup, Maria, 67, and Arnold, 75, remain close, appearing as a family unity at official events and on social media.
But it's been a long way to this point. As pointed out by Maria on the podcast this week, she felt "the freedom or permission" to be herself only when she actually separated from her former husband.
In her quest to find herself, the journalist also decided to visit a convent. "I first felt like, 'Oh, I'd better go and figure out like, what is the truth?'," she said on the air to Hoda. "I did so many things, but one of the things I did is I went to a convent, a cloistered convent, to be in silence and look for advice."
She credits the unusual visit with the start of her recovery process.
"The Reverend Mother there said to me at the very end - and I actually have written about this, but I haven't shared - she said, 'I think you came here looking for permission,''' said Maria. "I felt like I was in a scene out of The Sound of Music. She says, You can't come live here, but you do have permission to go out and become Maria.' I was like, sobbing. I was like, 'Who is that?' "I think the word 'permission' … I had never given myself permission to feel, to be vulnerable, to be weak, to be brought to my knees, and the world did it to me. And then I was like, 'Okay, God, let's go. I'm gonna take this and learn everything I can about my role and what I need to learn.' "
Clearly, inspiration to be who we really are can come from the unlikeliest of sources.
Anna Rahmanan is a New York-based writer and editor who covers culture, entertainment, food, fashion and travel news. Anna's words have appeared on Time Out New York, the Huffington Post, Fortune, Forbes, Us Weekly, Bon Appetit and Brooklyn Magazine, among other outlets.