Ashton Kutcher opens up about divorce from Demi Moore and feeling 'like a failure'
In a candid new interview, Ashton Kutcher speaks up about his much-talked about divorce to fellow celebrity Demi Moore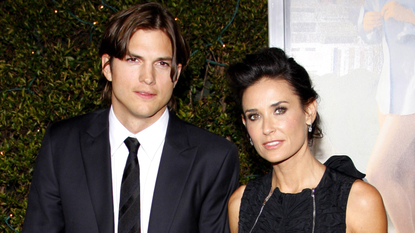 (Image credit: Christian JENTZ / Contributor)
In a new all-encompassing interview, 44-year-old actor Ashton Kutcher opened up about a vast variety of topics both personal and professional, including his much talked-about 2011 separation from his then-wife Demi Moore.
The Esquire (opens in new tab) interview comes just a few months after Ashton Kutcher revealed a super rare form of vasculitis left him dead and blind a while back, an admission that earned the actor praise from both fans and fellow Hollywood personalities.
"I was twenty-six, bearing the responsibility of an eight-year-old, a ten-year-old, and a twelve-year-old," Ashton told the outlet about the start of his relationship with then 41-year-old Demi in 2003, referring to her now-grown daughters Tallulah, Scout and Rumer Willis, whom she shares with ex-husband Bruce Willis. "That's how some teen parents must experience their twenties."
Also delving into the end of their relationship - Ashton and Demi officially got divorced in 2013 - the actor admitted that the drama surrounding their partnership got even more intense as time went on and the tabloids took an even keener interest in their lives.
"Nothing makes you feel like a failure like divorce," Ashton said to Esquire candidly. "Divorce feels like a wholesale fucking failure. You failed at marriage."
Ashton, who now shares two children with current wife Mila Kunis, also went on the record about the late-term pregnancy loss that Demi suffered while the two were still together.
"Losing a kid that you think you're going to have, and that close to thinking you're going to have a kid, is really, really painful," he said. "Everyone deals with that in different ways. I love kids. I wouldn't have gotten married to a woman that had three kids if I didn't love kids. The idea of having another kid would have been incredible."
Fast-forward to early 2012 and Ashton started dating Mila a whopping 13 years after the two first met on the set of That '70s Shows. In 2014, they had their daughter Wyatt and, a year later, in 2015, they got married. They welcomed their son Dimitri in 2016 - all developments that Ashton is clearly grateful for.
"I feel so lucky," he said in his latest interview. "And when you feel that lucky and fortunate and you have some self-awareness, you realize you didn't do it on your own. I didn't do any of this on my own."
The actor's accomplishments go beyond the personal, though. In fact, In fact, both Ashton and Mila recently reprised their iconic roles for cameos in That 90s Show, That '70s Show Netflix reboot that has recently debuted on the streaming platform.
Ashton is also gearing up for the release of for the release of Your Place or Mine on Netflix on February 10, the new romcom he stars in alongside Reese Witherspoon.
In his first feature film in nine years, Ashton takes on the role of Peter opposite Reese's Debbie. The two play best friends who decide to swap houses for a week while - surprise, surprise! - developing romantic feelings for each other.
Despite the obvious setbacks that have defined his career, Ashton wins points for being open and honest about the various issues he has had to content with throughout the years. It's refreshing to hear a celebrity speak so frankly about topics that are usually considered taboo.
Anna Rahmanan is a New York-based writer and editor who covers culture, entertainment, food, fashion and travel news. Anna's words have appeared on Time Out New York, the Huffington Post, Fortune, Forbes, Us Weekly, Bon Appetit and Brooklyn Magazine, among other outlets.