Longtime ABBA guitarist Lasse Wellande dies aged 70
ABBA's guitarist Lasse Wellander has died after a short battle with cancer, his family has announced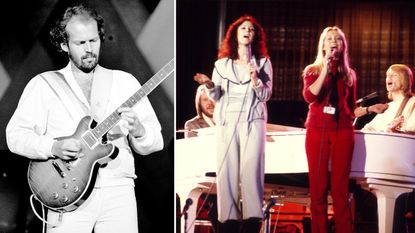 (Image credit: Getty Images)
ABBA fans have been sharing tributes after it was announced Lasse Wellander has died at the age of 70. The guitarist starred in some of the band's biggest hits through the 1970s and 1980s with Agnetha Fältskog, Björn Ulvaeus, Benny Andersson, and Anni-Frid Lyngstad.
Lasse's family shared the heartbreaking news today with an emotional statement on Facebook.
They said, "It is with indescribable sadness that we have to announce that our beloved Lasse has fallen asleep.
"Lasse recently fell ill with what turned out to be cancer that had spread, and early on Good Friday he passed away surrounded by his loved ones."

The post - written by family members Lena, Ludvig and Andréas - added, "We love and miss you so much."
Before joining ABBA, Lasse's career started when he began playing guitar as a child for local bands in his hometown of Nora, Sweden.
It wasn't until 1974 that he met ABBA's Agnetha Fältskog, Björn Ulvaeus, Benny Andersson, and Anni-Frid Lyngstad and started recording with them.
After beginning work on hits Intermezzo No.1 and Crazy World, Lasse went on to play on 24 of Abba's studio recordings.

As well as recording on all eight of their albums, the late guitarist also toured with the Eurovision stars in 1975, 1977, 1979, and 1980.
In 2007, Lasse also worked on the smash hit soundtrack for the Mamma Mia! Movie which starred Meryl Streep and Amanda Seyfried and was a box office hit.
And the star didn't just work with ABBA - who Queen Camilla is a big fan of - as in 1981, Lasse also released a album of his own. He went on to produce 11 more albums over the years.

After two of his albums entered the Top 40 album charts, he released his final solo LP in 2006, with the English translation of its title meaning Simple Ticket.
Throughout his life, Lasse worked as a composer for a number of movies, including the score for the Swedish film Änglagård, which was released in 1992.
He picked up awards such as the prestigious Swedish Royal Medal in 2010 and entered the Swedish Music Hall of Fame in 2014 alongside other members of ABBA.
In more recent years, he also helped to create ABBA's new Voyager album in 2021.
Naomi is a news and lifestyle journalist and digital content creator with bylines in The Independent, The Sun, Cosmopolitan, and Fabulous. She covers a range of topics and currently works at Heart Radio in London.