Kate Garraway 'shaken up' after 'utterly terrifying' near-miss car accident during day out with kids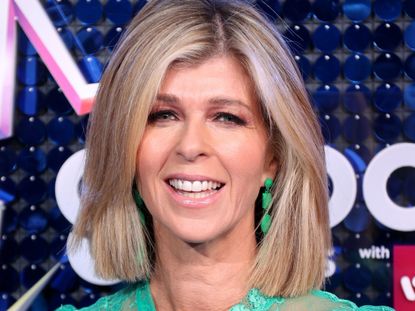 Kate Garraway narrowly missed a motorway car accident when her tyre blew out in the middle of a journey today.
The Good Morning Britain host, who was on a day out with her children, Darcey, 14, and William, 11, took to social media to share details of the traumatic ordeal with her fans and followers.
Thanking the Kent Police service for their hard work in the scary situation, Kate penned a lengthy caption recalling the moment the tyre exploded.
'Thanks to our amazing saviours Liz & Mark from @kentpoliceuk who rescued me after a full tyre blow out on the motorway!!! Never had one before - utterly terrifying.
'Managed to keep control of car but couldn't get off motorway as no hard shoulder & when the AA said they couldn't come for an hour , then rang after half an hour to say might still be an hour had no choice but to call the police,' Kate penned beside an image of her obliterated wheel.
READ MORE:Kate Garraway reveals husband Derek watches her on Good Morning Britain in emotional update (opens in new tab)
Assuring her Instagram followers that she and her brood are unscathed, Kate explained that the accident happened during her first day out with William and Darcey since her husband Derek Draper was admitted to hospital with coronavirus.
Derek was put into intensive care back in March and while he has recovered from the virus, the damage the disease has done to his body could mean he may never recover from the health battle.
'They were so brilliant and got us to safety and we are now on way home in taxi , shaken but safe , tow truck on way to car. It's first time have taken kids out without Derek too.'
Proving she's a trooper, Kate promised keen Good Morning Britain viewers that she'll share more details when she appears on screens tomorrow alongside her co-host Ben Shephard.
Of course, lots of Kate's loyal fans made sure to send their love after the horrible occurrence.
'Oh god, glad you are ok, Kate. You could've done without that. At least you are safe,' one commented.
'Oh crikey, how frightening. So glad you're all ok and safe. Movie and cuddles on sofa when you're home 💖💜💙,' continued a second, while a third kind follower chipped in, '😢 I hope you all are recovering from that very unpleasant fright ❤️.'