Dame Judi Dench shows off impressive dance skills with her grandson in hilarious TikTok video
This is just great!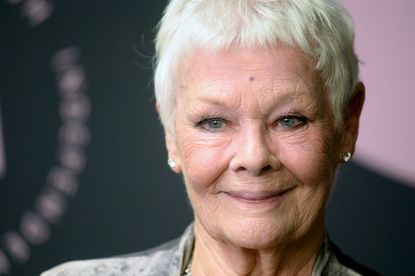 (Image credit: Getty)
TikTok is usually the last place on the internet you'd expect to find Dame Judi Dench.
But thanks to her grandson, the Oscar winning actress has made an appearance on the video-making app that's taking the social media world by storm.
Sam Williams, 22, who is Judi's daughter's son, sent commenters wild when his famous granny made a feature in one of his online creations.
In the funny video, Judi can be seen on a FaceTime call with Sam, as the pair both perform a synchronised dance routine to the 1977 song Baby Come Back by Player.
'NOOOO WAAAYYY JUDI,' one fan commented on the video.
'She looks like an awesome nana,' wrote another, while a third chipped in, 'Love this. What an amazing legend.'
Meanwhile, other viewers were distracted by Sam's resemblance to another globally famous celeb.
Heaps of comments were plainly pointing out red haired Sam's likeness to British singing sensation, Ed Sheeran.
One wrote, 'You sure someone hasn't just cloned Ed Sheeran at the age of 20?'
A second wondered, 'Is her grandson Ed Sheeran?'
READ MORE:Dame Judi Dench filmed a brilliant response to the coronavirus outbreak
In fact, Judi has spoken out about Chris' famous doppelganger before.
Back in 2017, the Skyfall star opened up about how he'd even been mistaken for Ed by a fan while out in London.
Upon hearing about the mix up, Ed dropped Chris a text to say, 'I hear I look a lot like you'.
"I lost my heart to Ed over that," Judi told The Lady.
In recent news, it was revealed that the world's current health pandemic could mean that Judi is called forward to help.
Conservative MP Sir David Amess, spoke in Commons to say that the public is more likely to listen to well known Brits like Dame Judi Dench and Sir David Attenborough, than politicians.
"People do seem now to be observing the distancing between each other and they do seem to be thinking more seriously about gathering in social places," he said.
"But I do say to the minister, if we're going to do a few public service broadcasts, I can't think of anyone better than Sir David Attenborough or Dame Judi Dench to be asked would they do a couple of broadcasts for us.
""Because I think they're very well respected, they're probably listened to in the way that not all politicians are listened to."