John Torode and Lisa Faulkner share stunning wedding photo: 'What a beautiful couple you are'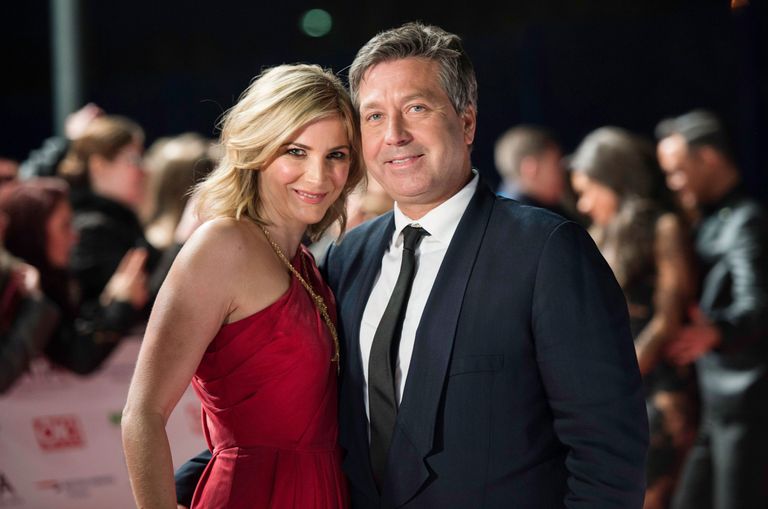 Lisa Faulkner and John Torode might not have walked down the aisle themselves, but they warmed the hearts of their fans with a sweet Instagram snap this weekend.
Although the busy couple haven't found time to start planning their own wedding yet, they took some time out from their busy schedules to go to a friend's wedding on Saturday. Lisa shared a stunning picture of the pair on Instagram, showing John looking dashing in white tie and tails, and Lisa looking elegant in a floor length asymmetric evening gown.
'Wedding ready…' Lisa teased. 'Not ours. Loving my dress @lollyandmitch.'
Admiring friends and fans were quick to comment, with celebrity pal Izzy Judd writing, 'Gorgeous.'
'Wow. What a beautiful couple you are. Simply stunning,' another user commented.
Lisa revealed that she'd got her beautiful two-tone dress from Lolly and Mitch, an independent boutique in Tring, Hertfordshire. The store shared a picture of Lisa in the gown on their Facebook page, writing: 'Oh Lisa! You look so beautifully elegant. Just stunning!! So appreciate you taking the time to post photos!! Lisa is wearing a full length gown from Lolly and Mitch designed by Kevan Jon.'
https://www.facebook.com/lollyandmitch/photos/a.1535199160030315/2264302240453333/?type=3&theater
Although Lisa and John got engaged in December, Lisa recently revealed that they'd put their wedding plans on hold until after Easter, because the pair have been so busy working on their new TV show, John and Lisa's Weekend Kitchen.
"I've been so busy with writing and doing the show," she told The Sun earlier this month. "Once I've got Easter out the way I can start planning."
It might have set back their own trip down the aisle, but the couple's first TV show has been a hit with fans.
'Watched Lisa and John's Kitchen today for the first time!' one commented on Lisa's Instagram post. 'What! How did I miss this? Great.'
'Will be you two next and rightly so,' another fan wrote, referring to Lisa and John's impending nuptials. 'Gorgeous as always Lisa and John scrubs up well.'
'Shame it wasn't yours,' another fan commented. 'Can't wait to see you and John get married.'