Jill Biden offers some reassuring words to nervous Americans on getting the Covid-19 vaccine
Jill Biden shared some words of encouragement on a recent visit to a Covid-19 vaccine clinic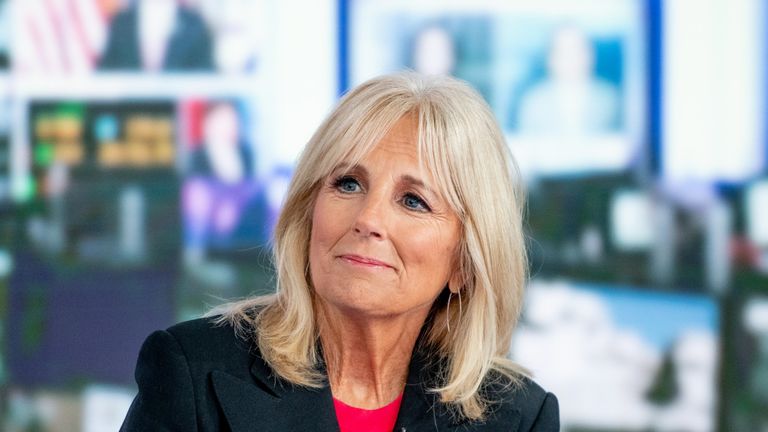 (Image credit: Roy Rochlin/Getty Images)
By Emma Dooney
Jill Biden may not be a medical doctor, but that doesn't mean she can't support Covid-19 vaccine patients during this challenging time.
The First Lady kicked off her tour of the American Southwest at a New Mexico clinic on Wednesday, where she met with people who were receiving their first dose of the vaccine.
The trip comes just a week after Jill underwent a medical procedure with Joe Biden by her side in Washington DC. The nature of the treatment was confirmed to be "minor" with the college professor emerging from the clinic after just two hours.
Jill has now embarked on a three-day visit to the southwestern states to promote the Biden administration's commitment to its vaccination rollout. Over 200 million Covid-19 shots have been given to Americans since the President took office in January — double the goal of 100 million in his first 100 days.
More from woman&home:
• The best air purifiers for your home
• The best yoga mats for all types of workouts
• The best leggings for lounging and exercising
Now Jill is on a mission to highlight this hard work—and inject her own dose of comfort into those feeling afraid or worried.
After arriving at the Albuquerque healthcare center just before 2pm, the First Lady took a moment to address the room and share some words of encouragement.
I promise you: it's so quick, and so important to keep us all safe. #vaccine pic.twitter.com/d4YOVL2dk8April 22, 2021
See more
"So I've had this shot and it doesn't hurt. I promise," she assured a woman awaiting her shot. Unfortunately, that wasn't enough to calm the patient's nerves. She instantly admitted to feeling scared about the vaccine, prompting the First Lady to offer her moral support during the process.
"Do you want me to come stand with you?" she asked.
The patient accepted the sweet gesture, which ultimately benefited both her and Jill. Despite being comfortable receiving the jab, it seems the First Lady isn't too fond of watching it.
"Okay, I'll stand with her because I can't look either!" she laughed.
Jill was administered the Pfizer-BioNTech vaccine in December, on the same day as President Biden. She and her husband have since encouraged all Americans eligible for the shot to follow suit, reminding the nation of its importance in an Easter video message at the beginning of the month.
"We share the sentiments of Pope Francis who said that getting vaccinated is a moral obligation, one that can save your life and the lives of others," President Biden said. "By getting vaccinated and encouraging your congregations and your communities to get vaccinated, we can not only beat this virus but we can also haste the day when we can celebrate the holidays together again."