It's official: Yellowstone will end after season 5, says Paramount+
Say goodbye to the Duttons... for now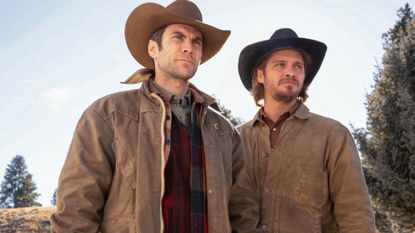 (Image credit: Paramount)
Paramount+, the streaming service that Yellowstone can be streamed on, has officially confirmed that the series will not continue beyond season 5.
The modern-day Western series, which stars Kevin Costner as John Dutton, will be coming to an end with the conclusion of season 5. Fans have been long anticipating the second half of the season after the first half of season 5 aired in December 2022 - and there is now confirmation that the series will finish season 5, but will not continue beyond that.
However, there is good news - Paramount announced in the same statement that they will be moving forward with the production of a new sequel that will debut in December of 2023.
"Yellowstone has been the cornerstone on which we have launched an entire universe of global hits — from 1883 to Tulsa King, and I am confident our Yellowstone sequel will be another big hit, thanks to the brilliant creative mind of Taylor Sheridan and our incredible casts who bring these shows to life," Chris McCarthy, president, and CEO of Showtime/MTV Entertainment Studios, said in a statement.
"The Dutton story continues, picking up where Yellowstone leaves off in another epic tale," added David Glasser, CEO of 101 Studios, which produces the series. "We are thrilled to bring this new journey to audiences around the world."
Casting has yet to be announced for the new Yellowstone series - however, it is rumored that Matthew McConaughey could be playing the lead role that will continue the Dutton family legacy.
This news comes after rumors of an alleged feud between Yellowstone's director, Taylor Sheridan, and Kevin Costner - citing scheduling conflicts and concern regarding the direction of the series.
According to a source who spoke to the Daily Mail, "Certain people in charge of the production developed a God complex" - which allegedly left Kevin wanting to leave Yellowstone and feeling frustrated about the direction the show was heading in on Taylor's accord.
They also allege that Taylor told Kevin, who also serves as an executive producer on the show, to "stick to acting" when he tried to raise concerns about the future of Yellowstone season 5.
Additionally, it was reported that Kevin had "split interests" while working on Yellowstone and another western series, Horizon, at the same time. At the time, Costner's divided attention had become "a source of frustration for Sheridan," Deadline previously reported.
The announcement of the end of the original Yellowstone series also comes just days after Kevin and his wife, Christina Baumgartner, filed for divorce after 19 years of marriage, citing "irreconcilable differences."
Luckily, though, fans can look forward to the second half of season 5, as well as the creation of the new spinoff, potentially led by Matthew, this winter. And, in the meantime, folks can still stream the franchise's other spinoffs including 1883, 6666, and 1923 (starring our faves Harrison Ford and Helen Mirren) on Peacock or Paramount+ in the meantime.
Madeline Merinuk is woman&home's US lifestyle news writer. She covers celebrity, entertainment, fashion, and beauty news but is also obsessed with internet trends - you can find her reciting trending TikTok sounds out loud at any given time.
After winning multiple student journalism awards for her investigative work, she graduated from Hofstra University in 2021 with a B.A. in Journalism. After graduating, she worked at today.com, the digital site for the Today Show, where she wrote pop culture news and interviewed big-name personalities like Emily Ratajkowski, Haley Lu Richardson, Emma Corrin, and more.
Her personal interests, in no particular order, are: cheese, Joni Mitchell, reading, hot yoga, traveling, having multiple chapsticks in every handbag at all times, and dancing to ABBA songs as if she were in the Mamma Mia movies.