Is season 7 the last season of Outlander?
Here's what we know about what comes after season 7 of the hit Starz show...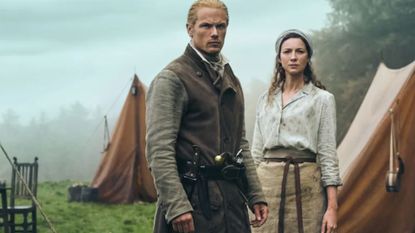 (Image credit: STARZ)
Outlander, one of TV's most popular series, just premiered its 7th season, much to the excitement of fans - but folks are wondering if this season will be the last. Here's what we know about the end of Outlander.
TV shows come and go faster than you can even say the word "Netflix." For example, our newest obsessions, Jury Duty on FreeVee, starring James Marsden, and Missing: Dead or Alive on Netflix are just two examples of series that are short-lived and have already released all of their episodes, with no new seasons coming in the future.
Outlander, on the other hand, is ready to release episodes for season 7, and there is still more to look forward to for this kilt-laden series.
Grab the tissues, folks, because Outlander shows no signs of stopping - at least, for now.
Will there be a season 8 of Outlander?
Before we touch on season 8, it's worth noting that season 7, which airs on June 16 on STARZ, will be broken up into two halves. The second half of season 7 won't air until 2024.
In an interview with Entertainment Weekly last year, executive producer of the show Maril Davis called season 7 "our biggest season yet" with "so many storylines and so many different places... the Revolution is here. It's going to be really exciting," she said. But will there be a season 8 of Outlander?
After season 7 comes to a close, we'll get to see the Frasers again for season 8, which will, unfortunately, be the final season of the award-winning series and will feature 10 episodes, six less than season 7. However, the prequel to Outlander, titled Blood of My Blood, about Jamie Fraser's parents is also in the works and set to air within the next few years.
Brought together by time travel and bonded by true love, Jamie and Claire set sail for America from Scotland - and as they embarked on a new life together with plenty of obstacles to overcome, we left off on Claire and Jamie's story, with the ending of season 6 leaving fans anxiously anticipating the arrival of season 7, which will have 16 episodes altogether.
"So ready for this Outlander season 7 trailer I AM GONNA SCREAMMMM," one person tweeted.
"Wow! What a stunning and intriguing trailer!!! Can't wait to see the new episodes! But I'm not really sure my heart will survive season 7 ..." someone else tweeted, commenting on the intense teaser trailer that just got released for season 7.
Madeline Merinuk is woman&home's US lifestyle news writer. She covers celebrity, entertainment, fashion, and beauty news but is also obsessed with internet trends - you can find her reciting trending TikTok sounds out loud at any given time.
After winning multiple student journalism awards for her investigative work, she graduated from Hofstra University in 2021 with a B.A. in Journalism. After graduating, she worked at today.com, the digital site for the Today Show, where she wrote pop culture news and interviewed big-name personalities like Emily Ratajkowski, Haley Lu Richardson, Emma Corrin, and more.
Her personal interests, in no particular order, are: cheese, Joni Mitchell, reading, hot yoga, traveling, having multiple chapsticks in every handbag at all times, and dancing to ABBA songs as if she were in the Mamma Mia movies.