Is Luther based on a book and will there be another Luther movie after The Fallen Sun's intense but enigmatic ending?
If you're wondering is Luther based on a book you're probably not alone as the movie brings fans back into the world of the determined detective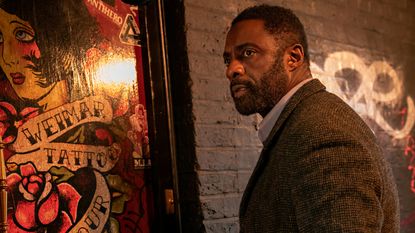 (Image credit: Cr. John Wilson/Netflix © 2023)
'Is Luther based on a book?' might be the question on your mind as the Luther: The Fallen Sun gets us talking about the complex character and re-watching the original BBC drama.
Whether it's wondering why Luther is in prison to whether Alice died in Luther the TV show, this is a gritty franchise that constantly captures people's imaginations and sparks intriguing questions. The return of Idris Elba as DCI John Luther in the new Luther: The Fallen Sun movie has been met with excitement from many and came four years after season 4 of the BBC drama came to an end. The movie's ending also left room for speculation about another film to take Luther's story further and with so many recent hits inspired by novels it's also all-too-easy to wonder if the brilliantly crafted plots and characters in the Luther TV series and movie are as well.
But is Luther based on a book, how many episodes of the BBC drama are there leading up to Luther: The Fallen Sun and will there be another move? We reveal all we know so far…
*Warning: Spoilers ahead*
Is Luther based on a book?
Whether it's Daisy Jones & The Six or Endeavour season 9, now more than ever it might seem like most hit shows are based on or loosely inspired by novels and so it's probably only natural to wonder if this is also the case with the BBC's gritty drama, Luther. However, Luther isn't based on a book at all - though it has had a book written subsequently that fits into the Luther universe.
The original concept for the intense London-set series came purely from the imagination of the BBC drama's creator, Neil Cross. He previously revealed to Variety that the hit series' bad guys are often inspired by the fears he has and from "personal experiences".
"Pretty much every bad guy we have had … the first agitation in my brain has come from some direct personal experiences," he explained. "It might be passing a courier on the stairs in the office and I think: Why is that guy wearing his helmet? What has he got in his messenger bag? Or I might be on the Tube [subway] by myself, walking down the street by myself or in my house by myself…"
He went on to describe the Luther villains as "avatars of my fears and anxieties" and suggested that once he's "isolated that fear" that's when he starts to think about who could step in to fulfill this as a character.
"Once I have isolated that fear – the guy under the bed … that's a shared anxiety with so many of us – once I've got that initial spark of anxiety, then I begin to think about the character that could exemplify it… Who is he? Why is he doing what he is doing? What does he want? But that ultimately comes second to the scary stuff. You start with the fear and work backwards," Neil shared.
His passion for Luther and brilliant realization of the terrifying world of the determined DCI has seen Neil go on to write a Luther book - but only *after* Luther season 1 landed and the show isn't based on the book but the other way around.
What is the Luther book and is there more than one?
For those anticipating an extensive selection of Luther books to make their way through sadly, despite reports suggesting that there would be more in Neil Cross' Luther series there is just one. Luther: The Calling was released in 2011 - a year after the show first landed on BBC One. It's set prior to the events of the first series and is a prequel to the original show. Although you don't have to have watched Luther to enjoy the book, fans of season 1 will recognize the chilling bad guy whose story is given in more detail in Luther: The Calling.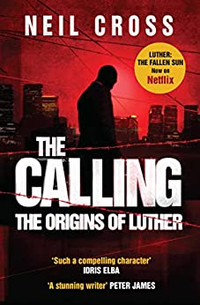 Luther: The Calling by Neil Cross | $1.22/99p| Amazon
Delving into the case that fractured his personal and professional life, Luther: The Calling tells the backstory of DCI Luther prior to season 1 of the BBC drama. Introducing this determined detective and the lengths he will go to to put dangerous criminals behind bars.
The Luther book focuses on introducing Idris Elba's DCI John Luther and how he's tormented and surrounded by rumors. John Luther might not be corrupt, but his violent outbursts and willingness to do anything to put the villains behind bars hasn't won him universal support. The Luther book tells the tale of the case of child killer Henry Madsen who was a major bad guy in the TV series.
It's also understood to share more insight into the break-up of Luther's marriage to his wife Zoe (played in the show by Game of Thrones star Indira Varma) and the corruption of his friend DCI Ian Reed (Steven Mackintosh).
How many episodes of Luther are there before Luther: The Fallen Sun?
There are 20 episodes of Luther leading up to Luther: The Fallen Sun across five seasons. For those wondering where to watch Luther and if it's necessary to see the series before the film the answer is technically, no. Only DCI John Luther and Detective Superintendent Martin Schenk appear in both the TV show and movie and the plot is entirely standalone. So never fear if you're worried about making your way through 20 full episodes before watching Luther: The Fallen Sun for yourself as there are so many distinct stories to enjoy at your leisure.
Will there be another Luther movie? What we know so far
After *that* Luther: The Fallen Sun ending it's perhaps no surprise that after asking themselves - is Luther based on a book? - fans might be wondering if there'll be another Luther movie. Of course, there are no guarantees but it seems that at least as far as Neil Cross and lead star Idris Elba are concerned, they're definitely up for it!
The movie ended with Luther saving the day, ending Andy Serkis' twisted serial killer businessman David Robey's reign of terror and then seemingly being given the opportunity not to go back to prison. When the film starts he is behind bars thanks to David ensuring evidence of his misdeeds in his mission to secure justice are known.
By the end he hasn't been sent back to jail and is last seen getting into a car of what appears to be a member of the British security services. Even Martin Schenk suggests to Luther that he doesn't think he's going back to prison, but could be about to get a job offer.
Speaking about the possibility of another Luther movie to RadioTimes.com, Neil explained that the rather enigmatic ending was very much a "deliberate choice".
He said they "deliberately left the door more than ajar, it's an open door", confirming that "at the drop of a hat" they'd make another series. Neil also confirmed that the movie world is where Luther "lives now" so it seems much more likely that there'd be another Luther movie vs more seasons.
Whilst Idris Elba explained on British chat show, The One Show, "We do have the ambition to take it into a franchise because now that you've got a film landscape, you've got bigger budgets, but also you've just got more stories we can tell."
So it seems to at least be possible that we'll get to see at least one other Luther movie following on from Luther: The Fallen Sun and it could be even more than that. It might depend on the demand and popularity of the first movie but given how much it's got Luther fans talking, we'll be keeping our fingers crossed that another movie gets announced in the future.
Emma is a Senior Lifestyle Writer with six years of experience working in digital publishing. Her specialist areas including literature, the British Royal Family and knowing all there is to know about the latest TV shows on the BBC, ITV, Channel 4 and every streaming service out there. When she's not writing about the next unmissable show to add to your to-watch list or delving into royal protocol, you can find Emma cooking and watching yet more crime dramas.