Luther: The Fallen Sun ending explained and where to watch the addictive new movie
Luther is tasked with his darkest case yet but can he survive it?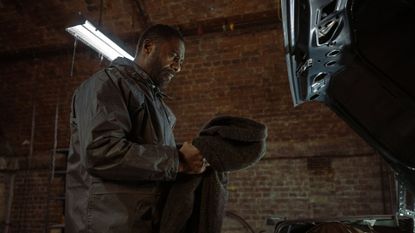 (Image credit: John Wilson/Netflix)
After a four-year hiatus, Idris Elba has finally thrown on his trench coat, returning as Detective John Luther for Netflix's new movie Luther: The Fallen Sun.
Following on from the final season of the BBC show where Luther finds himself locked up and left many fans wondering why was Luther in prison? The movie sees Luther take on his biggest and darkest case yet.
So, with a *lot of spoilers* ahead, we explain the ending of Luther: The Fallen Sun.
WHAT IS LUTHER: THE FALLEN SUN ABOUT?
Netflix's Luther: The Fallen Sun sees Luther take on his biggest and darkest case yet. The two-hour-long movie begins with Luther investigating the seemingly simple case of a missing teenager, Callum Aldrich. However, Luther is quickly taken off the search when his misdemeanors, the killings of DS Halliday, Alice Morgan, Benny Silver, and hitman Mr. Palmer whom he was linked to throughout the Luther series, are leaked to the press.
While he was not responsible directly for any of these crimes, Luther ends up being framed for them and thrown in jail. And for that, we have Luther: The Fallen Sun's bad guy, serial killer David Robey, to blame.
With the story now set up, viewers watch on as Robey taunts Luther, inciting him to bust his way out of jail and track down David Robey. The detective has many close calls, but Robey continuously manages to evade capture.
As he continues to hunt Robey, Luther must also convince DCI Odette Raine, who is investigating the serial murders committed by Robey, that something bigger is afoot despite the fact that she wishes to throw him back in prison.
Building up to the final scene, Luther and Raine, who is finally on Luther's side again, uncover the location of Robey's lair in Norway, deciding to rush straight to it and into a confrontation with the serial killer.
LUTHER: THE FALLEN SUN ENDING EXPLAINED
After a frightful confrontation between serial killer Robey, Luther and DCI Odette Raine, Robey attempts to evade capture and makes a run for it. As Luther chases after the killer, Raine and her daughter Anya fight off Robey's henchman.
The chase leads Robey, followed by Luther, to his car, where the two men battle ferociously. In a shocking moment, the car ends up plunging into a frozen lake, leaving Robey to drown.
While Luther is saved from the water by divers, he is promptly arrested and airlifted to safety so his injures can be taken care of. Falling out of consiousness, Luther wakes up to finds Schenk, the chief, who tells him he is in a government safe house.
Schenk tells Luther that he won't be sent to jail anymore, walking him out of the home to be greeted by a convoy of black cars. A civil servant, Tim Cranfield, congratulates Luther on his job with Robey and then tells him that the "chief would like a word," gesturing for Luther to get into one of the cars.
The cliffhanger is extremely mysterious and introduces the unknown character 'The Chief' right in it's final scene. There is no indication what this chief would like to talk to Luther about and there is still no absolute confirmation that Luther won't return to prison. All fans can do is cross their fingers that a sequel movie or TV series will be commissioned to clear up the loose threads.
HOW TO WATCH LUTHER: THE FALLEN SUN
Luther: The Fallen Sun is available to watch exclusively on Netflix (opens in new tab). It was released on the streaming platform on March 10 after a limited release in theatres. As the film is a continuation of the BBC series Luther, to catch up on the show before watching the film you can stream all five seasons on both Hulu (opens in new tab) and BBC iPlayer (opens in new tab).
Charlie Elizabeth Culverhouse is royal news and entertainment writer. She began her freelance journalism career after graduating from Nottingham Trent University with an MA in Magazine Journalism, receiving an NCTJ diploma, and earning a First Class BA (Hons) in Journalism at the British and Irish Modern Music Institute. She has also worked with Good To, BBC Good Food and The Independent.