Is Daisy Jones & The Six going on tour? Here's what the cast has to say about it
If Riley Keough and Sam Claflin are coming to a stadium near us, trust that we'll be there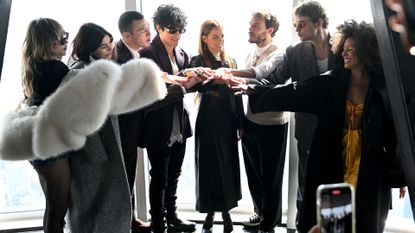 (Image credit: Getty Images)
Anyone else dying for a Daisy Jones & The Six stadium tour this summer? The cast isn't opposed to it.
After watching Amazon Prime's breakout series of the year, Daisy Jones & The Six, aired at the beginning of March, we've been incessantly humming all of the songs in our heads, and trying to figure out how to get the exact '70s wardrobes of all of the characters.
If you can relate, you might be wondering if the once fictional (but now actually very real) band will ever perform their music live in front of an audience - and we mean a real, honest to God audience, not the kind they hired for the show. Although, if there's a season 2 in the works, we're happily volunteering ourselves to stand in any audiences needed for filming for the Fleetwood Mac-inspired band.
With the popularity of the band's album Aurora rising on the charts with each passing week (the band already has an average of 2.5 million listeners per month, according to Spotify), the chances for a DJ&TS tour seem more and more realistic. Luckily, the cast and creative team seem to be on board, too.
"We'd love to," Josh Whitehouse, who plays bassist Eddie Roundtree, told Deadline at SXSW. According to Deadline, Sam Claflin, who plays the band's frontman Billy Dunne, and Sebastian Chacon, who plays drummer Warren Rojas, both agree.
"I don't know how plausible it is, but the hope is there [and] the desire is there," Claflin said. "And there seems to be enough people that are asking for it to happen."
Uh, yeah, it's us.
Co-creator of the show Scott Neustadter said he would love for it to happen, but scheduling would probably be the biggest hurdle to jump. "If we can figure out a time in which everybody is together. I think they absolutely would love to do it."
We believe him, too. Judging by the apparent chemistry that the cast has created on and off-stage, we already know that a live concert with the cast would be so much fun. Plus, we know the band underwent extensive music training to learn how to play all of their instruments and sing all of the songs, namely Sam Claflin and Riley Keough, so we'd love to see them put all of that hard work to use for at least one live show.
Riley Keough also agreed that a live concert would be incredible for the cast members. "I think that we'd all love to, if it was the right moment," she told Variety. "We want a comeback show!"
So, there are some pretty strong possibilities that the cast could be playing some live shows in the future - let's all pray to the scheduling gods that the cast and crew can figure out a few dates that work for them.
Madeline Merinuk is woman&home's US lifestyle news writer. She covers celebrity, entertainment, fashion, and beauty news but is also obsessed with internet trends - you can find her reciting trending TikTok sounds out loud at any given time.
After winning multiple student journalism awards for her investigative work, she graduated from Hofstra University in 2021 with a B.A. in Journalism. After graduating, she worked at today.com, the digital site for the Today Show, where she wrote pop culture news and interviewed big-name personalities like Emily Ratajkowski, Haley Lu Richardson, Emma Corrin, and more.
Her personal interests, in no particular order, are: cheese, Joni Mitchell, reading, hot yoga, traveling, having multiple chapsticks in every handbag at all times, and dancing to ABBA songs as if she were in the Mamma Mia movies.