Hugh Grant says this is the one movie he'd erase from his career if he could
Hugh Grant revealed why this movie wasn't his favorite...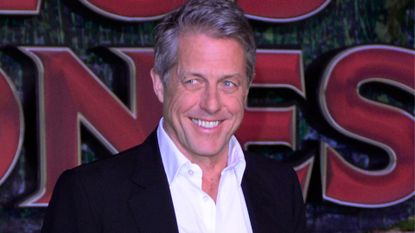 (Image credit: Getty Images)
Hugh Grant was hesitant to say which movie he regrets making most in his career, but it was better than his alternative in the moment.
To promote their new movie, Dungeons & Dragons: Honor Among Thieves, co-stars Chris Pine and Hugh Grant went on the Late Late Show with James Corden, where the host made them play his tense game, Spill Your Guts or Fill Your Guts.
The premise of the game is that one person asks the other a very secretive or personal question - and if you don't want to answer, you have to eat whatever strange food is place in front you, whether it's bull testicles, bug juice, or whatever other gross food it could be.
Chris asked Hugh which movie he would delete from his IMDb if given the chance, and Hugh hesitates to answer, as he contemplates whether he wants to reveal his answer or eat a worm mayonnaise shepherd's pie. In hindsight, we would have answered the question too.
One thing Hugh does valiantly note is that he doesn't want to trash his coworkers who also helped create the film. "I can't bring down the rest of the wonderful colleagues who worked with me on any film by saying it was bad," he said to Chris and James.
He did, finally, reveal his answer: The Lady and the Highwayman.
The IMDb page for the movie describes the plot as the following, "Swashbuckling tale of romance, betrayal, jealousy, banditry, murder, and court intrigue set in the 1660s, during the Restoration to the English throne of King Charles II."
"I'm a highway man. I'm meant to be sexy," Hugh said. "Low-budget, bad wig, bad hat. I look like Deputy Dawg."
The star is not a stranger to sharing embarrassing moments on-screen - he even revealed that his iconic dance scene in Love Actually was "excruciating" to film! We're grateful he did though, as it's one of our favorites.
He then apologized to his coworkers on the film for the mild criticism he has about it, before describing more what his role in the film was all about. "Deputy Dawg would come leaping out of trees when a carriage would come past and go, 'Stand and deliver!'" he said to Chris and James.
We must say, though, we were shocked to hear this was the movie that he regretted being in the most, especially considering he mentioned in the past that, after his 2009 movie Did You Hear About the Morgan's? with Sarah Jessica Parker flopped, he decided he was "done" with movies.
"At that point, it wasn't me giving up Hollywood. Hollywood gave me up because I made such a massive turkey with that film with Sarah Jessica Parker," he said to the LA Times.
"Whether I wanted to or not after that, the days of being a very well-paid leading man were suddenly gone overnight."
Madeline Merinuk is woman&home's US lifestyle news writer. She covers celebrity, entertainment, fashion, and beauty news but is also obsessed with internet trends - you can find her reciting trending TikTok sounds out loud at any given time.
After winning multiple student journalism awards for her investigative work, she graduated from Hofstra University in 2021 with a B.A. in Journalism. After graduating, she worked at today.com, the digital site for the Today Show, where she wrote pop culture news and interviewed big-name personalities like Emily Ratajkowski, Haley Lu Richardson, Emma Corrin, and more.
Her personal interests, in no particular order, are: cheese, Joni Mitchell, reading, hot yoga, traveling, having multiple chapsticks in every handbag at all times, and dancing to ABBA songs as if she were in the Mamma Mia movies.