How Adele's mom helped her become who she is today
Adele opened up to Oprah about her mom, her divorce, parenthood and dieting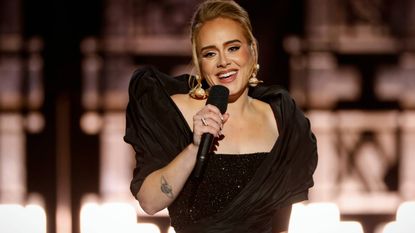 (Image credit: CBS Photo Archive / Contributor)
On her much-anticipated one-night-only concert, which aired alongside an interview with Oprah, Adele discussed the relationship between her mother and father, her own divorce, the inspiration behind her new album, parenthood, and more.
The Adele One Night Only TV special was met with enthusiasm by fans across the globe while we wait for the Adele tour 2022 to kick off. And yet, although treated to some of the singer's newest material off her upcoming album 30 the public was also enraptured by the pretty detailed interview that the star granted Oprah Winfrey.
Among the many topics that the duo touched upon was the relationship between Adele's own parents. But the conversation left many wondering about Adele's mom specifically.
Who is Adele's mom?
Born Penny Susan Adkins in Islington, England in 1968, Adele's mom was forced to drop out of college when she became unexpectedly pregnant with Adele at the age of 18.
Penny reportedly met Adele's dad, Mark Evans, at the King's Head pub in North London. Although they never got married, the couple raised their daughter together up until 1999, when Mark's alcohol addiction took a hold of him.
During last night's special, Adele chronicled her relationship with Mark, revealing that, although strained, they were able to come to terms with their differences before he passed in May of this year.
During the live event, Adele also mentioned that Penny was the one caring for Mark towards the end of his life.
What has Adele revealed about her mom in the past?
In the past, the singer opened up about her mother's own challenges. "[My mother] fell pregnant with me when she would have been applying for uni, but chose to have me instead," she once relealed (opens in new tab). "She never, ever reminds me of that. I will try to remember it."
After being "thrown out" of her family home at the age of 18 to "develop a sense of independence" and having her daughter, Penny moved into emergency housing for single mothers while receiving assistance from the National Childbirth Trust.
Adele's on living with her mom
The mother-and-daughter duo eventually moved into a two-bedroom apartment in Tottenham and lived together until the release of Adele's debut album, 19, in 2008. The singer did, however, move back in with her mother before the release of her second album, 21.
"I was missing her a lot. It's nice just to hear her there. There's a really long hallway and her room is at the other end but just hearing her pottering about is really comforting," Adele has said in the past. "And it's nice to have someone to come home and make a cup of tea for when you've been away for ages."
Adele often does mention her mother in interviews, referring to her as her "best friend" and acknowledging the importance she's had in the establishment of her career. Penny has also reportedly been the inspiration behind some of the star's most recognized tracks, including Million Years Ago and Hometown Glory, the first song Adele has ever written (another topic she discussed on the special last night).
Back in 2013, according to the London Evening Standard, Adele bought Penny a $960,000 luxury apartment in London's Notting Hill neighborhood.
Last night's all-encompassing special, which also touched upon Adele's feelings of devastation upon her divorce from now ex-husband Simon Konecki, was a star-studded event attended by celebrities the likes of Melissa McCarthy, Gordon Ramsey, Lizzo, Drake, Gabrielle Union and Donald Glover, among others.
Anna Rahmanan is a New York-based writer and editor who covers culture, entertainment, food, fashion and travel news. Anna's words have appeared on Time Out New York, the Huffington Post, Fortune, Forbes, Us Weekly, Bon Appetit and Brooklyn Magazine, among other outlets.