Here is how Real Housewives of Beverly Hills star Garcelle Beauvais battles her chronic eczema
Although she has got her eczema under control Garcelle Beauvais admits that starring on the Real Housewives of Beverly Hills sometimes leads to flare-ups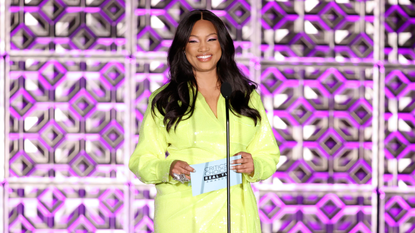 (Image credit: Rich Polk / Stringer)
Garcelle Beauvais, star of the Real Housewives of Beverly Hills, reminds us that stars are, in fact, just like us. Especially when it comes to skin-related issues.
Garcelle, who has been on the cast for three seasons (Andy Cohen, the creator of the franchise, commemorated 15 years of Real Housewives in 2021 ), opened up about her battle with eczema in a new interview with People (opens in new tab) this month.
"I was in my 30s when out of the blue I started getting these patches on my skin and they would be really itchy," 55-year-old Garcelle said to the outlet. "I didn't know what it was. Like, 'Did something bite me?' It just kept coming up in different places, and the more I stressed about it, the more they'd come out. I didn't know what to do."
A doctor eventually diagnosed her with eczema, a chronic inflammatory skin condition that affects over 30 million Americans and usually provokes flare-ups during certain seasons or following stressful situations (here is how to stop winter flare-ups of eczema and other common conditions).
Garcelle also revealed that her condition worsens while she's on the set of Bravo's reality TV show (an expected result of the high-anxiety environment she works in).
"Oh, I always have breakouts during filming Housewives!," she said to People. "But I manage it as best as I can. I have to pick my battles!"
In terms of specific tips on how to manage her eczema, the actor mentioned staying away from perfumes, scented lotions and hot baths.
Garcelle suffered a pretty painful bout of eczema last summer. "I started getting the patches behind my knees and I wanted to crawl out of my skin because it's so irritating," she said. "I didn't want to wear halter tops or shorts because you could see the dry, itchy patches."
Garcelle, who is actually on the cover of the latest issue of People, also took to Instagram to discuss the topic.
"I've been dealing with eczema for years! Itchy dark patches, sometimes painful," she wrote in the caption to her post. "#Eczema affects more than 31 million Americans and can be exacerbated by stress, environmental factors, and allergens… Little did I know that eczema would get me on the cover of @people magazine! 💗"
Fans also dealing with the condition used the comments section to voice their support for the star.
"My whole entire life!! I wear long skirts. Have scars everywhere and rarely do you see me in short sleeves. YUP!! I hear you and understand," one user wrote.
Another commented, "The struggle is real. Thanks for shining a light on something that many of us, including myself, struggle from."
"Wow thank you for sharing , my daughter eczema journey started when she was only a month old and she now 10yrs old and currently on bi weekly injections of Dupixent which has kept her break outs at bay and asthma as well❤️," yet another Instagram user noted.
Clearly, this is an issue that resonates with plenty of people although not many talk about it so candidly. Thank you, Garcelle, for being so honest about it all.
Anna Rahmanan is a New York-based writer and editor who covers culture, entertainment, food, fashion and travel news. Anna's words have appeared on Time Out New York, the Huffington Post, Fortune, Forbes, Us Weekly, Bon Appetit and Brooklyn Magazine, among other outlets.