Here is how Jennifer Garner found out about ex Ben Affleck's wedding to Jennifer Lopez
Turns out, although she was on a trip to Lake Tahoe in California, Jennifer Garner knew that ex-husband Ben Affleck and J. Lo were getting married last weekend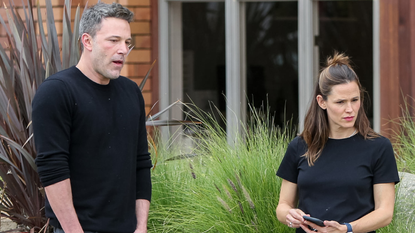 (Image credit: BG004/Bauer-Griffin / Contributor)
Although Ben Affleck and Jennifer Lopez sent shockwaves across Hollywood after secretly tying the knot in Las Vegas last weekend, there is one person who was not surprised to hear about the news: Ben's ex-wife Jennifer Garner.
J. Lo and Ben, who got engaged in April of this year, got married at iconic location A Little White Wedding Chapel in Las Vegas late this past Saturday night.
Only two guests participated in the very intimate affair, J. Lo's 14-year-old twins Emme and Max, whom she shares with ex-husband Marc Anthony. Although not present, according to reports, Ben did alert Garner about his imminent nuptials.
Page Six reported that, according to a "well-placed Hollywood" source, Garner was told on Friday that the wedding was going to happen the next day.
"Ben did tell Jen about the wedding, but I'm told that it was only Friday at the earliest," said the source, also revealing that Garner spent the weekend in Lake Tahoe. "It was very, very minimally planned in advance and was largely spur-of-the-moment. Violet stayed home because she's extremely loyal to her mom."
Violet Affleck, now 16 years old, is one of three kids that Garner and Ben share. Seraphina Rose Elizabeth Affleck is 13 years old and Samuel Garner Affleck is 10 years old.
The source also told the outlet that J. Lo "has been ready to get married since the night that Ben proposed. She wanted to lock this down and remove any chance for cold feet ASAP."
You can't blame her: Ben and J. Lo were set to get married two decades ago and postponed the nuptials just a day before they were supposed to happen. They eventually broke up and got back together this year.
Although Ben and Garner got divorced in 2018 after 13 years of marriage, the two actors remain close.
Back in March, a source supposedly aware of the details of the situation told Entertainment Tonight that, "Jen Garner and Ben get along well. She is understanding and supportive of Jen and Ben's relationship. She knows Ben is doing well all around and at the end of the day, she just wants what's best for the kids and for things to be seamless and unproblematic. She wants everyone to be happy and healthy and her kids are always the priority. Everyone is feeling good at this point and looking forward to the future."
News of J. Lo and Ben's marriage broke on Sunday, when the singer sent out a newsletter to her fans announcing the development.
"Love is beautiful. Love is kind. And it turns out love is patient. Twenty years patient," Jennifer wrote in the message, which she then signed Jennifer Lynn Affleck. "Last night we flew to Vegas, stood in line for a license with four other couples, all making the same journey to the wedding capital of the world. Behind us two men held hands and held each other. In front of us, a young couple who made the three-hour drive from Victorville on their daughter's second birthday, all of us wanting the same thing, for the world to recognize us as partners and to declare our love to the world through the ancient and nearly universal symbol of marriage."
The newlywed went on writing, "When love is real, the only thing that matters in marriage is one another and the promise we make to love, care, understand, be patient, loving and good to one another. We had that. And so much more. Best night of our lives."
Once again, congratulations to the happy couple!
Anna Rahmanan is a New York-based writer and editor who covers culture, entertainment, food, fashion and travel news. Anna's words have appeared on Time Out New York, the Huffington Post, Fortune, Forbes, Us Weekly, Bon Appetit and Brooklyn Magazine, among other outlets.