Dame Helen Mirren shares makeup-free photo from bed for a great cause
What a great idea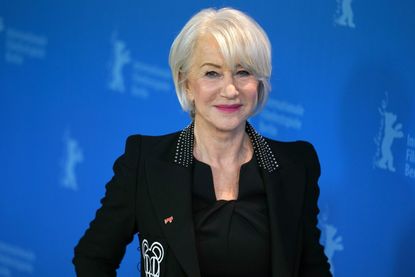 Dame Helen Mirren has taken to Instagram to share a makeup-free snap for an incredible cause.
The 74-year-old posted a barefaced picture of herself sitting in bed with bed-hair and her glasses on. In the caption, the star asks fans to donate to a U.K. charity supporting coronavirus relief.
In the post, she writes, 'In return for this pic of me literally first thing in the morning, please donate to the intensive care support,' and sharesa link to the donation page.
The link posted by Helen directs to an online appeal by the Intensive Care Society - a charity run by and for intensive care doctors, nurses, physiotherapists, pharmacists and other healthcare professionals treating patients in intensive care.
The page reads, 'The pressure on intensive care staff is causing massive stress. Professionals, patients and relatives will suffer from poor mental health and post traumatic stress disorder (PTSD) following COVID-19.'
It also explains the donations will go towards supporting the wellbeing of intensive care professionals, alongside research and education.
Helen's post has attracted more than 71,000 likes, with many fans praising the initiative and urging her to stay safe.
One gushed, 'This is a wonderful gesture that you're doing during this COVID-19 pandemic.'
While someone else commented, 'Done, I admire you immensely! And this is just another reason to.'
Another fan added, 'Whatever it takes. Thanks Helen for being a catalyst.'
'You are marvellous,' added another, 'Such a compelling plea - I'm on it!'
The Oscar-winning actress has been active on social media during the coronavirus pandemic, sharing personal updates and posting videos of herself reading poems and sonnets to lift spirits.
In mid-March she posted a picture of two snowman with the caption, 'My husband and I self isolating at Lake Tahoe.'
Helen follows in the footsteps of other celebrities, such as James McAvoy and Emilia Clarke, who have used social media to encourage people to donate to coronavirus-related appeals.
Lizzie Thomson is a regular contributor to woman&home, and also contributes to Metro.co.uk, Ideal Home, Culture Trip, and Evening Standard, covering all things lifestyle.