Did Call The Midwife's Writer Just Hint At The End Of The Much-Loved Show?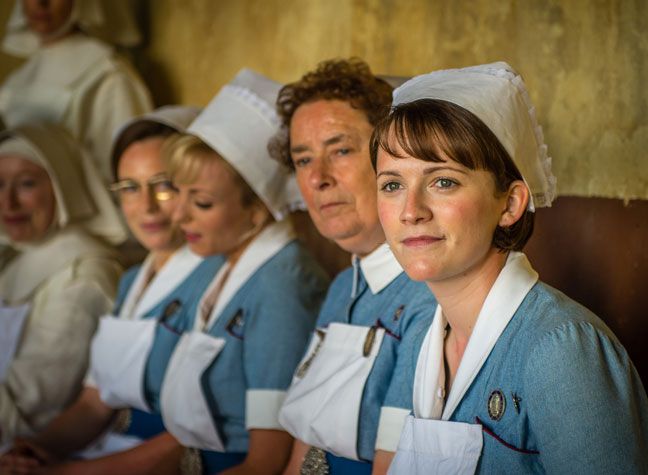 It's one of the most beloved shows on television, but according to Call the Midwife's creator, it may not be around for too much longer.
Call the Midwife has been winning over the hearts of viewers for a huge five years now.
And when something has been so successful for so long, thoughts will inevitably eventually turn to when the lights may go down on the series for good.
Recently, the hit show's esteemed creator, Heidi Thomas, shared her thoughts on the future of the series. And sadly, it looks as though we may be bidding goodbye to the nurses of Nonnatus House much sooner than we'd like.
Speaking to the Radio Times, Heidi, who also writes the series, shared how many more series have actually been confirmed.
She said, "We definitely know we're making series eight this year, and series nine next year. That may be the last, I don't know.
"Ultimately it's up to the BBC and to our audience as well."
Heidi went on, to admit that even a series like Call the Midwife sadly has an expiry date.
"So I think we've got a few years left in us, but nothing lasts forever. So I'm always determined to enjoy every series as much as I can."
Heidi also admitted that she's experienced her fair share of frustration at how people have viewed the BBC show.
She confessed to Radio Times, "I've been in a state of mild rage for about seven years now. Because Call the Midwife – certainly in its early days – was often dismissed as being lightweight, fluffy. It was called TV Horlicks because it was about women."
MORE: Helen George Reveals The Clever Ways Call The Midwife Have Hidden Her Real-Life Pregnancy In Series 7
But of course, viewers well known that Call the Midwife isn't a show to shy away from the important issues. From the thalidomide scandal of the 1960s, to the issue of FGM, the show has actually been praised for shining a light some incredibly important issues.
Heidi agreed, "I think that over the last couple of years a far broader sweep of people have come to terms with what we're about. They understand that we deal with some quite hard hitting issues as well."
Season seven of the show is now well underway, and has already seen the characters face some pretty tough issues.
And according to previews, things only look set to get more tricky for Nonnatus House.
Recently released picures of Sister Monica Joan hint that viewers will see the older nun dealing with failing eyesight.
And following Nurse Trixie's decision to split from her boyfriend Christopher, things could be getting more serious for her too. Her recent struggle with alcoholism is bubbling quietly under the surface.
But actress Jenny Agutter admitted however that her character Sister Julienne is keen to take swift action to deal with the problem.
In an interview with TV Times, she said, "When faced with Trixie's drinking, Sister Julienne is stern yet also embracing of her because there's a problem to be faced."