First Sneak Peek At Grantchester Series 3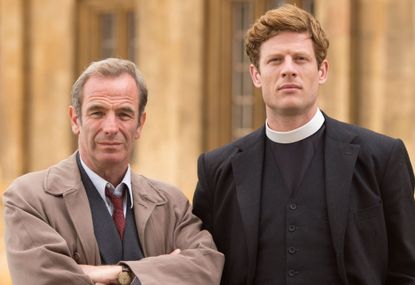 woman&home newsletter
Sign up to our free daily email for the latest royal and entertainment news, interesting opinion, expert advice on styling and beauty trends, and no-nonsense guides to the health and wellness questions you want answered.
Thank you for signing up to . You will receive a verification email shortly.
There was a problem. Please refresh the page and try again.
This April, Robson Green and James Norton return to our screens in the hit ITV show Grantchester, as the unlikely crime fighting duo we all love - Police Inspector Geordie Keating, and Vicar Sidney Chambers.
Grantchester series 3 will run for six episodes, as season one and two did, and will also see the return of Tessa Peake-Jones as the sharp-tounged Miss Maguire, and Morven Christie, who reprises her role as Sidney's forbidden lover Amanda.
The ITV series went down a storm when it first aired, and the final episode of season 2 back in 2016, left viewers on tenterhooks, as the beloved character Sidney made a choice that could change his entire fate at the Church...
So ahead of the very first episode, what are the characters up to in season three? James Norton, Robson Green, Morven Christie and Tessa Peake-Jones reveal all...
James, what's it like to be back?
"It is a bit of a homecoming for me everytime. Grantchester is always beautifully balanced between being familiar and welcoming, both for us and the audience, and having that sense of nostalgia and affection. But also it always has that bite in the stories."
What is season three all about?
"Series three is a very personal series. It's perhaps less about the period, what defined the 50's in comparison to now, and is much more about the inner turmoil and personal journey of Sidney and Geordie. It's about guilt and conflict. The conflict between love and duty. It is shocking and it is dark but in a slightly different more personal way."
And what's going on with Sidney and Amanda?
"Sidney has very clearly become this father figure with Amanda living separate to him in a little cottage in the village near the church. They are, in a way, living like teenagers. Stealing kisses behind the church and sneaking out for jazz nights with Mrs Maguire (Tessa Peake-Jones) babysitting Grace. It's playful and fun.
"But they are resisting or denying the impending decision: If Amanda divorces Guy she can't marry Sidney and she can't have a relationship with Sidney unless he leaves the church. So it sets up this duty versus love conflict.
(James Norton as Vicar Sidney Chambers)
The newest season is set in 1955 - the era of rock'n'roll. What was that like to film?
"This is 1955, the year before Elvis made his national television debut in America. The soundtrack to Grantchester is really important with Sidney's love of jazz and Sidney Bechet. But this is also the time rock 'n roll arrived.
"We had a great choreographer on set who taught Morven and I some early rock 'n roll moves. Which was great. I loved it. We tried to encapsulate the feel and spirit of that time. It's a slightly different place to where we've seen them in the past. And it sets up what they have to lose. They are in love and able to express that up to a point."
How do you keep your feet on the ground?
"I'm very lucky to have family who are really supportive. My dad is a regular extra on Grantchester! He usually does a day as various people. But we've never been able to persuade my mum. Until now. She is in series three of Grantchester with my dad as guests at a policeman's ball. They're amazing.
"And similarly with people I work with, like Robson. I look and learn from people like him. He was bombarded one day with fans and I said, 'How do you deal with this?' And he said, 'These people are the reason you are able to go on these amazing journeys and play these roles. They enable that career. So it's a contract. You give them time because they give you this career.' It was a wise moment and I banked it. He's a good man."
Robson, any season three spoilers? What's going on with Geordie's marriage to Cathy?
"Geordie is paralysed with the burden of guilt and obligation and has an overwhelming sense of routine. He feels the relationship is stale and redundant. But he's looking at the wrong aspects of the relationship.
"Geordie begins a campaign that sets out to destroy everything that is precious in his private life. Looking at the public face of Geordie, everything he has seems to be bright, rosy and healthy. But there's an undercurrent of something deeply uncomfortable. He begins to destroy the one thing he holds dear, which is his family. And seeks approval of his behaviour from Sidney.
(James Norton and Robson Green as Vicar Sidney Chambers and Geordie Keating)
Do you get much attention from fans during Grantchester filming?
"The public has welcomed Grantchester with open arms. We have a really loyal fan base. Especially for James Norton, of course! Who wouldn't want a vicar like Sidney Chambers? We get crowds, especially when we film in Grantchester itself. There's crowds every day there. They don't pose a problem. They're very obliging and welcoming."
You were still filming on your birthday last December. How did you celebrate?
"We had a fireworks display. James did the food and I did the fireworks. Fireworks is one of my guilty pleasures. So I threw a fireworks display to music of the movies. It started with Superman, then Flash Gordon, The Magnificent Seven, Prokofiev's Romeo and Juliet. It was wonderful. It was after we had filmed for the day and about 200 locals turned out in the village. We got permission to set a Category 5 display up. Everybody left with smiles on their faces."
Any disasters while filming?
"There was one night where we were doing an exhumation scene. It was raining and it was freezing. And it was taking an eternity. Not only were we fed up and the production team fed up but also members of the public were fed up. So much so that about half a mile away, this guy shouted out of his window, 'Turn off your lighting and go home!' With added bad language. We just fell about laughing and couldn't continue.
Morven, what's happening with Sidney and Amanda?
"Well they obviously are facing a quite complicated situation because Amanda is still looking to divorce Guy, that marriage is over as far as she is concerned. It's not any less complicated now she's not with Guy because obviously in the 50s a divorced woman was a very taboo thing. It's a big issue and for a vicar to try and be in a relationship with a divorced woman is fraught with issues. They have a lot of challenges to face but they really love each other.
(Morven Christie and James Norton)
I think the stories throughout this series are about how much duty is going to get in the way and people's opinions and judgements within the community. At the beginning of series 3, I think Amanda gets a shock when she realises quite how difficult officially ending this marriage is going to be and just how much judgement there is in the community about her situation and about Sidney being involved in that. These challenges go on all through the series.
Does Guy appear this series? Will we be seeing Grace's father?
"Yes, Guy (Tom Austen) comes back. I think Amanda has very much wanted Guy to be part of his daughter's life and when we meet them in series 3, they've had no contact and Grace has had no contact with her Dad whatsoever; through his choice not through Amanda's. Early on in the series, he changes his mind about that and wants to be in touch and I think Amanda is afraid of how it is going to go.
"Although she is really committed to do everything right. They have got to negotiate what they are going to do with their relationship and Guy's with Grace. I think there is a lot more understanding between them individually than there was when they were a couple. They're kind of hearing each other a bit better."
James is becoming increasingly popular and he's got such a massive female following. Do you find that people are really jealous of you, because you get to play his love interest?
"Yes. James and I are friends and we work hard trying to make these scenes really real. For me it's quite nice to just get on with my work and not too much attention to be on me, but there are definitely a lot of interesting responses to being his love interest!"
Tessa, what's it like playing quite a stern character like Mrs Maguire, because she's quite different from you?
"I love it because of that! I love any work and any character I do but it's really lovely to have a bit more of stretch and to be playing someone that I have to think a bit more about how she would be, rather than that natural sunny disposition. I love it, I think it's great. Every line Daisy [the script-writer] gives you is gold dust, she so knows Mrs Maguire so well. Each script is a joy."
Are people recognising you for this now more than Only Fools and Horses?
"It's interesting because when I wear glasses people recognise me as Mrs Maguire, rather than Raquel. It's strange because I don't wear glasses as Mrs Maguire!"
http://www.youtube.com/watch?v=dCwbPRMfB5I
Grantchester returns to ITV on 23rd April at 9pm.
Amy Hunt is an experienced digital journalist specialising in homes, interiors and hobbies. She began her career working as the features assistant at woman&home magazine, before moving over to the digital side of the brand where she eventually became the Lifestyle Editor up until January 2022. Amy won the Digital Journalist of the Year award at the AOP Awards in 2019 for her work on womanandhome.com.