Fool Me Once on Netflix: What is the new series about and who is in the cast?
New Netflix thriller Fool Me Once is adapted from a Harlan Coben novel and will leave you on the edge of your seat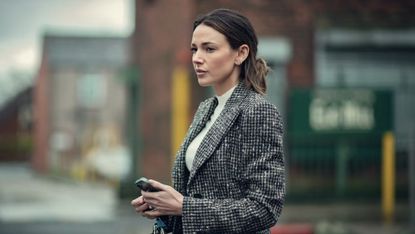 (Image credit: Netflix)
Netflix is creating another adaptation of a Harlan Coben novel called Fool Me Once, with Michelle Keegan taking the lead.
So far, three have been adapted by Netflix called The Stranger, Safe, and Stay Close. But when is Fool Me Once on Netflix and what is the new series about? Here's what we know…
WHAT IS FOOL ME ONCE ON NETFLIX ABOUT?
The plot of Fool Me Once sees main character Maya Stern (Michelle Keegan) trying to come to terms with the brutal murder of her husband, Joe (Richard Armitage).
In a bid to keep an eye on their young daughter, she installs a nanny cam but is shocked to see the husband she thought was dead is still visiting the house.
Detective Sergeant Sami Kierce (Adeel Akhtar) is leading the investigation into Joe's death, but he's also, "grappling with secrets of his own."
Meanwhile, Maya's niece and nephew, Abby and Daniel, are still trying to find out the truth about the death of their mother, who was killed just months before Joe.
Opening up about the new series, author Harlan Coben said, "I'm thrilled and honored to once again be collaborating with my uber-talented partners Danny (writer Danny Brocklehurst), Nicola (executive producer Nicola Shindler) and Richard (executive producer Richard Fee).
"Fool Me Once will be our fourth Netflix series together, and man, it never gets old! Fool Me Once is a pulse-pounder - a shocking story of how secrets and deceit have the power to bring people together while simultaneously tearing them apart. I can't wait to see how this dream cast brings these characters to life."
WHO IS IN THE CAST OF FOOL ME ONCE ON NETFLIX?

Michelle Keegan plays grieving wife Maya in Fool Me Once and is best known for playing Tina McIntyre in UK soap Coronation Street, as well as starring in Brassic, Ordinary Lies, Plebs and Tina and Bobby.
Richard Armitage is playing Joe Burkett and has also starred in previous Harlan Coben adaptations Stay Close and The Stranger.
His other credits include The Hobbit movies, Robin Hood, Hannibal, Ocean's Eight and Captain America: The First Avenger.
Adeel Akhtar will be playing DS Sami Kierce and previously starred in Les Miserables, Killing Eve and Ali and Ava.
Iconic British actress Joanna Lumley will be playing Joe's overprotective mum, Judith Burkett and is best known for playing Patsy in Absolutely Fabulous, as well as roles in The New Avengers, Jam & Jerusalem and The Sandman.
Other stars include Emmett J Scanlan as Shane Tessier and Dino Fetscher as Marty McGregor.
The cast is also made up of Marcus Garvey, Hattie Morahan, James Northcote, Dänya Griver, Daniel Burt, Adelle Leonce, Natalia Kostrzewa, and Laura Gibbons.
WHEN IS FOOL ME ONCE ON NETFLIX?
Filming has kicked off in Manchester and the North-West of England but Netflix is yet to confirm a release date for the eight-part series.
Unfortunately, drama fans might have a little while to wait as it is thought the start date will be the end of 2023 or start of 2024.
Naomi is a news and lifestyle journalist and digital content creator with bylines in The Independent, The Sun, Cosmopolitan, and Fabulous. She covers a range of topics and currently works at Heart Radio in London.