Food Network star Valerie Bertinelli details the 'second best day' of her life but it's not what you might expect
In a new video posted to social media, Valerie Bertinelli celebrates the second best day of her life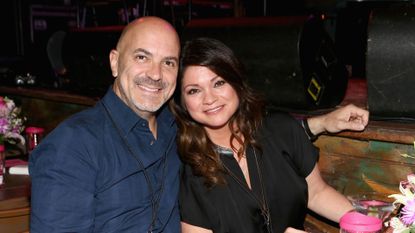 (Image credit: Getty Images)
About six months after officially filing for divorce back in May and a year following her decision to file for legal separation, 62-year-old Food Network star Valerie Bertinelli is officially divorced from husband of over ten years Tom Vitale.
Valerie posted a clip announcing the news on Twitter yesterday, while at the airport on her way to catch a flight to meet her 31-year-old son Wolfgang Van Halen, whom she had with late artist Eddie Van Halen. Eddie died of a stroke in Santa Monica in October of 2020 but the couple had divorced after over 10 years of marriage in 2005.
"I'm at the airport about to see Wolfie and my lawyer just called," Valerie says in the clip. "The papers are all signed, they are about to be filed. On 11-22-22 I am officially f—--g divorced. Happily divorced. Finally. It's finally over. Yes!"
11.22.22 second best day of my life pic.twitter.com/Il73nVoP9ANovember 23, 2022
See more
According to official documents obtained by PEOPLE (opens in new tab) back in September, as part of the divorce proceedings, the star of Valerie's Home Cooking had to part ways with her home in the Hollywood Hills, which she actually listed back in August for $2.5 million.
This isn't the first time that Valerie gets candid about the separation. Back in September, she took to Instagram to reveal that she was getting rid of a few items related to her marriage by giving them to luxury consignment website The Real Real.
"Dropped a few things off with @therealreal," she wrote on Instagram a few months ago as a caption to a series of photos showcasing the various products. "A couple of Tiffany rings that have some bad memories attached and a pair of shoes I wore to a wedding in January 2011 😉 They should be up in a couple of weeks! ✨💖"
Valerie and Tom were famously introduced by her own brother Patrick back in 2004, right after she had separated from Eddie. Tom had just gone through a divorce as well.
The couple got engaged in 2010 after six years of dating.
"We'd talked about getting married, but I was still shocked," Valerie said to AARP The Magazine about Tom's proposal in Florence, Italy. "It was sweet when he asked me, because he was so scared. I was like, 'Are you kidding me?'"
---
The couple got married at their home in Malibu on New Year's Day in 2001 in front of 100 guests but things clearly changed throughout the years.
Ten years later, on November 23, 2021, Valeries filed for legal separation citing "irreconcilable differences." Six months after that, she amended her filing to request a dissolution of marriage, specifically telling PEOPLE that her and Tom "grew apart."
Here's to hoping that both parties will soon find true happiness again now that the divorce saga is behind them.
Anna Rahmanan is a New York-based writer and editor who covers culture, entertainment, food, fashion and travel news. Anna's words have appeared on Time Out New York, the Huffington Post, Fortune, Forbes, Us Weekly, Bon Appetit and Brooklyn Magazine, among other outlets.