Ever wondered how Yellowstone actor Kevin Costner makes and spends his millions? We just found out
He makes *how much* per episode of Yellowstone?!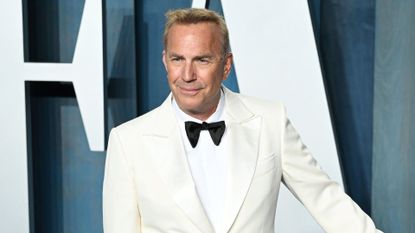 (Image credit: Getty Images)
Yellowstone's Kevin Costner has been gracing our screens for decades, making a name for himself as an actor and producer. Here's how the entertainment industry multi-hyphenate makes and spends his millions.
Since the 1980s, Kevin Costner has been starring in household-name films like The Big Chill and Field of Dreams. Nowadays, most folks associate Kevin's name with the modern western hit show Yellowstone, of which there are five seasons, all boasting Kevin's undeniable acting chops (although, sorry Yellowstone fans, the show is confirmed to end after the second half of season 5 is released, due to an alleged feud between director Taylor Sheridan and Kevin.)
But, before he embarked on his journey of becoming John Dutton, he took on lots of other major roles that earned him some serious notoriety... and cash.
In 1991, after his directorial debut for "Dances in Wolves," he took home the best picture and best director titles at the Academy Awards, and the actor earned $50 million, according to Forbes.
In between his debut and his Golden Globe-winning performance on Yellowstone, the actor, and director worked on a plethora of other recognizable films, such as JFK and The Bodyguard.
Fast forward to 2018 when Yellowstone first debuted - Kevin signed a deal to make $500,000 per episode, according to Puck News. After the show exploded in popularity over the years, and eventually spawned a handful of spin-offs like Yellowstone 1923, Kevin began making over $1million per episode - $1.3million to be exact, according to Variety.
Even with the show set to end after the release of the latter half of season 5, Kevin reportedly requested to up his episodic salary to $1.5 million per episode.
Oh, and in case you weren't already aware, Kevin Costner founded a country rock band called Modern West back in 2007, and toured with them all the way up to 2021 - performing at special occasions, touring across the country, and more, for all of which Kevin was likely monetarily compensated.
In 1995, he also began developing oil and water separation technology through a company aptly called "Costner in Nevada Corporation." After the Deepwater Horizon oil spill in the Gulf of Mexico in 2010, Kevin released his device and landed a $52 million contract with BP.
To top things off, he used to own a restaurant and casino in South Dakota, but both sold to a buyer in 2020.
OK, so we know some of the avenues the actor has taken to make money, but what about how he spends it?
Well, for one, he's put a lot of his own dollars into the films and TV shows he makes - most famously, he contributed $3.3 million of his own money for his film Dancing with Wolves.
Unfortunately, the actor has also had to drop some money on divorce settlements - one from his first divorce from Cindy Silva, which settled for $80 million. He also is currently in the middle of settling his divorce from his second wife, Christine Baumgartner, although it is unknown how much it will cost the movie star.
Keivn's primary residence in Ventura, California, cost about $145 million, according to MailOnline, and he also bought land in Aspen, Colorado which he turned into a ranch for $30 million in 2000.
Madeline Merinuk is woman&home's US lifestyle news writer. She covers celebrity, entertainment, fashion, and beauty news but is also obsessed with internet trends - you can find her reciting trending TikTok sounds out loud at any given time.
After winning multiple student journalism awards for her investigative work, she graduated from Hofstra University in 2021 with a B.A. in Journalism. After graduating, she worked at today.com, the digital site for the Today Show, where she wrote pop culture news and interviewed big-name personalities like Emily Ratajkowski, Haley Lu Richardson, Emma Corrin, and more.
Her personal interests, in no particular order, are: cheese, Joni Mitchell, reading, hot yoga, traveling, having multiple chapsticks in every handbag at all times, and dancing to ABBA songs as if she were in the Mamma Mia movies.