Endeavour ending explained: What happened, did DS Morse and DI Thursday survive and how did it nod to Inspector Morse?
The Endeavour ending likely left few fans with dry eyes as DS Morse and DCI Thursday parted ways in this intense last episode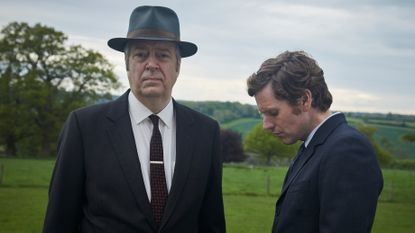 (Image credit: MAMMOTH SCREEN FOR ITV)
The Endeavour ending was every bit as emotional as you might've expected as the dynamic duo of DS Endeavour Morse and DCI Fred Thursday were parted.
If you haven't discovered how to watch Endeavour season 9 yet then you've been missing a seriously emotional journey as it drew to a satisfying conclusion with its final ever episode entitled Exeunt. Starring Shaun Evans as DS Endeavour Morse in this Inspector Morse prequel alongside Roger Allam as DCI Fred Thursday, The Endeavour ending tied up loose ends with multiple investigations. It was every bit as emotional as the Call the Midwife season 12 finale which had us wondering if Trixie's leaving Call the Midwife. But with so many details to take in, there are likely some who've been wanting to discover more about the last episode of Endeavour.
Here we reveal what happened in the Endeavour ending, why Morse never mentioned Thursday in Inspector Morse, who died and the nods to the original show…
*Warning: spoilers ahead*
What happened in the Endeavour ending?
The Endeavour ending is appropriately titled Exeunt and although it had its very own case as we've seen across the past 8 seasons, this perhaps wasn't the primary focus of the closing stages. The case saw Morse and the team investigating a series of murders which were ultimately found to have been perpetrated by a man whose bigotry and prejudice knew no bounds.
Alongside this was the investigation into Blenheim Vale which had been a care home for boys years earlier and where many were abused by members of the social elite. This was a huge case in Endeavour season 2 but the case ultimately came to nothing after the powers that be sealed it for 50 years.
One of the boys who'd been abused was Endeavour's DS Jakes who returned in season 9's penultimate episode and another was a missing boy, Peter Williams, whom he and Morse were attempting to trace.
Over the course of the Endeavour ending, it emerged that police corruption was still trying to stop the abuse coming to light. DI Arthur Lott had been involved and he had DCI Fred Thursday right where he wanted him. Thursday had handed over his life savings as a loan to his brother Charlie in season 5, only Charlie later told him he'd lost them. It turned out Lott had forced Charlie to hand them over and lie, so that someday down the line Lott could offer to return the savings for a price.
This came in Exeunt where he wanted the investigation shut down. A violent biker gang also took center stage in the final episode when it appeared that Thursday's son Sam had killed one of their members, Raymond Kennett, nicknamed Tomahawk. They also had a grudge against Lott for him being behind the death of another member and ultimately killed him in revenge.
Meanwhile, on the romance front - after all romance has been somewhat of an undercurrent throughout Endeavour with Morse's will-they-won't-they situation with Joan Thursday - there was a wedding in the Endeavour ending. Morse held back on ever telling the DCI's daughter the depth of his feelings for her and she and DS Jim Strange tied the knot, with Peter Jakes stepping in as Best Man.
Anyone who watched Inspector Morse will have known Joan and Morse were never destined to be as he died unmarried and with no children in its finale, The Remorseful Day. He also always put the job over Joan which it seems Jim would never do, perhaps suggesting that the couple really are better suited to each other.
As the Endeavour ending drew to a close the focus was very much on Morse and Thursday once again. The detectives enjoyed a final pint together before the Thursdays' move to Carshall and it was in the pub that Morse explained about Lott's fate. He didn't, however, reveal that he'd learnt from Lott that Raymond Kennett was actually the missing boy Peter Williams and that he'd become biker gang member Tomahawk.
"The bikers had been looking to get even with Lott ever since he did for one of theirs in Camden," he said, before revealing he'd gone to meet him alone to tell the corrupt officer he was closing down the Blenheim Vale investigation to protect Thursday. The bikers had turned up and although it's left unconfirmed it's likely Lott was killed.
The emotional stakes got even higher, though, when a crying Morse confronted Thursday about who really killed Tomahawk and how he'd realized it wasn't his son Sam. A flashback revealed that it was the DCI who'd killed Tomahawk after the biker threatened Sam, who was too drunk to defend himself.
"He'd have done for Sam," Thursday explained to Morse. "I don't regret it. I'd do it again in an instant"
Morse later told the DCI that what happened to Lott and Tomahawk would stay between them. Though he feared that with the gang it was an "eye for an eye" and they'd soon be after Sam and explained "even you couldn't defend him against that mob".
Agreeing that he'd have to move somewhere "much further" than Carshall, it was this point in the Endeavour ending that signaled the final parting of Thursday and Morse. The last episode of Endeavour's final scenes came at Blenheim Palace where Morse had been singing with his choir. Driving away in his jaguar there were several special nods to John Thaw's portrayal of the older Morse in Inspector Morse.
Why doesn't Morse mention Thursday again?
Fans of the Inspector Morse series will have known that a parting of the ways was coming for Thursday and Morse. Thursday isn't a character in either Colin Dexter's Inspector Morse books or the show for which Endeavour is a prequel. So somehow the Endeavour ending would have to explain why Thursday was never mentioned by his protegee again. This it did - in scenes which likely left plenty of us in tears. It turned out Endeavour Morse never mentioned Fred Thursday again for the DCI's own safety as he'd had to go into hiding.
After saving Sam from the aggressive Tomahawk, Thursday's son was a marked man as whilst the gang had never seen him, they knew who Sam was. Morse might have put the biker gang off the scent of the DCI's involvement for a while by telling the bikers that Tomahawk had been Lott's informant, but he knew it wouldn't protect Thursday and his family forever. The only option left if Thursday wanted to keep himself, his wife Win and Sam safe, was to leave Oxfordshire.
It was decided that since Joan Thursday had just become Mrs Strange and would be moving to Kidlington with Jim that they would be alright to stay in the general area. They were set to move to Kidlington where Thursday told Jim early on in the episode there'd be more scope for "advancement".
Promising to "always" keep an eye on the couple for Thursday, Morse bid a fond and heartbreaking farewell to the man who'd seen something in him from the start when others didn't.
Morse handed back Thursday's savings that had been stolen by Lott and the DCI handed Morse his treasured gun that had seen him through all these years.
"Mind how you go, Endeavour", Thursday said, to which Morse replied simply, "Morse, Sir. Just Morse."
Who died in the Endeavour ending?
From wondering how Jackie died in Yellowjackets to fearing Vera Stanhope would die in the Vera The Darkest Evening ending, the loss of a character is a big fear for any show, especially if it's the final ever episode. Thankfully, though, no regular characters died in the Endeavour ending. There were several deaths investigated by Morse and the team in the final episode and biker Tomahawk AKA Peter Williams and possibly also Lott were killed during the course of the episode. After being given Thursday's gun, Morse also seemed to have played Russian Roulette in a church yard, though in the next scene he's revealed to have been completely fine.
Is Jim Strange in Inspector Morse?
He might've been humble DS Jim Strange in the Endeavour ending but the loyal detective worked hard and steadily climbed the ranks to become a highly respected senior officer in Inspector Morse. In the original Colin Dexter adaptation he was Chief Superintendent Strange and was Morse's boss after once being his equal in rank. Given that the Thursday family never appeared in Inspector Morse, his wife Joan Thursday was never mentioned by Morse and Jim in the main show.
However, the knowledge that Morse was always looking out for them and that she had achieved a happy ending with Jim is a sweet detail from the Endeavour ending that casts the show in a new light.
The nods to Inspector Morse in the Endeavour ending
There are several small nods to Inspector Morse in the Endeavour ending, including Thursday's collapse in the episode as he's under huge strain. This mirrors Morse's own collapse in The Remorseful Day - the last ever episode of Inspector Morse. Thankfully for Thursday his collapse wasn't an indicator of anything fatal, whereas for Morse he experienced a cardiac event that ultimately led to his death at the end of the episode.
In the final scenes, Morse drove away from Blenheim Palace in his jaguar as a red jaguar passed him. This red Jaguar Mark 2 is the same car that the adult Morse drove in the original series and there was another brief moment that paid tribute to Inspector Morse too.
As Morse looked in the mirror of his own car for a second the eyes of John Thaw who played his character in later life could be seen looking back in the mirror of the red one as it arrived at the palace. The first ever episode of Inspector Morse, The Dead of Jericho, also saw Morse singing in a choir like in the Endeavour ending.
Endeavour seasons 1-9 are available to watch in the UK via ITVX and season 9 is set to air at a later date on PBS for US viewers.
Emma is a Senior Lifestyle Writer with six years of experience working in digital publishing. Her specialist areas including literature, the British Royal Family and knowing all there is to know about the latest TV shows on the BBC, ITV, Channel 4 and every streaming service out there. When she's not writing about the next unmissable show to add to your to-watch list or delving into royal protocol, you can find Emma cooking and watching yet more crime dramas.