'How unprofessional': Ruth Langsford pokes fun at Eamonn as he suffers on-air blunder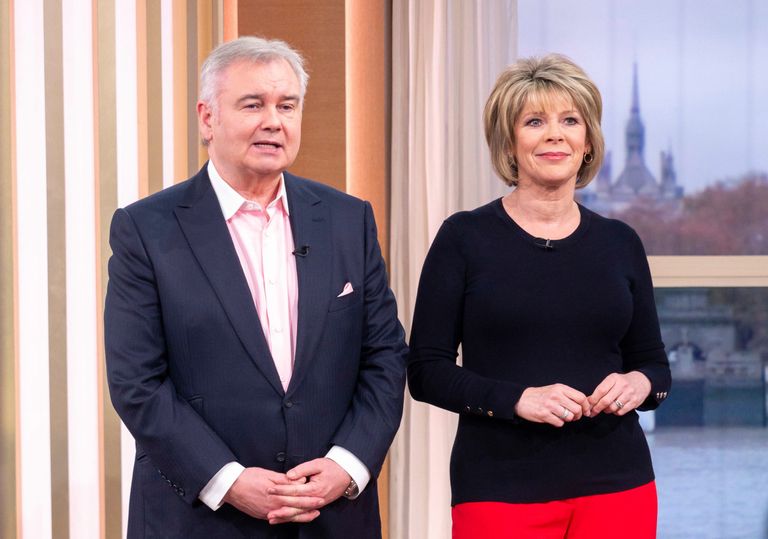 By Amy Hunt
Eamonn Holmes suffered a slightly unfortunate on-air blunder during yesterday's episode of This Morning - something wife Ruth Langsford was quick to poke fun at him for.
The presenting pair were discussing the show's fashion segment, when they both picked up on a noise in the background.
Eamonn appeared to panic, realising that it was his phone ringtone going off, and tapping his pockets to try and find the source.
MORE:Eamonn Holmes And Ruth Langsford Net Worth Revealed
Ruth quickly asked, "Is that you?", before Eamonn dashed across to the other side of the set to retrieve his mobile phone, which was ringing on the sofas where the pair usually conduct interviews.
Eamonn's wife was quick to joke about the awkward mistake, laughing saying, "How unprofessional, he hasn't turned his phone off on the other side of the studio."
While Eamonn also appeared to see the funny side, he also wondered who would be phoning him at that time.
He said, "No, what gets me are the people who phone you at this time of the day. Do they not watch TV?"
As he walked back across the studio, Ruth asked him, "Who is it? Is it your mum?"
But Eamonn replied, "It's Man Utd, someone from Man Utd. They're obviously phoning to gloat about the match last night."
The night before, Eamonn's team had won a match against Chelsea in the FA Cup.
However, the presenter obviously opted not to take the call, declining it and eventually, turning his phone on to silent. Better late than never!
This past weekend, Ruth and Eamonn returned to screens for the new This Morning weekend show, This Morning on Sunday.
Viewers were particularly interested in Ruth's choice of outfit for the show, so much so, that she posted an Instagram video of the pale pink jumper she'd worn to let her fans know where it was from.
She wrote, 'For those asking.....the pink star jumper I wore on @thismorning Sunday is from @hushhomewear'.
The jumper costs £85, and would make for a brilliant option to cosy up in this winter.