Dolly Parton shocks fans by breaking one of her oldest rules - and it's met with calls for her to run for President
Dolly Parton famously avoids talking politics, but she's taking aim at politicians in a new interview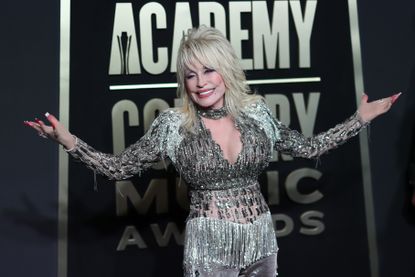 (Image credit: Omar Vega/FilmMagic)
Dolly Parton is never one to play by the rule book – not even her own, if her latest interview is anything to go by.
Dolly, who is swapping her country roots for a full-on rock album this year, might be inspired by the rebellious nature of the genre as she speaks out on politicians in a new interview.
Quoting the lyrics of her new single, World on Fire, back to her, a host on The Today Show read Dolly's surprisingly fiery takedown of politicians.
"Don't get me started on politics, Now how are we to live in a world like this, Greedy politicians, present and past, They wouldn't know the truth if it bit 'em in the ass."
These are the words read back to Dolly, who laughs as a response. She's then asked which politicians she's talking about.
"All of them. any of them." She replies, plainly.
She then adds, "I don't think any of them are trying hard enough… They worry more about their party than they do about the people."
Dolly added the better approach would be "If we just do what we felt was the right thing rather than who's going to lose or who's going to win this, or who's going to look better if they do this."
It's a bold departure from Dolly's usual approach to talking politics – but people on social media have reacted positively to the normally reserved superstar speaking out.
Many fans said the same thing, writing "Dolly for president" while another pointed out that Dolly has never forgotten where she came from, always putting the needs of the people before anything else.
Despite being well-known for her huge heart, charitable endeavours, and not being afraid to wade in and help those in need, she's famously shied away from really talking about how she aligns.
In fact, after appearing at the Emmy Awards in 2017 with her 9 to 5 co-stars Jane Fonda and Lily Tomlin, Dolly shared the rule she tends to live by when it comes to speaking politics.
At the awards show, Jane and Lily went a little bit off script, lashing out at then President Donald Trump.
Not long after, Dolly told The Guardian, "I don't like to be known by the company I keep, so to speak. I want to be my own individual self. If I've got something to say, I'll say it, but I don't want to be dragged into it."
She added about the event with Jane and Lily, "I just did not want everybody to think that whatever they think is what I think. I don't really like getting up on TV and saying political things. I don't even want to make a deal out of it, but I want people to know I'm my own individual self."
As for her own political views, she knows what they are and that's good enough for her. "I've got as many Republican friends as I've got Democrat friends and I just don't like voicing my opinion on things," she says.
"I've seen things before, like the Dixie Chicks. You can ruin a career for speaking out. I respect my audience too much for that, I respect myself too much for that. Of course, I have my own opinions, but that don't mean I got to throw them out there because you're going to p*ss off half the people."
Jack Slater is not the Last Action Hero, but that's what comes up first when you Google him. Preferring a much more sedentary life, Jack gets his thrills by covering news, entertainment, celebrity, film and culture for woman&home, and other digital publications.
Having written for various print and online publications—ranging from national syndicates to niche magazines—Jack has written about nearly everything there is to write about, covering LGBTQ+ news, celebrity features, TV and film scoops, reviewing the latest theatre shows lighting up London's West End and the most pressing of SEO based stories.