Does Offred get pregnant in The Handmaid's Tale and how many children does she have?
Offred in The Handmaid's Tale is expected to bear children, but has she been pregnant?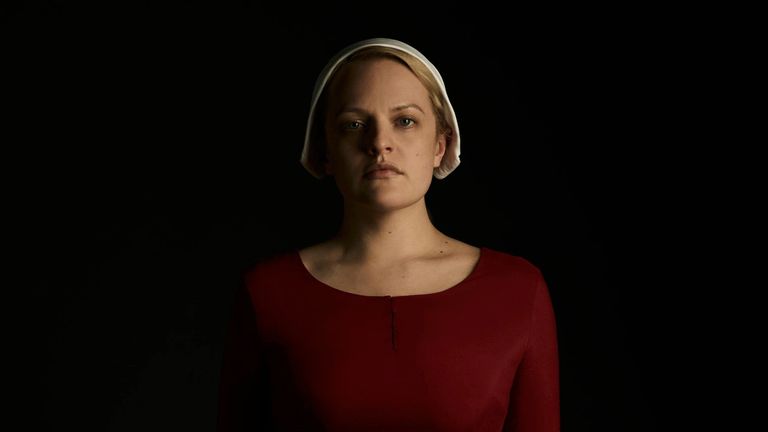 (Image credit: Hulu)
Offred in The Handmaid's Tale is assigned to provide a child for Commander Fred Waterford and his wife, but does she get pregnant?
In The Handmaid's Tale, the Republic of Gilead has risen to power in what was the United States, stripping our favorite protagonist of her identity as June Osborne and re-naming her Offred. As a Handmaid, Offred's purpose in this terrifying society is to provide a child for her master. If this isn't already a gripping enough premise to have you wondering how to watch The Handmaid's Tale, we don't know what will! After the new The Handmaid's Tale trailer teased even more drama, fans couldn't wait to dive back into the hit Hulu show for season 4.
Though whilst some viewers will already be clued up on all The Handmaid's Tale book vs show changes and character backstories, others might still be confused about Offred's past. And after learning about her different relationships throughout the seasons, it's no surprise some have been wondering - does Offred get pregnant in The Handmaid's Tale?
*Warning: spoilers ahead!*
Does Offred get pregnant in The Handmaid's Tale?
Offred in The Handmaid's Tale is forced to become a so-called Handmaid due to her status as a fertile woman in a world with plummeting fertility rates. Though she is seen as the "property" of Fred Waterford, some fans believe he is sterile since he failed to conceive a child with his previous Handmaid. So ever since Offred, also known as June in the show, discovered she was pregnant at the end of season 1, it's been assumed by many that Fred's driver Nick is the baby's father, as he and Offred/June also slept together.
Offred/June had to then try and come to terms with the fact that either way, as soon as she gave birth, her baby would be taken away from her. Though her maternal instinct and desire for justice is so strong that later Offred/June made a promise to her child that she would never let them grow up in Gilead.
Does Offred lose the baby?
For a while in The Handmaid's Tale season 2, it seemed that Offred/June might lose her baby after she discovered she was bleeding whilst in the bathtub. She tried to clear things up herself and insisted she was fine, though Offred/June kept losing more and more blood and some fans feared this might be Offred/June having a miscarriage. This was later revealed not to be the case, as her lover Nick discovered her collapsed outside and she was rushed to hospital just in time. It is here that they are able to find a heartbeat, confirming that Offred/June is still pregnant.
Offred/June later goes on give birth to an adorable daughter, whom she names Holly after her mother. Fred Waterford and his wife Serena Joy later rename her Nichole, but despite the baby officially now belonging to the couple, Offred/June's bond with her daughter remains strong.
In the tense season 2 finale, Offred/June managed to escape the Waterfords' house with baby Holly/Nichole and intended to board a truck with friend Emily to get to freedom. However, as season 2 drew to a dramatic close, she made the ultimate sacrifice.
Offred/June gave her baby girl over to Emily and chose to remain in Gilead. Offred/June made this type of impossible decision again in Season 3, after she helped other children to escape to Canada, whilst staying behind herself. She did this partially so she could act as a distraction to ensure the children could get away, but another key motivation was the desire to reunite with her other daughter, Hannah, who is in Gilead.
Does Offred have a second child?
Going into the later seasons, Offred/June's love for her other daughter Hannah becomes an even greater motivation for her to fight back against Gilead. Hannah is the daughter of Offred/June and her husband Luke and she was born before the formation of this terrifying new society. Luke, Offred/June and Hannah all tried to escape, but Luke tells his wife to take their daughter and run after they are spotted and their car crashes. Despite her attempts, however, in a devastating twist, Offred/June and Hannah are caught and her daughter is taken from her. She is later forced into servitude as a Handmaid by the new regime and Hannah is rehomed with another couple.
Can other wives get pregnant in The Handmaid's Tale?
In the dystopian future where The Handmaid's Tale is set, fertility rates have dropped dramatically for both men and women. So much so that many women are sadly unable to have a child of their own. In their place, the Handmaids are expected to conceive children with the commander they are assigned to.
These babies will later be raised by them and their wives, like when Commander Fred Waterford and Serena Joy initially raised baby Holly/Nichole. It's been shown in the show that some wives can get pregnant, such as Serena in season 4, who is revealed to be pregnant after initially believing she was infertile. Though generally wives rely on the Handmaids to carry children they later call their own.
Though The Handmaid's Tale certainly handles some difficult themes, the hit Hulu drama is definitely worth watching as the tense fourth season continues...
Emma is a Senior Lifestyle Writer with six years of experience working in digital publishing. Her specialist areas including literature, the British Royal Family and knowing all there is to know about the latest TV shows on the BBC, ITV, Channel 4 and every streaming service out there. When she's not writing about the next unmissable show to add to your to-watch list or delving into royal protocol, you can find Emma cooking and watching yet more crime dramas.