Dawn French reveals her daughter is 'torturing her' in lockdown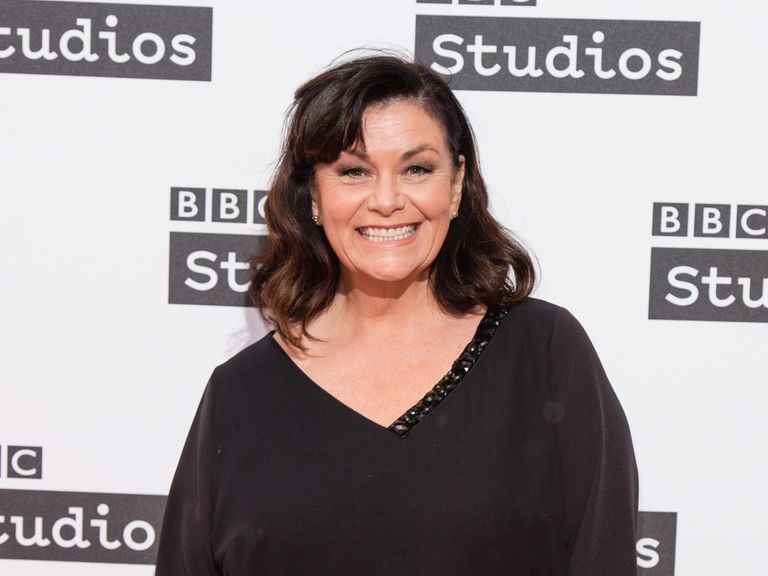 Dawn French is just one of many celebrities keeping their Twitter followers entertained while the country is currently in lockdown in a battle against the covid-19 pandemic.
And the TV star and comedian has revealed her daughter is "torturing" her - by telling white lies in her text messages.
Sharing an example of one of Billie's messages, Dawn, 62, posted a picture of a tattoo - a tongue hanging out of a mouth - sent from Billie who claimed she'd had the art inked on her. "Like my new tattoo," Dawn's daughter wrote.
Clearly feeling gullible in these testing times, Dawn added, "My kids torturing me. I believed this for a minute... #boredinisolation."
Thanks to the covid-19 pandemic, Dawn is currently in isolation with her husband, Mark Bignell. And he's turned to some bizarre habits to pass the time.
"So. End of first week of isolation & husband is 'polishing'&'mending' his axe. Ummm, ok. #help #justfortherecord," Dawn tweeted last week.
After years of gruelling TV schedules filming The Vicar of Dibley and French and Saunders, Dawn's priorities have changed in life and the comedy actress now craves the "quiet" life.
"I am enjoying the place I'm in," she said two years ago. "I realise I'm right there in autumn and I can't see the point in resisting it. This is what 60 looks like."
Dawn confessed to feeling "broken" following the breakdown of her 25-year marriage to Lenny Henry ten years ago and recently said she still "grieves" for their marriage.
"I have mended myself. I have seen what happens if you stay broken. When I was single I found my new self. But I think it is OK to grieve over a relationship."
Dawn has since re-married and the pair have moved back to Cornwall so she can be close to where her family once lived. "I find quiet there. I have been noisy all my life and loved it but essentially I am a quiet person," she admitted.
"I've gone back to where my family are. The sense of my mum is there and that is home for me."
Georgia studied Print Journalism at university in Nottingham, England before going on to work on several leading celebrity magazines, as well as freelance writing for international magazine Grazia Middle East. An enthusiastic, hard-working and ambitious writer, Georgia recently launched her own communications consultancy, farq media. As Director and Founder, Georgia helps businesses with their Public Relations strategy, as well as influencer and celebrity marketing. She also represents several influencers of her own. She lives with this motto in mind; "if your dreams don't scare you, they aren't big enough."