Davina McCall And Her Father Share The Realities Of His Dementia Diagnosis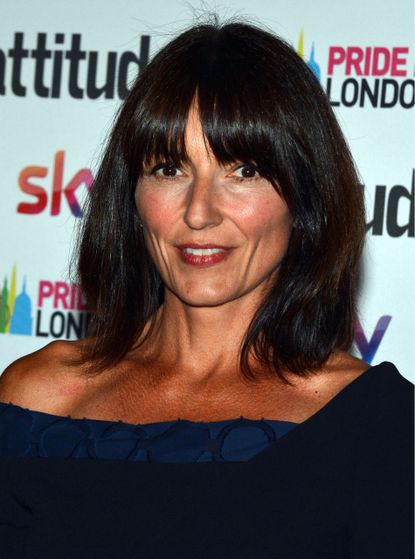 (Image credit: Rex Features (Shutterstock))
She's never shied away from sharing the most private parts of her life, and now Davina McCall has opened up in a candid chat about her father's dementia.
Davina, currently best known as presenter of ITV series Long Lost Family, has shared many intimate aspects of her private life before, such as the times she spoke openly about her previous addiction to drugs, and the heart-breaking death of her younger sister Caroline.
And she's now opened up about her dad Andrew's life with the disease, and praised his absolute strength in dealing with it. In a statement released by the Alzheimer's Society (opens in new tab), she said, "My dad has always been my rock. He's way smarter than me, funnier, stronger. I've always slightly hero-worshipped him. So when he started saying funny things like"I took the overland train" and "Call me when your work is less explosive."
Discussing the moment they realised something wasn't right, she continued, "It didn't take us long to all come together and ask each other if we should be concerned. The psychologist that first assessed him said that he could have been affected for a while - but he is so clever that he had come up with strategies. That's my dad - see a problem, come up with a strategy."
But Davina also admitted that the disease has taken huge adjustment, and has even meant that her relationship with her father has been forced to change. She said, "I have grieved the loss of my old dad." But she continued, "But we are forging a new relationship, a different one - one where perhaps he might need me more. Our dynamic has changed, but he's still my dad. My dad is very charming, everyone he meets falls in love with him. That's one thing that hasn't changed."
[instagram]
However, the popular TV presenter admitted that if anyone is finding it difficult, it's her step-mother, Gaby. Gaby and Andrew have been together for over 40 years, since Davina was 13 years old, and Davina spoke about how tough the changes have undeniably been on her.
Davina said, "The person I do worry about is my mum. It's a lot, watching the man you love struggle and I know it's tiring for her. Each day is a blessing. We as a family are learning to adapt fast. Each step we discuss together."
Gaby herself has even spoken about the issue, saying how important it is to be open and honest about the realities of dementia.
"As anyone knows, if you have lived with someone for many years - 43 in our case - you will notice the subtlest of changes in their behaviour and personality.
"The earlier you can catch it and medicate it the better it will be for the person with dementia and their family. Then all you can do is to accept it and commit to doing everything you can to manage it and beat it. Talk about it together on a regular basis. Don't be embarrassed. Andrew is lucky because he is not at all embarrassed and tells everyone about his diagnosis."
77-year-old Andrew himself has also spoken about his diagnosis - giving a valuable insight into dementia from the point of view of the person diagnosed.
(Davina with her husband Matthew, left, and father Andrew, right, in 2002)
Chatting about the moment he was diagnosed, he recalls how his family kept him informed. "A couple of years ago I was diagnosed with Alzheimer's disease, aged 73. My family noticed the signs before I did.
'"They tell me that occasional memory lapses associated with age became more frequent and more short-term. Then I began searching for words, everyday words that would normally have been easy to retrieve from my memory. That's when I realised that this was more than just the natural decline in memory."
But he is clearly adamant in staying positive and optimistic about the future, and even shared his ideas on what to do to help combat some of the effects of the disease.
He said, '"I am blessed with a strong streak of optimism and there is no doubt that it has helped me come to terms with the diagnosis. I'm doing what I am told to do by the professionals: no more alcohol, plenty of exercise, plenty of reading and challenging my brain to keep things working as much as possible."
The family also revealed that they will be taking part in the Alzheimer Societies Memory Walks (opens in new tab), which happen from September onwards.
The walks aim to raise money for dementia research. Andrew said, "As a family we think it is very important to join together and support the work of the Alzheimer's Society. Memory Walk is a great place to start"
Amy Hunt is an experienced digital journalist specialising in homes, interiors and hobbies. She began her career working as the features assistant at woman&home magazine, before moving over to the digital side of the brand where she eventually became the Lifestyle Editor up until January 2022. Amy won the Digital Journalist of the Year award at the AOP Awards in 2019 for her work on womanandhome.com.