Could The Handmaid's Tale's spellbinding sequel The Testaments hold the key to season four?
The Testaments could shine new light on The Handmaid's Tale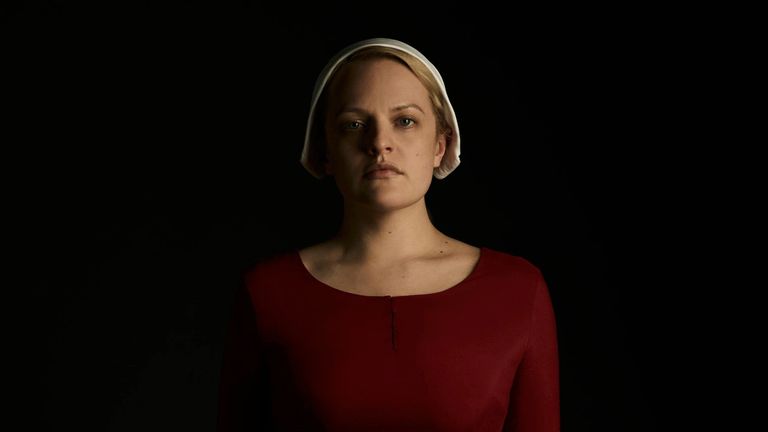 (Image credit: Hulu)
The Testaments might not be familiar to all The Handmaid's Tale show fans, but those who have read this spellbinding story seem pretty convinced that season 4 is taking some major inspiration from it.
The Testaments by Margaret Atwood made The Handmaid's Tale fans wait for 34 years to discover what happens after the events of the first book, but I think we can all agree it was definitely worth it. The Handmaid's Tale is surely one of the best books of all time and it's bestselling sequel picks up 15 years later, with Aunt Lydia as one of three narrators. Though she is generally seen as an antagonist in the Hulu show, The Testaments gives readers a unique insight into the real Aunt Lydia.
And whilst the latest season of The Handmaid's Tale is already part way through airing, there's never been a better time for book fans to find out how to watch The Handmaid's Tale. If the latest episode is anything to go by, it seems the hit dystopian drama is taking some serious inspiration from The Testaments.
This direction has not gone unnoticed by eagle-eyed viewers - but does The Testaments really hold the key to The Handmaid's Tale season 4?
*Warning: spoilers ahead!*
The Handmaid's Tale fans are convinced Atwood's The Testaments will heavily influence season 4
The Handmaid's Tale season 4, episode 5, Chicago, has got some fans speculating that The Testaments has inspired Aunt Lydia's character in the show. In this latest instalment, viewers saw Aunt Lydia blackmail Commander Joseph Lawrence in order to return to her position as an 'Aunt'. Whilst this might seem in keeping with what we know about Lydia so far, the episode's ending sees Lydia telling a new group of Handmaids she will always be on their side.
This show of compassion has prompted several fans to speculate on Reddit that she will go on to reveal her true allegiance and is currently scheming to use what power she has to bring about Gilead's downfall. If so, this is certainly true to The Testaments, as Aunt Lydia is revealed to have been trying to bring down the regime whilst working within it.
The Testaments by Margaret Atwood | Amazon | £8.99 (opens in new tab)
This brilliant sequel to The Handmaid's Tale picks up 15 years later, bringing together the narration of three powerful characters: the fearsome Aunt Lydia, Agnes who lives in Gilead and Daisy, a young woman from Canada. Alternating between their different viewpoints, the Republic of Gilead is beginning to crumble from within. At this critical time, these three very different women must decide how far they are prepared to go for what they believe.
'I noticed that Lydia used the word testaments in this episode when attempting to blackmail Lawrence. Definitely felt the phrasing here alluded to Lydia's diary in the Testaments', one fan declared, focusing on the precise choice of language.
This sentiment was echoed by another, who suggested: 'Aunt Lydia's use of the word "testaments" in "I have testaments of your abuse of power" I think might be an allusion to the testaments?? That the TV version of aunt Lydia might follow the way of her character in the Testaments…'.
Meanwhile someone else suggested that The Handmaid's Tale season 4 could be depicting the significant moment that Lydia finally chose to fight back against Gilead in her own way.
They theorized: 'By the time The Testaments came out, it had been about 10 years. Lydia was firmly working from within to fight against Gilead. That pivotal moment had to come from somewhere, so it stands to reason that this is Lydia's "final straw", so to speak.'
And a fellow fan seemed to think that Lydia's speech to the Handmaid's was 'implicitly letting them know that it's 'you (Handmaids) vs them (the men)' and that Lydia, at least, is on the Handmaids' side.'
Whether or not these theories turn out to be true, it certainly seems as though The Handmaid's Tale is taking Aunt Lydia in a direction that bears some similarities to her The Testaments plotline.
Will there be a The Testaments movie or TV series?
The best book-to-movie adaptations transform all the wonderful characters and plots of the original novel and make them everything you imagined - and more. The Handmaid's Tale adaptation has certainly made the horrifying society of Gilead seem frighteningly real and fans of The Testament will be delighted to hear that a sequel show is reportedly in the works.
As previously reported by Deadline, MGM and Hulu were in talks with Handmaid's showrunner Bruce Miller about how The Testaments could be adapted into an extension to the existing series. Whilst things have seemingly gone quiet on this front since then, according to the New York Post, a The Testaments adaptation is very much still happening.
Speaking to the publication ahead of The Handmaid's Tale season 4 premiering on Hulu, Miller revealed that they're "working on it" and "laying the groundwork" for The Testaments to be adapted, either in a stand-alone show, or incorporated into the existing drama.
"We are working on it. I'm a little bit of a 'one at a time' kind of person," he explained. "But it's a spectacular story and we've been able to talk to Margaret long enough that we've been able to lay some of the superstructure into 'The Handmaid's Tale' that would support us moving on to tell 'The Testaments.'
"Whether it's its own show or part of this show, those are bigger creative decisions — but we are definitely moving forward and laying the groundwork."
So whilst The Testament fans will have to be patient, it seems like we will get to see Margaret Atwood's brilliant sequel brought to life on screen. Until then, we'll just have to carry on enjoying and theorizing about The Handmaid's Tale season 4!
Emma is a Senior Lifestyle Writer with six years of experience working in digital publishing. Her specialist areas including literature, the British Royal Family and knowing all there is to know about the latest TV shows on the BBC, ITV, Channel 4 and every streaming service out there. When she's not writing about the next unmissable show to add to your to-watch list or delving into royal protocol, you can find Emma cooking and watching yet more crime dramas.