Christine Bleakley Talks About Her 'Terrifying' Experience With A Stalker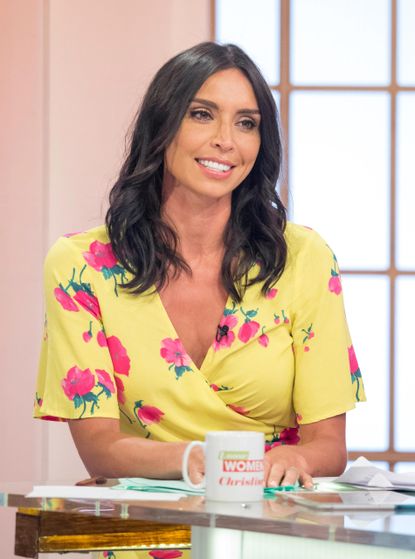 (Image credit: Rex Features (Shutterstock))
Christine Bleakley has opened up about her harrowing experience at the hands of a stalker whose delusions led him to believe they were married.
The Loose Women panellist spoke of her ordeal on Wednesday's show, explaining how husband Frank Lampard had to step in and confront the man harassing her.
"I was away filming and Frank was with me," said Christine, 38. "There was a chap who had been trying to get in contact with me for a while - he thought we were married."
Terrifyingly, the stalker didn't stop at harassing Christine over the phone.
She added: "There were obviously problems in his own life and his own mind. He randomly turned up at the hotel we were staying in, which does freak you out because you think there's a sense of someone knowing where you are.
"Frank did go out and said, 'Look, you've got to stop this. This isn't normal behaviour.'"
Thankfully, Frank's intervention deterred the man from contacting Christine again.
"We haven't heard anything since," she concluded.
There were 7,706 cases of stalking recorded between 1 April 2013 and 4 February 2016 by UK police, according to a large-scale freedom of information (FOI) request by theSuzy Lamplugh trust. (opens in new tab) However, this figure is largely misleading in terms of how many people are affected, as it's thought that only a tiny proportion of cases are reported.
Christine isn't the only Loose Women panellist to face this issue.
Penny Lancaster, who is married to Rod Stewart, also shared her experience. "I had my newborn in the back of my car and I was followed by two cars which were parked outside my house," said Penny. "Every lane I took, this car was right up behind me. I couldn't even see number plates because it was so dangerously close."
Penny's assistant was straight onto the police who told her what to do next. "They were like right take this route into London. When you see us pull in and give enough room for the car to pull in. I did that and the police came out and arrested the man," she said.
Stacey Solomon also shared her ordeal. "Somebody who I crossed paths with became angry towards me for no reasons. This person knocked on all the doors on my street posing as a cleaner because he was trying to find me," she recalled.
"This person also sent letters but it was still not enough evidence to get a restraining order against him. Maybe it's because it happens all the time."
If you've been affected by the issues discussed in this piece, contact the National Stalking Helpline (opens in new tab) on 0808 802 0300. The National Stalking Helpline provides guidance and information to anyone who is currently or has previously been affected by harassment or stalking.