Britney Spears hits out at Diane Sawyer for making her cry on TV when she was just 21 years old
Britney Spears took to Instagram to slam Diane Sawyer over their infamous 2003 interview and revealed she doesn't plan on touring again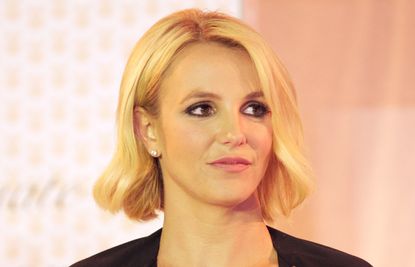 (Image credit: Photo by Ragnar Singsaas/Getty Images)
In a now-deleted Instagram post, Britney Spears shared her true feelings about the infamous 2003 interview that she gave to Diane Sawyer on ABC.
"Do we dare forget the Diane Sawyer interview in my apartment almost 20 years ago?" wrote Britney, recently free from her much-chronicled conservatorship woes, in a lengthy message. "What was with the 'You're in the wrong' approach?? Geeze... and making me cry???"
The sit-down meeting took place right after the singer broke up with Justin Timberlake—an event that Britney also discussed in her post, calling the split a shock that left her not speaking "to anyone for a very long time."
"Something I never shared when I had that break-up years ago was that I couldn't talk afterward," Britney, who will don a custom-made Versace wedding dress for her upcoming marriage to Sam Asghari, wrote. "I was in shock... pretty lame of my dad and three men to show up at my door when I could hardly speak... two days later they put Diane Sawyer in my living room... they forced me to talk!"
During the interview, Diane asked Britney what, exactly, she had done to cause Justin to go on television "and pretty much [say] you broke his heart."
The journalist went on to suggest that Britney was "upsetting a lot of mothers in this country" by setting a bad example for the young women who idolized her.
"Seriously though... I lived in my apartment for a year and never spoke to anyone... my manager put that woman in my home and made me talk to her on national television and she asked if I had a shopping problem!!!," Britney wrote on Instagram. "When did I have a shopping problem?"
Although the interview happened almost two decades ago, clips from it recently resurfaced as part of the uber-popular Hulu documentary about the teen star, "The New York Times Presents Framing Britney Spears." Viewed from a 2021 prism, the sit-down certainly does seem harsher than it had appeared to be when it originally aired. In fact, fans took to social media to express their disappointment with Diane's line of questioning.
In her long note, Britney also opened up about the very first time she was able to withdraw money from an ATM on her own ("[I] was so proud"), touched upon her conservatorship abuse ("I'm embarrassed for the state of California for permitting my father to have me work as hard as he worked me all those years and never seeing a dime") and revealed that she doesn't plan on going back on tour ("I don't think I ever want to do it again. I hated it.").
After praising celebrity friends like Betsey Johnson, Jennifer Lopez and Donatella Versace for sending her a slew of gifts, the iconic artist ended her note wishing everyone a wonderful Christmas. Right back at you, Brit.
Anna Rahmanan is a New York-based writer and editor who covers culture, entertainment, food, fashion and travel news. Anna's words have appeared on Time Out New York, the Huffington Post, Fortune, Forbes, Us Weekly, Bon Appetit and Brooklyn Magazine, among other outlets.