Big Little Lies fans are obsessed with Meryl Streep's sassy performance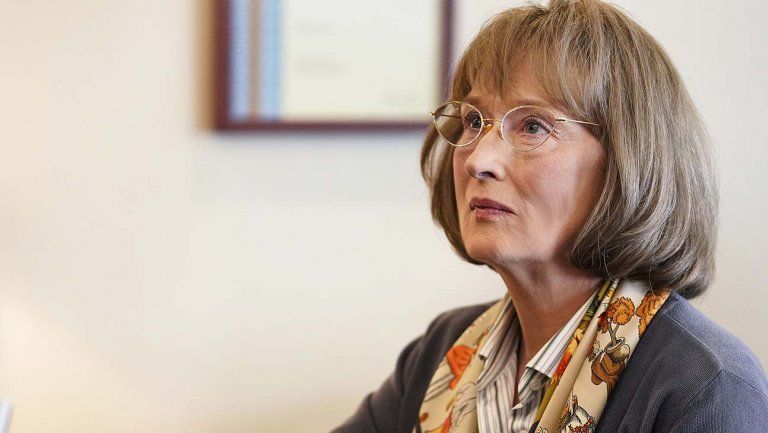 HBO's drama series 'Big Little Lies' has a star-studded cast, but fans of the show are obsessed with one woman in particular: Meryl Streep.
Set in a tranquil beachfront town, the series is based on the novel of the same name, and tells a darkly funny tale of murder and mischief where you least expect it. Hollywood actresses Nicole Kidman, Reese Witherspoon and Shailene Woodley star as the three 'mothers of Monterey'.
This next bit does contain a major spoiler from season 1, so look away now if you haven't seen it!
MORE:WATCH: Meryl Streep as you've never seen her before
The series has returned for a second helping, and fans absolutely love Meryl Streep, who plays Mary Louise Wright, the mother of Perry (Alexander Skarsgard), who was married to Nicole Kidman's character Celeste. She's arrived in town to find out more about his death.
She's only been in one episode so far, the season 2 premiere, but she's already made her mark on audiences. The show's creators seem to have done a stellar job with casting, because Twitter reactions to Meryl's presence have already been hilarious.
Is an Emmy on the cards for Meryl?
One user suggested that Meryl was already going to dominate awards season, and we agree.
Another is obsessed with all things Meryl does, and honestly, who isn't?
Despite the fact there's only been eight episodes, the series has captivated audiences all over the world. Created and written by David E. Kelley, the show is currently averaging an impressive 8.6/10 on IMdb.
The season 2 premiere titled 'What Have They Done?', starring Streep, has impressed audiences and clocks in at an 8.8 average.
Oscar-winning actress Meryl Streep has an impressive film background, starring in titles such as The Devil Wears Prada, The Iron Lady, and the harrowing Sophie's Choice.
She's even set to join leading ladies Florence Pugh, Emma Watson and Saoirse Ronan in Greta Gerwig's Little Women, as Aunt March.
That line-up alone has already got our attention, so it's one we're looking forward to at the end of the year.