Beyoncé wore Tiffany & Co's most expensive diamond necklace and we can't stop staring at it
Superstar Beyoncé was also the first person ever to wear the 80-carat piece by Tiffany & Co.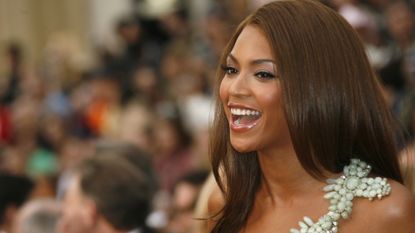 (Image credit: Dan MacMedan / Contributor)
Beyoncé certainly stood out while hosting her and JAY-Z's Oscars afterparty at the Chateau Marmont in Los Angeles last week. The Grammy award-winning artist was, in fact, the first person to ever wear Tiffany & Co's most expensive diamond necklace, known as "The Historic 1939 World's Fair Necklace."
Beyoncé, who recently made a song with all her kids and her nephew, donned the necklace while wearing a see-through mesh fabric dress designed by Celia Kritharioti featuring a thigh-high slit and a single sleeve.
The necklace was first unveiled at a Tiffany & Co. event in Dubai in November 2021 and boasts a total 180 carats of diamonds set in platinum. In the middle of the piece sits an 80-carat, oval shape, D color flawless diamond that Tiffany & Co. has named "The Empire Diamond," after the iconic Empire State Building in the brand's own hometown, New York City. According to the brand, The Empire Diamond can also be worn as a ring. Talk about making maximizing the use of your jewelry.
Although the singer and her husband are the new faces of Tiffany & Co., Beyoncé's decision to wear the necklace is clearly an epic one given the price of the piece and its history.
According to WWD, the necklace is "the most expensive [...] in the jeweler's history after its famous 128.54 carat 'Tiffany Diamond,' which is not for sale and has been labeled by Tiffany as 'priceless.'" The outlet also reveals that, although the necklace is available for purchase, Tiffany hopes that whoever buys it agrees to lend it for special exhibitions.
Tiffany & Co. has not revealed the price of the item but WWD reports that, according to industry experts, "it would cost somewhere between $20 and $30 million."
Beyoncé, who opened the Oscars with a celebrated live performance just last week, took to Instagram to post her look right after her party and —to the surprise of no one—her fans immediately commented on both the necklace and her outfit as a whole.
"It's too early for this Bey, chill on us," one user wrote.
"You absolutely perfect woman!!!!," someone else commented.
"It's your WORLD and the rest of us just live in it," yet another fan posted on Instagram. We, of course, couldn't agree with that assessment more.
Anna Rahmanan is a New York-based writer and editor who covers culture, entertainment, food, fashion and travel news. Anna's words have appeared on Time Out New York, the Huffington Post, Fortune, Forbes, Us Weekly, Bon Appetit and Brooklyn Magazine, among other outlets.