Ben Affleck, Matt Damon, and Bradley Cooper part of 'cool celebrity Wordle group' and we want in, too!
"The first rule of Wordle is don't talk about Wordle"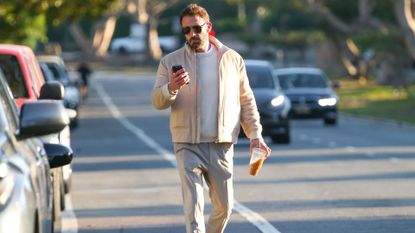 (Image credit: Bellocqimages/Bauer-Griffin/GC Images)
Ben Affleck may be part of the most star-studded Wordle group as he revealed he plays the popular game with fellow A-list actors Matt Damon, Jason Bateman, and Bradley Cooper.
Celebrities really are just like us, though their Wordle groups may be a little more star-studded. In a new interview with The Hollywood Reporter, the actor Ben Affleck, best known for his roles in 2014's Gone Girl and 1997's Good Will Hunting, revealed he's part of a "celebrity Wordle group" with fellow actors and close friends Matt Damon, Jason Bateman, and Bradley Cooper.
Ben revealed that, like many people, in the pandemic, he turned to playing app-based word games to pass the time but found himself weighed down by the stresses of living locked down.
He told The Hollywood Reporter, "I'd had it [COVID] a couple of times and been asymptomatic, and so I got kind of cavalier and a little bit like, 'Wow, COVID doesn't really actually affect me. I'm one of those people.' And then I just got annihilated."
"I had the no-energy COVID, where it was too much work to pick up the phone to play Octordle."
His love for Octordle, a game Ben describes as "Wordle with more words", led the actor to Wordle, an app with word challenges that have recently left even the most seasoned players confused. His love for the game led to him being invited to a "cool little red velvet rope celebrity Wordle group" made up of fellow A-list stars.
"Actually, the first rule of Wordle is don't talk about Wordle. Unless you get it in three guesses," he joked. "I used to do the crossword compulsively in the mornings and think I was good at word games."
Unlike the average Wordle group, Ben plays against Matt Damon, who he starred alongside in Good Will Hunting, Jason Bateman, who he's collaborated with many times on projects such as 2009's Extract, and Bradley Cooper, who he met on the set of 2009's He's Just Not That Into You.
Speaking about his competitors, Ben shared, "Let's face it, going up against actors, it's not a high bar. I expected to do fairly well, so I was seriously humbled."
"It's fiercely competitive, and there's a lot of mockery and derision. So I'm in training."
It's not just Wordle that binds this group of friends together, but 'trust,' 'love,' and 'integrity', Ben revealed, speaking about his close friendship with Damon in particular.
In a heartwarming discussion, Ben reminisced on his and Damon's longtime friendship. "The reason it [their friendship] works is that I trust him and love him," he told The Hollywood Reporter.
"And I know that this is somebody with integrity. In this business, failure is hard, and success is confusing and can make you lose your bearings. Having that friendship as a touchstone over the years was really meaningful."
Charlie Elizabeth Culverhouse is royal news and entertainment writer. She began her freelance journalism career after graduating from Nottingham Trent University with an MA in Magazine Journalism, receiving an NCTJ diploma, and earning a First Class BA (Hons) in Journalism at the British and Irish Modern Music Institute. She has also worked with Good To, BBC Good Food and The Independent.