What is the Wordle game taking over social media and what are its romantic beginnings?
The Wordle game has united the nation—and it started out as a thoughtful gift from an engineer for his partner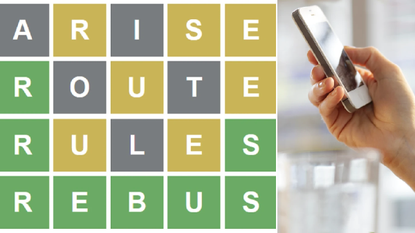 (Image credit: Wordle/Getty)
It's not a leap to suggest that the country feels divided on many issues right now—from politics to reactions to the ongoing pandemic.
So, it's nice that there are a few things that, seemingly, everyone can always agree on. For one, there's Dolly Parton. Secondly, there was the collective outpouring of tributes to the late Betty White. And now, there's a third; Wordle.
Yes, Wordle is the, well, word on everyone's lips as the game sweeps the nation and social media. But just what is it, how do you play and who invented it?
What is Wordle?
Wordle is a game that is played once a day and can be played through a web browser.
Added a share button to Wordle that generates a spoiler-free emoji grid for you. Shoutout to @irihapeta for inventing such a cool way to share your results each day.👇⬛⬛⬛⬛⬛🟨⬛🟨🟩⬛🟩🟩🟩🟩🟩Wordle 180 3/6Try it out: https://t.co/pZTmeT1p7EDecember 16, 2021
See more
Players must guess a mystery five-letter word, known as the "wordle" in six attempts.
A grid comes up on the web page showing six lines consisting of five tiles which represent each letter.
On the first line, a player must guess a random five-letter word. The game will then highlight the correct letters.
A letter in green means it's correct and in the right place. A letter in yellow means it's in the word but in the wrong place. And a grey letter means it's not in the word at all.
Players then have five more attempts to guess the right word.
---
Who invented Wordle?
Wordle was created by Reddit software engineer Josh Wardle, who invented it for his partner, who likes word games.
Realizing he may have created something worth sharing after his friends and family also began playing, Josh made it so that players could share their results on social media and, within two months, the number of players went from 90 to over 300,000.
Is Wordle free?
The game is free to play through a web browser, and there are no plans to make an app or take it further.
Josh said, despite the surging popularity, he doesn't want to monetize it at all, telling the New York Times, "It's not trying to do anything shady with your data or your eyeballs. It's just a game that's fun."
Where can I play Wordle?
Wordle is available to play online.
Part of the allure is that you can only play the game once per day.
Speaking to the New York Times, Josh explains, "It's something that encourages you to spend three minutes a day. And that's it. Like, it doesn't want any more of your time than that."
Jack Slater is not the Last Action Hero, but that's what comes up first when you Google him. Preferring a much more sedentary life, Jack gets his thrills by covering news, entertainment, celebrity, film and culture for woman&home, and other digital publications.
Having written for various print and online publications—ranging from national syndicates to niche magazines—Jack has written about nearly everything there is to write about, covering LGBTQ+ news, celebrity features, TV and film scoops, reviewing the latest theatre shows lighting up London's West End and the most pressing of SEO based stories.