BBC Breakfast presenter Naga Munchetty has spoken out about the 'excruciating' pain of getting an IUD fitted
Naga Munchetty has shared her traumatic experience of having the coil fitted in a bid to help other women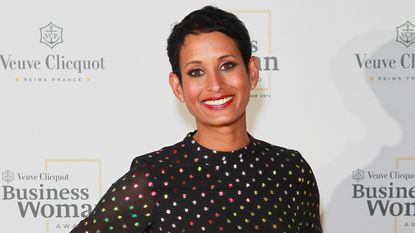 (Image credit: Getty)
For many women, getting the coil fitted is an easy, pain-free experience, but as BBC Radio 5 Live host Naga Munchetty recalled, for some, it can be "excruciating".
Like a routine smear test, getting an IUD fitted is, for many women, a relatively straightforward process—one that involves only slight pain and short-lived side effects. But as recent comments from BBC presenter Naga Munchetty make clear, this is certainly not the case for all women.
Speaking on BBC Radio 5 Live, Naga opened up about her own painful experience of having the contraceptive fitted, in a bid to highlight the lack of anesthetic offered to women undergoing the procedure.
"My screams were so loud that my husband tried to find out what room I was in to make it stop."@TVNaga01 tells her listeners about "one of the most traumatic physical experiences" she has ever had.📻 @BBCSounds - https://t.co/7lXKKAi7px pic.twitter.com/Tr117sOyzxJune 21, 2021
See more
The newsreader told listeners that she had an IUD fitted a few years ago, and the experience left her feeling "violated, weak and angry".
"It was one of the most traumatic physical experiences I've had," she revealed during a special segment discussing IUDs and pain relief.
---
More from woman&home:
---
"I thought I was prepared for a routine procedure. I've never been pregnant, therefore my cervix until then had never been opened. I was told that the smallest sized speculum, which was used for cervical smear tests, wasn't big enough for this procedure so I had to have the next size up. That's when the pain began…"
Naga revealed that her screams were so loud during the procedure that her husband almost intervened to make it stop.
"[My husband] said that those in the waiting room hearing my screams looked horrified," she told listeners. "The nurse accompanying the doctor had tears in her eyes. I was asked by my doctor halfway through if I wanted to stop, but I was so determined that the pain I'd suffered so far wouldn't be repeated, so I said, 'we've got this far, let's finish it.' I fainted twice."
The former Strictly Come Dancing star recalled that though she was given the option to stop the procedure, no pain relief was offered to her. She also said that she has since had the coil removed.
According to the NHS, it takes around five minutes to insert a coil through the cervix and into the uterus. The health service says the procedure, "can be uncomfortable, and some people might find it painful, but you can have a local anesthetic to help". Once it's fitted, there should be minimal side effects and no (additional!) pain during your period, or pain during sex.
However, for many women, the fitting experience can be painful. Campaigners are calling for more pain relief options to be made available to women being fitted with an IUD—including gas and air, sedation, and muscle relaxants.
Naga's comments came in the wake of a column in The Times by Caitlin Moran—who also endured agonizing pain while having an IUD fitted.
"As soon as I was back in a medical situation, my body went into shock and fear... I fainted."Writer @caitlinmoran tells @TVNaga01 memories of a painful coil fitting stayed with her for a long time.pic.twitter.com/3pbz4JOflyJune 24, 2021
See more
To discuss the prevalence of the problem, the 5 Live host was joined on her show by Lucy Cohen, the woman behind an online petition (opens in new tab) calling for better pain relief for IUD insertions and removals.
"Almost 1500 people have so far shared their experiences with me," Cohen's petition states. "On a pain rating scale of 0-10, 43% of respondents rated their pain as a 7 or higher […] Several people have reported the pain as worse than childbirth or broken bones."
The petition, which currently has over 10,200 signatories, explains, "Not everyone will choose to have additional pain relief, but I strongly feel that for those who want it, it should be administered—and that real consent can only be given once all risks, including that of extreme pain, have been explained."
Naga was careful to state that the issue at hand is less to do with the procedure itself than it is how we approach women's healthcare generally.
"I have friends who have had very similar experiences, and of course, I have friends who have had no problem at all. What this is about is not the coil itself," she told listeners. "We know it is safe and effective. What this is about is how we look at all women's health and pain."
Around 39% of women in England choose long-acting reversible contraceptives like IUDs as their method of contraception.
Often favored for their convenience in comparison to more high-maintenance contraceptives like the pill, non-hormonal IUDs work by releasing copper into the uterus to alter the cervical mucus, making it more difficult for sperm to reach eggs. When inserted correctly, it's thought that IUDs are 99% effective in preventing pregnancy.
Kate is a freelance contributor to woman&home, covering everything she loves most: fashion, fiction, and fancy face cream. If she's not working, she's probably reading, feeding her online shopping addiction, or judging the taste level of celebrity houses (10/10 for Dakota Johnson, 2/10 for Tan France).

She graduated from Central Saint Martins in 2020 with a BA in fashion journalism, and her byline has also appeared in British Vogue, The Times, and Marie Claire.