Ashton Kutcher's wife responded to those viral red carpet photos with Reese Witherspoon in the most hilarious way ever
Everyone's laughing over the awkward shots of Ashton Kutcher and Reese Witherspoon promoting their movie - and Ashton's wife Mila Kunis has joined in on the fun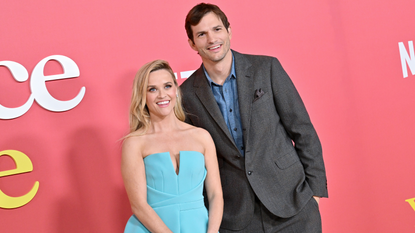 (Image credit: Axelle/Bauer-Griffin / Contributor)
Although Reese Witherspoon and Ashton Kutcher seem to have a lot of chemistry on the set of their new rom-com Your Place or Mine, scheduled to drop on Netflix on February 10, the two actors have been looking incredibly awkward while promoting the project on the red carpet together.
Ashton, who recently opened up about divorce from Demi Moore and "feeling like a failure," and Reese made two appearances last week and both sets of official photos from the promo event made it seem as if the two don't necessarily get along.
Fans of the stars immediately noticed, using the snaps as hilarious online fodder and creating memes that are still circulating and have even grabbed the attention of Ashton's wife Mila Kunis, who jumped into the conversation.
While on an appearance on the Today show earlier this week, Reese, who just promised to never stop making rom-coms, revealed that Mila actually emailed her alongside her own husband to tell the co-stars to snap out of it.
"She goes, 'You guys look so awkward on the red carpet together. Why are you just...,'" Reese recalled Mila writing. "It'just just fun because, when you know a girlfriend so much, it was just fun to get to know her significant other because I've loved her for so long."
The 46-year-old actress also went into detail about preparing for the movie, in which her and Ashton star as best-friends-who-turn-into-lovers Debbie and Peter.
"We had to learn to be friends because we didn't really know each other," she explained before revealing that about a month prior to shooting the film, the two started talking and texting every day to build a friendship in real life.
"He's so professional," Reese said about her 45-year-old co-star. "He's the funniest guy. I mean, such a goofball. We had so much fun and every time he'd wear a funny outfit, I'd text Mila. I'd be like, 'What is he wearing?'"
Ashton joined in on the conversation regarding the odd promo photos while on an appearance on the podcast Chicks in the Office earlier this week. The father-of-two noted that he actually hadn't seen all the memes until Mila brought them to his attention.
"Here's the thing: if I put my arm around her and was all friendly with [...] the rumor would be that I'm having an affair with her," Ashton said on the program referring to Reese, who married current husband Jim Toth back in 2011. "Reese and I are really good friends, we're really close. I don't have to defend that!"
By way of explanation, Ashton also reminded fans that, given the fact that he's suffering from a super rare form of vasculitis that left him deaf and blind , he doesn't feel much at ease on the red carpet in general.
"I can't hear very well because I'm hard of hearing in one ear and I can only hear out of the other, and I don't know who's yelling my name, but I know that there's a lot of people yelling, 'Reese! Ashton! Over here!'," he said candidly on the podcast. "And at a certain point, you're like, 'God, this is really something.' If you're gonna tell me in that entire 20 minute period, at one point you're not gonna have an awkward face on, then you're better than I am and I'm cool with that."
Fast forward a few days and the two seem to have understood the public outcry. In fact, in their latest red carpet appearance, this one promoting the film in New York, Ashton and Reese look absolutely delightful next to each other. All smiles, the actors seem to actually indirectly be poking fun at the whole hilarious saga. Ashton even placed his arm around Reese's shoulder!
After all, at the end of the day, celebrities are humans and they are allowed to have awkward moments even while in the public eye. What's important is the work and, if the trailer for Reese and Ashton's new movie Your Place or Mine is of any indication, the two seem anything but uncomfortable while playing would-be lovers alongside each other.
Anna Rahmanan is a New York-based writer and editor who covers culture, entertainment, food, fashion and travel news. Anna's words have appeared on Time Out New York, the Huffington Post, Fortune, Forbes, Us Weekly, Bon Appetit and Brooklyn Magazine, among other outlets.