Andie MacDowell has the most iconic response to people saying her gray hair ages her
Andie MacDowell has something to say to gray hair haters: 'I want to be old. I'm tired of trying to be young.'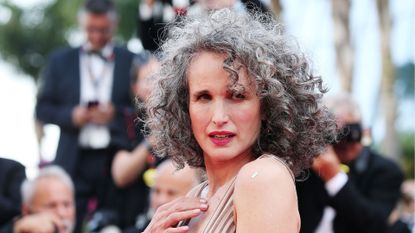 (Image credit: Gisela Schober/Getty Images)
In an interesting new interview with Katie Couric, 64-year-old model and actress Andie MacDowell opened up about going gray, working on Maid for Netflix with her daughter Margaret Qualley and more.
Andie, whose embrace of her gray hair has been discussed across media outlets for years now, specifically clapped back at those who criticize her decision to go au natural and her response was pretty epic.
"How old do you think I look? I'm going to be 65. What do you think I look 75 just because I let my hair go gray?," she said to the host. "I don't care. I want to be old. I'm tired of trying to be young. I don't want to be young. I've been young. I just can't keep up the charade! I can't!"
What's more, the mother-of-two explained that her decision to go gray was one she made while she was younger because she unfortunately didn't get to see her mother grow old, as she passed away when Andie was only 23. She eventually decided to take a cue from her father.
"I thought that it would suit me [...] I thought that the idea of a kind of salt and pepper would suit me," she said to Katie. "I thought it would look good on my face. And when it started growing out during COVID, I saw I was right. It looks good on me. As it was growing out, my eyes popped and the color of them looked a little different. I liked the way my skin looked better. It empowered me more. I felt more powerful and I felt more genuine and I felt more myself."
Of course, although confident in her decision, the celebrity is aware of how it might impact her career, especially after, as she recounts on camera, a young journalist asked her what it feels like "to get older and lose your beauty" when the star had only turned 40.
"It made me sad for her," Andie said about the two-decades-old encounter because the journalist was "going to be me some day."
"But there is a lot of relevance and truth to the aging face of a woman, and the aging face of a man, and how it affects your career - it does," Andie said to Katie matter-of-factly, also noting that, at one point, folks in the industry "don't quite to know what to do with you."
For what it's worth, it's clear that Andie doesn't have any issues on that front.
Maid on Netflix has been a huge success - she was even nominated for a Golden Globe award in the best supporting actress category in a series, miniseries or television film for her work - and the celebrity is now gearing up for the premiere of My Happy Ending, an Israeli-British comedy-drama film based on the play Sof Tov by Anat Gov, and Red Right Hand, an action thriller that she'll star in opposite Orlando Bloom.
Back to the hair: happy with her look at the moment, Andie did leave a door open for possible changes in the future.
"Even though I may be portraying this person who is really comfortable in her skin or whatever, I don't know, in 10 years I might change my mind," she said on the record. "I can't guarantee you, I don't know. I can't tell you how I'm going to feel. We have a lot of options."
Anna Rahmanan is a New York-based writer and editor who covers culture, entertainment, food, fashion and travel news. Anna's words have appeared on Time Out New York, the Huffington Post, Fortune, Forbes, Us Weekly, Bon Appetit and Brooklyn Magazine, among other outlets.