Alicia Silverstone makes iconic comeback for a Super Bowl ad and we're obsessed
Cher Horowitz from Clueless stars in a Super Bowl ad that has got fans of Alicia Silverstone incredibly excited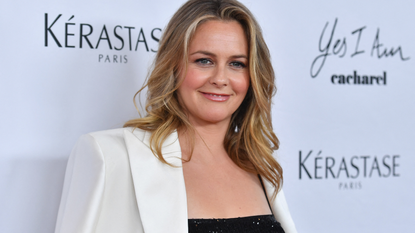 (Image credit: ANGELA WEISS / Contributor)
Ladies and gentlemen, Cher Horowitz is back and better than ever… sort of.
Nearly three decades since starring in the cult classic, Alicia Silverstone is set to reprise her iconic Clueless role in a Rakuten ad that is scheduled to air during this year's Super Bowl on February 12, when the Philadelphia Eagles will play the Kansas City Chiefs at State Farm Stadium, Glendale, Arizona.
The teaser for the 30-second commercial has already sent fans into a frenzy - and for good reason. When it was released back in 1995, Clueless, written and directed by Amy Heckerling, quickly became a cult favorite, mostly thanks to the hilarious nature of all the characters involved.
The 16-second teaser trailer features Alicia in one of Cher's most memorable outfits (her signature yellow-and-black checkered blazer and skirt set), walking into a classroom while carrying shopping bags.
"Don't bug - your girl is back," Alicia is heard saying while approaching an empty teacher's desk. The song Alright by Supergrass plays in the background, another throwback: it was one of many tracks part of the original movie's soundtrack.
The celebrity also posted the clip to her own Instagram account, captioning the upload, "It looks like the cat is out of the designer handbag."
Unsurprisingly, followers to the comments section to profess their excitement and their hopes for a Clueless sequel.
"Why is it 2023 and we are still waiting for Clueless 2," one user wrote.

"I really need a Clueless sequel in my life," another commented.
"For a sec I thought you were making a clueless come back as a teacher…. ((💡))," a third subtly suggested.
Alicia went on the record about the upcoming commercial for Rakuten, the cash-back app, while chatting with PEOPLE (opens in new tab).
"Rakuten makes it easy to save while you shop, and working with them to revive Clueless for the Super Bowl stage made sense with how much Cher loved shopping — no doubt she would have tons of Cash Back," the 46-year-old actress said to the outlet. We must say that makes total sense!
The 1990s coming-of-age comedy was loosely based on Jane Austen's 1815 novel Emma, albeit set in modern-day Los Angeles. The protagonist was Alicia's Cher, a rich and popular girl in high school who befriends "the new girl" (the late Brittany Murphy as Tai Frasier) and makes it her mission to give her a makeover and catapult her into the popular circle of students.
In the meantime, Cher also plays matchmaker with her teachers and navigates high school's social world alongside her best friend Dionne Davenport (Stacey Dash) and step-brother Josh Lucas (Paul Rudd). The cast is rounded out by Donald Faison as Murray Duvall, Elisa Donovan as Amber Mariens, Breckin Meyer as Travis Birkenstock and Jeremy Sisto as Elton Tiscia, among others.
Since her success as Cher, Alicia has led a pretty solid career in Hollywood. Just in 2022, she starred in the thrillers Last Survivors and The Requin, also appearing on Senior Year opposite Rebel Wilson and in an episode of American Horror Stories on television. She is currently filming yet another thriller, this one Grand Singer's feature-film directorial debut, called Reptile.
Anna Rahmanan is a New York-based writer and editor who covers culture, entertainment, food, fashion and travel news. Anna's words have appeared on Time Out New York, the Huffington Post, Fortune, Forbes, Us Weekly, Bon Appetit and Brooklyn Magazine, among other outlets.