The popular Aldi hot tub that sold out last year is coming back - just in time for the Bank Holiday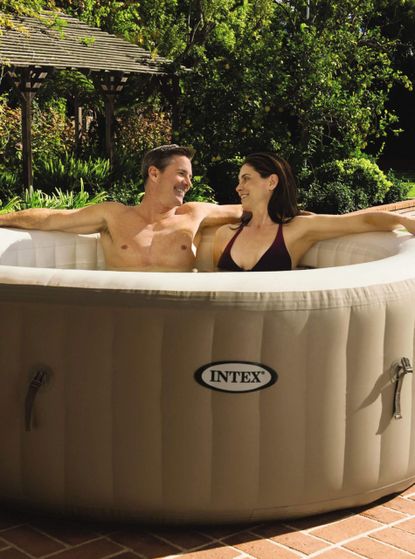 Aldi are set to bring back the hot tub that proved so popular last year, it promptly sold out.
Last year, much fuss was made of the Intex 120 Air Jet Spa Pool Hot Tub, which was released online during the summer.
So now, the budget retailer will be re-releasing the hot tub, which is one of the most affordable ones available in the UK, at £279.99.
The 795-litre inflatable Spa Pool features 120 powerful air jets and a 2200W heater, complete with a secure insulating cover to keep heating costs low. Aldi claim it will cost between £1 and £1.50 to run each day that it's in use.
MORE: Aldi release a £3.99 Miracle Cream to rival Elizabeth Arden's cult Eight Hour Cream
It's also a great option if you don't have a garden big enough to fit a hot tub. The product is suitable for outdoor and indoor use, meaning it can just as easily slot into a space inside your home too.
The Aldi hot tub proved so popular last year, that they are now planning to produce over 50% more of the products, in order to meet the demand they witnessed back in 2017.
Julie Ashfield, Joint Managing Director of Corporate Buying at Aldi UK, said, "Last year, we saw unprecedented demand for our Spa Pool and are thrilled to be bringing more back for our customers to enjoy this spring."
And there's also some strict purchasing rules in place. Shoppers will be limited to buying just one hot tub per customer, to ensure there are enough to go around.
Hot tubs in other stores in the UK are often more expensive than Aldi's offering. A similar Intex style of the same size, with the same number of jets is selling on Amazon for £599. And another inflatable hot tob in B&Q is being sold for £475.
The Aldi hot tub is being released for pre-order online on 25th March. The product will then be available in stores across the UK from 29th March, just in time for the Easter Bank holiday!
But if last year is anything to go by, it's likely to sell out again pretty quickly, so make sure you get online or to the store as early as possible.
You can purchase the hot tub online here (opens in new tab).
Will you be picking one up?