20 Interesting and Inspiring People To Follow On Facebook, Twitter and Instagram This Month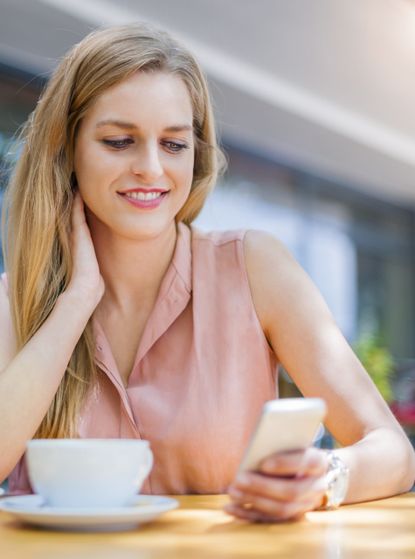 (Image credit: REX/Shutterstock)
Social media. In a world populated by cunningly styled shots of avocado toast, rants about train delays and cats clad in baked goods, how on earth do you sort the wheat from the chaff and figure out just whose Facebook, Twitter or Instagram account is actually worth following? Fear not - we've done the hard work for you. From fitness to fashion, food to interiors, philosophy to doggie pics, we've got you covered. Whether you're after breaking news scoops, restaurant recommendations or just a good old nosy into the lives of your favourite celebs, these are the people to start cyber stalking NOW...
1. Clare Balding
Follow our favourite sports presenter on Twitter for all the latest on her globe trotting antics - from Rio to, er, Norwich... Clare's an interactive tweeter who loves swapping funny anecdotes with her 695,000 followers.
[twitter]
2. Nigella Lawson
Follow Nigella on Facebook, Twitter and Instagram for mouth-watering recipes of the day and the answers to all your burning baking-based questions...
[instagram]
3. Marina O'Loughlin
Prefer to eat food rather than cook it? Follow restaurant critic Marina O'Loughlin on Twitter for some plain-speaking recommendations.
4. Alain de Botton
The Swiss-born philosopher might just be one of the most insightful people on Twitter...
[twitter]
5. Kathy Lette
London-based Australian author Kathy Lette's epic Facebook posts are hilarious, moving and thought-provoking in roughly equal measure. You can also follow her on Twitter and Instagram.
6. Phillip Schofield
Follow Phillip Schofield, described by Gary Barlow as "a staple of Twitter life", on Twitter for a sneaky peek into the backstage comings and goings of our favourite daytime TV presenter (so long as you're not 'pedantic or professionally outraged', that is). He also indulges his inner wine buff @SchofeOnWine and has recently 'gone public' on Instagram...
7. Michelle Dockery
See how post-Downton life is treating the actress, who shares gorgeous behind-the-scenes images (along with the odd LOL video) on her Instagram account.
[instagram]
8. India Knight
Follow writer India Knight on Twitter for dog pictures and - come time for The Archers - a healthy dose of live tweeting fun.
9. Dorothy Bishop
The Oxford University academic tweets about current affairs from a psychologist's perspective. Follow her on Twitter.
10. The Dalai Lama
Yes, brilliantly, the Dalai Lama has a Twitter account. Follow him for regular helpings of motivational wisdom.
[twitter]
11. Jonathan Ross
No time to waste on trips to see sub-standard films? Follow the TV presenter described as a 'human Time Out' on Twitter.
12. Grace Dent
The writer and self-confessed restaurant addict will help you figure out where to eat and what to watch on the box with her hot Twitter tips...
[twitter]
13. Heidi Blake
Stay on top of developing news stories with Buzzfeed's Investigations Editor. Heidi's Twitter account edits the breaking scoops you need to know about.
14. Miranda Hart
If you enjoy pictures of dogs and pictures of comedy superheroines wearing lampshades on their heads, Miranda's Instagram account is a must-follow. She's also a regular Tweeter.
[twitter]
15. Carelia Moran
This 40-something fashion blogger is one of the most fearlessly stylish women on the planet - full stop. When it comes to fashion, "I remain as spontaneous and playful as I was when I was 20," she says. In need of a little inspiration? Follow her on Instagram.
[instagram]
16. Alyson Walsh
Freelance journalist, blogger, former fashion editor and author of Style Forever, the beautiful street-style images and selfies shared by 50-something Alyson Walsh on her Instagram account help us to remember that true beauty - and style - are timeless...
17. Val Baker
40-something mother of five and fitness coach Val trains soldiers in the US military - and her Instagram account shows us that stretchmarks and six-packs are not necessarily mutually exclusive...
18. Rhonda Layton
Follow 40-year-old mother of two and health and lifestyle coach Rhonda on Instagram for quick and easy exercise videos, healthy meal ideas and motivational words.
[instagram]
19. Judy Aldridge
Living room ripe for an overhaul? Like plants? LOVE prints? Then follow this inspiring interior designer on Instagram.
20. Jenny Kee
This 69-year-old Australian artist and designer embodies ageless beauty. Follow her on Instagram if (a) you like pretty pictures and (b) you could do with a daily reminder to be your boldest, bravest you.
[instagram]
Sign up to our free daily email for the latest royal and entertainment news, interesting opinion, expert advice on styling and beauty trends, and no-nonsense guides to the health and wellness questions you want answered.