12 Of The Most Uplifting Book Quotes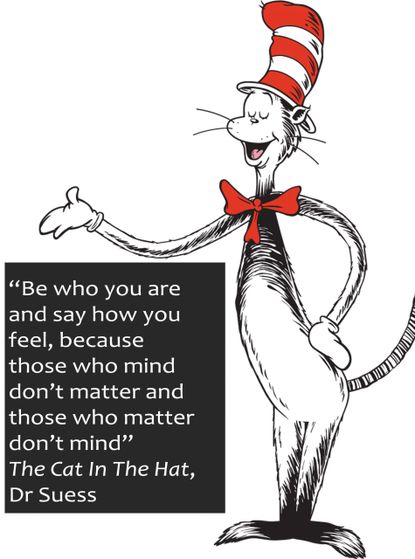 We've picked twelve of our favourite book quotes to help give you that uplifted feeling...
Dr. Seuss is famous for his brilliantly worded children's books, and The Cat in the Hat is a Dr Seuss classic. We love this quote because it teaches children from a very young age to be themselves and embrace who they are.
The Help by Kathryn Stockett
The Help is an inspiring story of a young female journalist living in the 1960s deep south, who breaks the mould to write a controversial novel, interviewing black house maids. Aibileen looks after a little girl called Mae Moberly, whose mother is uncaring. In this beautiful scene, Aibileen teaches Mae that she is in fact worth something.
Peter Pan by J.M. Barrie
The tale of the boy who never grows up - it's as magical now as it was when we were children. We love this inspirational message to always believe in yourself and never give up.
A Christmas Carol by Charles Dickens
Charles Dickens is famous for his dark Victorian novels, highlighting the social deprivation in Victorian London. But he can also teach us a thing or two about happiness - although disease may have been contagious on the streets of London, so too was joy and good humour, and these are more important.
The Great Gatsby by F. Scott Fitzgerald
Ftizgerald's 1920s tragic love story tells the tale of a young ambitious man named Gatsby, who does everything he can to win the love of upper-class Daisy. Nick Carraway, the story's narrator, opens with this quote from his father on the very first page. We find this gift of perspective extremely uplifting.
The Twits by Roald Dahl
A firm childhood favourite, Roald Dahl's The Twits tells of husband and wife, Mr and Mrs Twit, and the tricks they play on each other. While the pair are completely 'vile' to each other and everyone else, this quote certainly inspires you to think nice thoughts.
To Kill A Mockingbird by Harper Lee
There aren't many of us who haven't studied Harper Lee's To Kill A Mockingbird at school. Narrated retrospectively by Scout Finch, the book is intertwined with important morals. Here, Atticus explains to his daughter what real courage is.
Revolutionary Road by Richard Yates
Set in 1950's America, Revolutionary Road, tells of April (played by Kate Winslet in the 2008 film) a deeply unhappy housewife who struggles to take control of her life.
Heart of Darkness by Joseph Conrad
Alone in the depths of the Congo river, Marlow muses on the purpose of work.
Winnie The Pooh by A.A. Milne
A.A. Milne's Winnie The Pooh stories are filled with simple but profound lessons in life and friendship. Here, Pooh puts an positive twist on saying goodbye.
I Know Why The Caged Bird Sings by Maya Angelou
Maya Angelou's first autobiography tells of the struggles she experienced in her childhood. Despite the trials she faced, she managed to find something she loved doing.
Harry Potter and the Prisoner of Azkaban by J.K. Rowling
One of the most loved wizards in the history of literature, Dumbledore is never short of a word of wisdom.