10 Things All Women Do Before Going On Holiday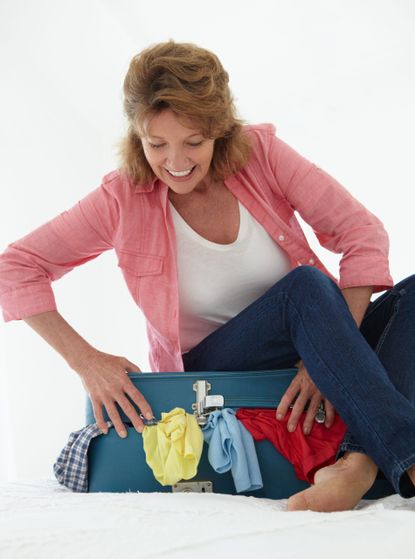 (Image credit: Business Images/REX Shutterstock)
woman&home newsletter
Sign up to our free daily email for the latest royal and entertainment news, interesting opinion, expert advice on styling and beauty trends, and no-nonsense guides to the health and wellness questions you want answered.
Thank you for signing up to Woman & Home. You will receive a verification email shortly.
There was a problem. Please refresh the page and try again.
Whether it's to Brighton, or the Bahamas, we all adore a summer holiday. Once the booking confirmation comes through, you spend the next six months dreaming of blue skies, soft sand under your toes and counting down the days until you'll step off the plane to feel the warm breeze on your face.
Fast forward to three weeks before your departure flight and you're frantically preparing, knee-deep in washing with a to-do list the length of your arm. Getting ready for a holiday is stressful - and we've all had that moment when we wonder why we ever booked the holiday in the first place. Here are ten things we all do before we go on holiday...
1. Detox the fridge
A couple of weeks before your holiday, you'll start to go around the supermarket really considering what will last. There's no point in buying that punnet of strawberries, or that tub of fresh pesto because it'll just go off. By the time you leave the house for the airport, all that's left in your fridge is a block of hard cheese that will definitely survive being left in the fridge for two weeks - and maybe even a year after that.
2. Swap purses
Transfering your driving license, E111 and just one debit card into your 'holiday purse' has to be one of the most liberating feelings. You leave behind your every day purse (which feels like a brick in your pocket) and that wad of store cards you never use, and take the absolute essentials. Then, you craftily hide that purse, somewhere that the burglars won't find it, should they get in. Only you hide it so well, that on your return, even you can't find it.
3. Expect to read an entire library during a two week holiday
You start a collection of books that your friends and family have recommended, then you read articles on the best holiday reads and then, when you're at the airport, you pick up a couple more for good measure. As you board the plane - you're ten books heavy and, of course, by day fourteen you've only just arrived at the final page of the first novel. 4. Dig out those trusty summer dresses
You've located that trusty holiday suitcase full of holiday clothes you've had for years, but a couple of days before you fly you get the urge to shop - you want to feel glamorous and gorgeous on holiday and you hit the shops, hard. By the time you've flewn round the department store, panic buying entire outfits straight off the manikin, you've spent more on your holiday wardrobe than you did on your accomodation. 5. Get overexcited about toiletries
The holiday toiletry run. Yes, you probably will require shampoo, conditioner and maybe a miniature packet of shower gel but, you are definitely not going to need a foot exfoliator, ten different shades of nail varnish and several types of specialist hair removal cream. Sound like you? We've got your holiday beauty kit covered, here.
6. Stress about the volume of washing and ironing
You work strategically through piles and piles of ironing and fold each garment delicately into your suitcase only to find when you arrive at the other end, that everything needs ironing, again.
7. Upturn the house looking for those gadgets that only get used once a year The luggage scales, the travel adapters, the locks for the suitcases. They are only required to make an appearance once a year and yet, they are no where to be seen. Cue spending an annual dash to the Boots in the airport for replacements.
8. Squash the suitcase
It's thought that women over pack by two thirds when they go on holiday - and it's the poor suitcase that gets the brunt of it. You've picked out the towels, clothes, shoes and toiletries you want to take but they just won't fit in. To start with, you sit calmly on the suitcase, then, you lie on it - maybe covering more surface area will do the trick? Then, ten minutes later you are manically hugging the suitcase as hard as you can, pleading it to close. 9. Have the 'do I, don't I?' moment Most common with hair dryers, straighteners and sometimes music speakers. You stand, one in each hand wondering if it is ridiculous to want to transport your entire home salon to the other side of the world. 10. Have a last minute security check
Despite a mad five minutes doing laps of the house from top to bottom, checking that all the windows are locked and nothing valuable will tempt any opportunists, you're still getting pangs of anxiety even once you're in the taxi on the way to the airport, that you've left your patio doors wide open or your front door blowing in the wind.
Sign up to our free daily email for the latest royal and entertainment news, interesting opinion, expert advice on styling and beauty trends, and no-nonsense guides to the health and wellness questions you want answered.