What does redundancy mean for me? How to navigate potential redundancy
Workers aged over 50 are more likely to face redundancy as employers continue to make staff cuts following the end of the furlough scheme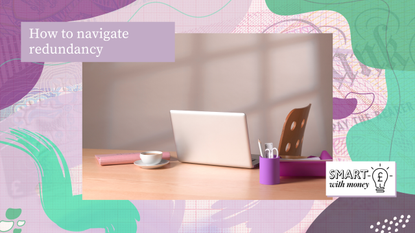 (Image credit: Getty)
As the furlough scheme draws to a close, more of us may face the prospect of redundancy. Here's what you need to know to prepare yourself, should you find yourself at risk.
Government figures show that more than half a million over 50s have left the workforce in the past two years and are now classed as 'economically inactive'.
More than 1 in 10 over 50s are now leaving the workforce following redundancy. A report from Legal & General and the Centre for Economics and Business Research - Working Late - found that higher than average redundancy rates among over 50s sees them 17% more likely to face redundancy than younger workers.
The furlough scheme ended on 30 September 2021, and it is expected that hundreds of thousands of older workers could find themselves being made redundant. And according to the Trades Union Congress (TUC), women are experiencing much higher levels of redundancies, particularly in the hardest-hit sectors such as retail and hospitality, during the Covid pandemic than in previous recessions.
If you're facing redundancy, here's what you need to know about your rights.
What is redundancy?
Smart With Money
Smart With Money is our dedicated money channel created to give you expert, easily digestible information to help you make the most out of your money.
Redundancy is a form of dismissal from your job, and it happens when employers need to reduce their workforce.
If you are being made redundant, it's important to know your rights. Firstly, you must be chosen fairly—unfair reasons include gender, sexual orientation, age, pregnancy and whether you are part-time or full time. Secondly, everyone being made redundant is entitled to a fair and meaningful consultation with their employer.
Your employer needs to give you notice if it plans to make you redundant. How much notice you'll get depends on how long you have worked for the company. You're entitled to at least one week's notice if you have been employed between one month and two years; one week's notice for each year of employment if you've been there between two and 12 years; and 12 weeks' notice if you've worked for your employer for 12 years or more.
If you've worked for the same employer for two years or more, you'll be entitled to redundancy pay. The statutory minimum depends on your age and length of service, and is linked to your salary subject to a cap.
How much redundancy pay will I get?
If you're under 22, you'll get half a week's pay for each full year worked; while 22 to 40-year-olds get a week's pay for each full year worked. If you're 41 or over, you'll get one-and-a-half week's pay for each full year worked.
To calculate your redundancy pay, your weekly pay is capped at £544 and the maximum statutory redundancy pay you can get is £16,320. If you were furloughed, your redundancy pay is based on what you would have earned normally, not the 80% of your wages paid by the furlough scheme. You can check your entitlement on the government's redundancy calculator.
The good news is that many employers pay more than the statutory minimum. If you're owed holiday when you leave, you're entitled to be paid for that too. If your employer has gone bust, you can normally claim redundancy pay from the government via the Insolvency Service.
It's important to understand that if you're made redundant, your employer will stop making payments into your workplace pension once you have left. However, you can normally keep your pension where it is, or transfer it to a new workplace or personal pension. What's best depends on your circumstances, so it's a good idea to take professional pension advice.
---
Redundancy in your 50s
Redundancy in middle age doesn't have to mean doom and gloom. Over 50s can be desirable to employers due to their experience, transferable skills, work ethic and confidence.
Redundancy in your 50s can also be a good opportunity to find a job which offers a better work-life balance than previous roles. According to research by career transition specialists Renovo, four in 10 (38%) UK employees anticipate being made redundant within the next 12 months. Of this group, 60% don't plan on continuing their current career path post-redundancy.
If you need to find a new job, a professional career coach can work with you to identify the right role, help you make your career transition, and support you in your job search. An expert can also help you get fully up-to-date on job search trends and what employers expect to see from applicants today—this can be especially useful if you haven't changed jobs for a long time.
Being made redundant when you're over 50 can also be a great opportunity to start your own business, take up a consultancy role, or go freelance. A good starting point is to draft a solid business plan to give your new venture direction, while it can also help to talk to other people who have been through the same process.
Sign up to our free daily email for the latest royal and entertainment news, interesting opinion, expert advice on styling and beauty trends, and no-nonsense guides to the health and wellness questions you want answered.
Emma Lunn is an award-winning freelance journalist who specialises in personal finance. She has more than 17 years' experience writing for national newspapers, trade and consumer magazines, and specialist websites. She has a particular interest in writing about property and mortgages and enjoys explaining complex issues in an easy-to-understand way.