What is pension fraud? How to avoid scams as you approach retirement
Pension fraud is on the rise and it can be hard to spot a scam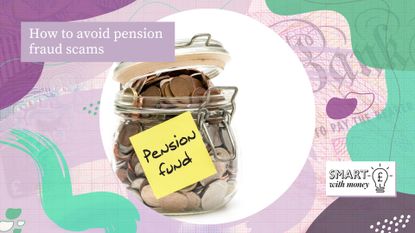 (Image credit: Getty)
After years of saving for retirement, the last thing you want is to lose your money to pension fraud. Yet scammers duped savers out £2.2 million in the first five months of 2021, with scams becoming more sophisticated and harder to spot during the pandemic.
The average loss was £50,949, according to complaints filed with Action Fraud (opens in new tab), which is more than double the 2020 figure (£23,689). Pension scams have sadly become increasingly common, with fraudsters seeking out every opportunity to rob savers of their pension savings.
Three-quarters of women said they have been approached by a scammer in the previous 12 months, a recent survey by the investment platform Hargreaves Lansdown (opens in new tab) found.
Research by the Financial Conduct Authority (FCA) (opens in new tab) also reveals that more than a quarter of pension savers feel more at risk of a scam now compared with before the coronavirus pandemic.
Women are often conned when they click on online advertising or social media links promising "free pension reviews", which lead to websites run by fraudsters.
Dr Linda Papadopoulos, a top psychologist who supports the FCA's ScamSmart campaign, says: "Scammers will use behavioral tactics to trick you into a false sense of security. It is important when approached with a financial offer on your pension to take yourself out of the context or pressure of that moment. We know that people wouldn't accept a free financial product in a pub or would be unlikely to make a purchase in a random flash sale—so why risk it [online] with your pension?"
Scammers target pension pots big and small, with losses ranging from under £1,000 to more than £500,000.
Our expert financial journalists outline everything you need to know to help you spot a pension scam and avoid becoming a victim.
More pension advice from Smart With Money:
How to spot a pension scam
The FCA says there are five common warning signs of a pension scam. These are:
Being offered a free pension review out of the blue
Being offered guaranteed, high returns—which are higher than the returns on your pension savings
Offers to help release cash from your pension, even though you're under 55
High-pressure sales tactics—scammers may try to pressure you with "time-limited offers", or even send a courier to your door to collect your documents
Unusual investments that tend to be unregulated and high risk
Just over 80% of women said they were confident they could spot a scam, according to the Hargreaves Lansdown survey, with 88% of women saying a cold call regarding a pension review would likely be a scam.
However, due to the high-pressure, manipulative (and constantly evolving) tactics that con artists use, the truth is that while we may feel clued up about how to spot a scam, some of us will fall prey to one at some point in our life.
Scammers are very good at cloning emails and websites so they look like they are contacting you from a reputable company. Watch out for this and check email addresses for spelling errors or strange formats.
"Beware of things that signal illegitimacy. If the firm doesn't allow you to call back, it is most likely because it is a fraudulent enterprise," comments Myron Jobson, personal finance campaigner at the investment platform interactive investor (opens in new tab).
"Also beware of firms that list only mobile phone numbers or a PO box address on their website."
Pension savers can test how aware they are by taking the FCA's pensions scam quiz (opens in new tab).
How to avoid becoming a victim of pension fraud
Smart With Money
Smart With Money is our dedicated money channel created to give you expert, easily digestible information to help you make the most out of your money.
Remember the old adage, "If it sounds too good to be true, it usually is"? It's really important to bear this in mind if ever you're tempted to transfer your pension cash. Perhaps you've been told you can unlock your pension before age 55, or been promised generous investment returns. Chances are you could be moving your money to fraudsters and you won't ever see your savings again.
"Schemes that offer to unlock your pension before age 55 should be avoided at all costs," notes Jobson. "These schemes, also known as pension liberation and pension loans, are trying to get you to break the law and are likely to result in you paying huge administration costs and big tax bills, in some cases leaving people with no savings for retirement.
"Only in very rare cases, such as very poor health, is early access to pension possible."
Cold calling relating to pensions has been banned since 2019, so if you ever receive a phone call about your pension, the best thing to do is hang up.
If it would be a legitimate call about your pension, don't worry. Your provider has other ways to contact you, such as by post.
Jobson adds: "No reputable pensions firm would call you out of the blue to suggest you transfer your retirement nest egg to a better deal. When in doubt, simply hang up."
Don't be pressured into making a quick decision. Speak to your partner or friends before making any decisions about your life savings, especially if it's a result of a cold call or a free pension review.
And don't be scared to cut off contact. The scammer may seem charming, and you may feel you have built up a relationship with them, making them seem trustworthy. But if you have any niggling doubts, walk away.
Jon Greer, head of retirement policy at the wealth manager Quilter (opens in new tab), has some more advice: "Ultimately, the best course of action to ensure you do not fall foul of pensions scammers is to make sure the person or firm you are dealing with is regulated by the FCA (opens in new tab); check any offer against the FCA's ScamSmart website (opens in new tab); speak to Money Helper (opens in new tab) or take regulated financial advice. Given a pension is often the largest asset people have other than their home, it is well worth proceeding with care."
What should I do if I have been scammed?
If you've already agreed to move your money and now suspect a scam, get in touch with your pension provider straight away. They might be able to prevent the transfer. If the scam involves your current or savings account, contact the bank or building society immediately to see if they can stop the transaction.
You should also report the firm or scam to the FCA by calling 0800 111 6768 or by using its reporting form (opens in new tab). You will then receive information about what to do next.
In addition, you can report it to Action Fraud (call 0300 123 2040 or use the online reporting tool (opens in new tab)).
If you're feeling anxious or fearful as a result of the scam, it's important to get help. Victim Support (opens in new tab) and Think Jessica (opens in new tab) can provide emotional and practical help. Talking to the Samaritans (opens in new tab) could also be useful if you're feeling low or anxious.
Bear in mind that if you've been scammed the fraudsters may attempt to extract more money from you, and/or sell your details to other criminals. Be wary of future financial offers: speak to friends or family first, and refer to the ScamSmart website.
New rules to protect savers from pension fraud
Pension schemes will soon be required to intervene if they believe a saver is moving their retirement pot to a scheme linked to scam activity.
Where "red flags" have been raised, the provider will be able to block the transfer. Where "amber flags" have been raised, the saver will need to take official scams guidance from Pension Wise (opens in new tab) before proceeding.
Up until now, pension schemes could not refuse to carry out a transfer where a saver has a legal right to move their money. The regulations come into force on 30 November 2021.
Helen Morrissey, senior pensions and retirement analyst at Hargreaves Lansdown, comments: "Scammers rob people of their hard-earned retirement savings, and for too long schemes have been powerless to stop them. These measures are a welcome step forward in protecting savers by giving pension schemes the power to stop transfers or refer savers for guidance if they have any suspicions."
Look out for the warning signs described, and make sure you don't make any hasty decisions, to help keep your savings safe.
Ruth is a contributing editor for The Money Edit and also covers finance for Woman & Home. Ruth is passionate about helping people feel more confident about their finances. She was previously editor of Times Money Mentor, and prior to that was deputy Money editor at The Sunday Times.
A multi-award-winning journalist, Ruth started her career on a pensions magazine at the FT Group, and has also worked at Money Observer and Money Advice Service.
Outside of work, she is a mum to two young children, a magistrate and an NHS volunteer. You can follow Ruth on twitter.