How to save money at Christmas—budget tips from our experts
It can be easy to overspend during the festive period. Our expert financial journalists share their top tips for keeping your spending under control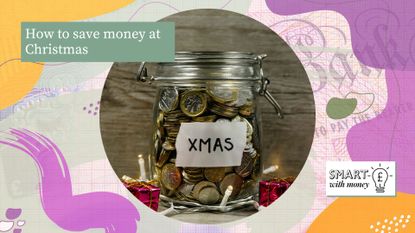 (Image credit: Getty)
It might be the most wonderful time of the year, but for many of us Christmas is also the most expensive. According to the Bank of England, (opens in new tab) the average UK household typically spends just over £2,500 a month. In December that figure shoots up to £3,240—an increase of 29% or £740 extra.
Events such as Black Friday and Cyber Monday, which are now spread over a week or two rather than one day, mean our festive spending often starts with gusto in November. However, according to eBay Ads UK (opens in new tab), as many as a quarter of us started thinking about our Christmas shopping this year in August!
Don't worry, though. It is still possible to have a very merry Christmas without the festive financial hangover if you follow these 10 easy tips for Christmas on a budget.
1. Do an inventory
A YouGov poll found that, on average, households fork out a huge £1,116 in the run-up to the big day. While gift-giving is our biggest expense, at an average of £381.60 spent per person, it is not the only drain on our finances. Almost £159.90 goes on food and drink, £200 on hotel stays, and then there are decorations and new party outfits to pay for—the list goes on.
But before you go out and buy new things, check what you already have - especially store cupboard items. The first thing to do is to delve into your attic, cupboards and drawers, dust off the sparkly heels and tinsel, and work out exactly what you have already. It will be more than you realise.
Now that you know exactly what you have, you can draw up a list of what you actually need to buy.
2. Draw up a Christmas Budget
Write down everything you usually spend money on at Christmas, and the cost. Be honest. If it helps, take a look at your bank statements from last year. This might include who you usually buy for, wrapping paper and cards, decorations, family get-togethers, meals out, extra travel and accommodation costs, and panto tickets. Remember to include everything, for example the stamps you need to send cards, the Secret Santa at work, the meal out and train tickets that accompany your trip to the panto.
Go down your list and work out where you can cut back. Can you send e-cards, book train tickets in advance and do you really need to buy gifts for all your second cousins twice removed? Think about what really matters to you and what you can genuinely afford. With rising living costs and reduced incomes, more people could find themselves borrowing money to get through Christmas. According to debt charity StepChange (opens in new tab), one in four people will struggle to afford Christmas this year.
To avoid getting into unnecessary debt, set yourself a spending target for each category. To help get started with budgeting, take a look at MoneyHelper's budget planner (opens in new tab) or the Christmas planner tool (opens in new tab) from Moneysupermarket. You can also use apps like Emma (opens in new tab) or Money Dashboard (opens in new tab) to help keep track of your spending and organise your household budget.
3. Boost your Christmas budget
Even after we have looked to trim our spending, we can still expect to pay more at this time of year. So in the run-up to Christmas, see if there's anything you can do without to help boost your Christmas spending pot.
For example, replacing your usual groceries with supermarket own-brand items can typically shave 30% off your bill. According to the Office for National Statistics (opens in new tab) the average household spends £3,312 every year on food shopping, so a month of downshifting, as it is termed, could save you £96 pounds—or even more at Christmas time.
4. Shop around for the best deal
When buying presents, make sure you pay the best price possible - this is usually online. Use Google Shopping (opens in new tab) or Pricespy (opens in new tab)to compare prices online. And if you happen to be in-store and see it is cheaper elsewhere, ask the store manager for a price match.
Make use of voucher codes for discounts using sites such as the woman&home voucher codes page. You can also use apps like Snoop (opens in new tab), which lets you know if there is a deal you can use when you're out shopping.
5. Be a savvy supermarket shopper
Smart With Money
Smart With Money is our dedicated money channel created to give you expert, easily digestible information to help you make the most out of your money.
Downshifting to own-brand items isn't the only way to save money on your Christmas shop. You could also try downshifting your choice of supermarket and head to one of the big discounters.
At this time of year, the supermarket shelves are heaving with the best Christmas food, often discounted to tempt you to buy. If you are partial to a mince pie and chocolate panettone, write a shopping list and head online instead. You will be less likely to veer off down the naughty aisle. Other good tips are to never shop when you are hungry, collect coupons for your shop, freeze items that are on sale in advance of Christmas and be aware of multi-buy deals on items. If you are unlikely to use them all by the end of the sell-by date, you might be better off buying just one.
You can also compare the price of popular items at trolley.co.uk (opens in new tab) - where you can compare the price of thousands of products across most major supermarkets.
6. Spread the cost
We all need a little wriggle room sometimes, and if you are planning to use a credit card, then look for a 0% interest card - which allows you to spend without being charged interest, as long as you keep up with minimum payments.
If you have existing credit card debt for which you are paying interest on, you can transfer it to a 0% balance transfer card with the aim to clear your debt in the New Year. You could get as much as 29 months' interest free.
You will need a good credit score to get the best 0% deals, so always ask for what is known as 'soft search' to make sure you are accepted for such a card first.
Don't spend on this card - simply use it to clear you debt.
7. Make your own presents and cards
You don't have to be Kirstie Allsopp to have a crafty Christmas. If you have the time, a homemade scarf, photo frame or beautifully wrapped food gifts such as fudge, biscuits or jams, are not only fun and easy to do, but a really thoughtful gift to give. You could even get the kids or grandkids involved with the baking, decorating or heading out into the woods for pine cones and twigs!
Brown paper and some pretty ribbon looks classy and also cuts down on the price of wrapping paper, while old cards, once cut up, make great gift tags. For more inspiration for thrifty decorations and gifts, there are plenty of videos you can watch on YouTube.
8. Opt for cheaper gifts
If you have a large family, you could suggest a Secret Santa instead with a set budget for everyone. It not only helps your bank balance, but you're more likely to get what you want and it takes the stress out of shopping for everyone. Try drawnames (opens in new tab) to set up your secret santa exchange virtually.
Charity shop gifts are also great buys. Many often sell new goods, donated to them by retailers to sell at a fraction of the usual price. You'll not only bag a bargain, but you'll also be helping a good cause. Don't forget to let the shop know if you are a tax payer so that they can claim gift aid and boost your donation by 25p for every £1 you spend.
9. Get cashback
Before you buy anything online, check to see if you can get cashback by going through sites such as Quidco (opens in new tab) and TopCashback (opens in new tab). You first need to open an account, then look to see if your retailer of choice is on there, click on the link to take you through to that retailer's website, and start shopping. Your spending will be tracked by the cashback site and you will receive a percentage back, which you can withdraw as cash or a voucher. It's free money and does not even include cashback you may already have with your current account card or with other apps such as Airtime Rewards, which allows you to save money on your phone bill.
10. Don't get into debt
According to debt charity Step Change (opens in new tab), around four million people expect to borrow money to fund the festive season, but a quarter say it will take a year or more to pay it back.
If you are struggling financially or worried about rising bills and living costs, don't risk getting into further difficulty for what is essentially just one day. Speak honestly to your family and friends, and see what fun activities you can do together for free instead.
Georgie is the contributing editor for The Money Edit and also covers finance for Woman & Home. Georgie is a multi-award-winning financial broadcaster and journalist and a trusted voice on all matters personal finance and consumer affairs, hosting a number of money podcasts and appearing regularly on TV, radio and in print.