Meghan Markle is the third royal to discuss miscarriage publicly – so why is it still a taboo subject and what needs to change?
How can we change the way miscarriage is spoken about - in a bid to help those who have gone or are going through it?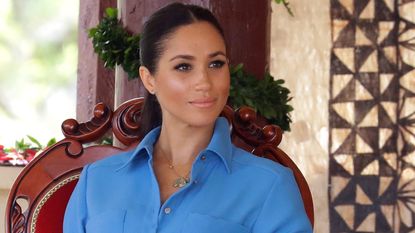 (Image credit: Kirsty Wigglesworth - Pool/Getty Image)
woman&home newsletter
Sign up to our free daily email for the latest royal and entertainment news, interesting opinion, expert advice on styling and beauty trends, and no-nonsense guides to the health and wellness questions you want answered.
Thank you for signing up to . You will receive a verification email shortly.
There was a problem. Please refresh the page and try again.
Meghan Markle has written an honest account of miscarriage for the New York Times - but the Duchess isn't the only royal who has spoken openly about it.
Zara Tindall has, in the past, spoken about her heartache over two miscarriages, while Sophie Wessex also lost a baby in 2001.
So, with so many royals talking openly about the subject why is miscarriage still such a taboo subject? And how can we support friends and family who have been through a miscarriage?
With one in four women losing a baby due to miscarriage or stillbirth, Meghan is sadly not alone. Even other members of the royal family have revealed their experiences of miscarriage.
In 2018 Zara TIndall, who is married to rugby player Mike Tindall, opened up about her first miscarriage in 2016 to the Sunday Times (opens in new tab) saying: "For me, the worst bit was that we had to tell everyone - everyone knew. I had to go through having the baby because it was so far along. I then had another miscarriage really early on."
The granddaughter to Queen Elizabeth, who now has two children Mia, 6 and Lena, 2, also announced in 2018 she had suffered from another miscarriage.
Sophie Wessex, who is married to Prince Edward, also lost a baby in 2001. At the time Edward told the BBC that an ectopic pregnancy was "about the most painful thing anyone can undergo".
It seems that Meghan's aim for the NY Times article was to widen the conversation about the subject of miscarriage - and since it was published it has given many women on Twitter the courage to speak about their experiences.
One took to the social media network to say: "I'm glad Meghan Markle spoke up. When I lost my 3rd baby I finally decided to tell people about my first 2 as well. I'd felt so alone for so long. The amount of family and friends who had lost a baby and never told anyone was insane. All those years or pain."
Another women also opened up about her loss tweeting: "Respect to #MeghanMarkle for speaking out about #babyloss. I lost my first baby + my middle boy Rupert should have been a twin, but one didn't make it.
"I rarely speak about it, but we should, because it helps others know they are not alone. We never forget our missing babies."
So, how should we broach the subject with family or friends who have been through a miscarriage? A midwife from Tommy's, a charity that funds research into miscarriage, stillbirth and premature birth, gives the below advice.
Acknowledge their loss
You may worry that you don't know what to say or think that it's best not to say anything. However, the simple act of acknowledging someone's loss can really help. Just let them know that you're sorry for what has happened and that you are there for them.
Be there to sit and listen
When someone is in emotional pain, we all feel tempted to offer encouraging words, or even possible solutions, because we want to help.
This can be helpful, but bear in mind that everyone is different and it's important to let people grieve the way they want to. Sometimes people aren't looking for advice about what they can do. They just need someone to listen to how they feel.
Try to give them space to say everything they want to say to someone who is really listening.
Be sensitive about pregnancy
Try to bear in mind that it can be difficult for people who have lost a baby when someone they know gets pregnant or has a baby.
There's no need for you to feel guilty about sharing happy news, just try to be sensitive to your friend or family member's feelings. They are probably struggling to be sensitive to your feelings too.
If you or a loved one needs help or support after a miscarriage or stillbirth you can talk to a Tommy's midwife free of charge from 9-5 Monday to Friday on: 0800 0147 800 - more information can be found on their website.
Sarah is a freelance journalist - writing about the royals and celebrities for Woman & Home, fitness and beauty for the Evening Standard and how the world of work has changed due to the pandemic for the BBC.
She also covers a variety of other subjects and loves interviewing leaders and innovators in the beauty, travel and wellness worlds for numerous UK and overseas publications.
As a journalist, she has written thousands of profile pieces - interviewing CEOs, real-life case studies and celebrities - interviewing everyone from Emma Bunton to the founder of Headspace.