Meet The Women Behind The Chelsea Flower Show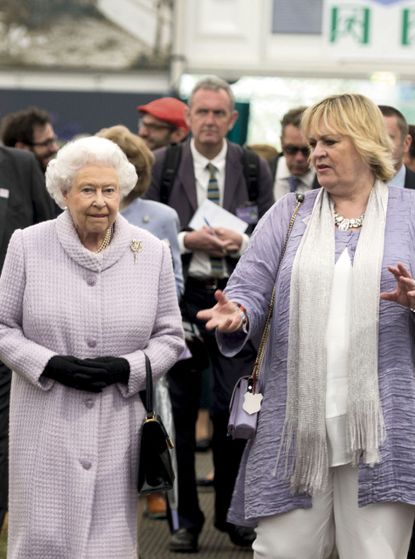 woman&home newsletter
Sign up to our free daily email for the latest royal and entertainment news, interesting opinion, expert advice on styling and beauty trends, and no-nonsense guides to the health and wellness questions you want answered.
Thank you for signing up to Woman & Home. You will receive a verification email shortly.
There was a problem. Please refresh the page and try again.
The Chelsea Flower Show will be brightening up the capital next week as the horticultural world descends on the grounds of the Royal Hospital Chelsea for 5 days of glorious gardens.
And while we can't wait to find out which garden will be awarded 'Gold' by the Chelsea Flower Show judges, these women will be at the forefront of the extravaganza - having worked for months to make sure Chelsea goes off without a hitch. Read their stories...
Sue showing the Queen around Chelsea
Sue Biggs is the director general of the Royal Horticultural Society.
'My interview was an experiece I'll never forget. I used to come to Wisley, the flagship garden of the RHS, every other weekend because I love gardening so much. I knew the place so well - but walking into the interview room was the strangest experience. The room was packed with about 20 people: presidents, vice-presidents and horticulturistsI'd followed on Gardeners World and Gardeners' Question Time, such as Roy Lancaster and Nigel Colburn - all there to meet me! It was as if my books at home had come to life.
I'd been a member of the RHS for twenty years and I love working with people. We had just finished planting up three acres at the house we'd rebuilt in Italy. I wanted a change and, at 53, I was young enough to do something else. It was about daring to dream so I sent off my application.
I think you get two contrasting types of leadership. There's the 'I'm up here, amazing and different from the rest of you' type; then there's the 'I'm just like you' type, which is more my style.
People often ask whether it was harder to progress as a woman and I can honestly say that I've never really thought about it. I had three brothers, I was a bit tomboyish and never had a sense that 'girls did this' and 'boys did that'.
As director of the RHS, I've met so many inspirational people. It's a great honour to walk with the Queen round the Chelsea Flower Show. She knows so much; every question she asks is spot on. And Alan Titchmarsh is one of the most genuine people I've ever met.
Horticulture is a great leveller. We meet royalty, celebrities and millionaires, and they'll all listen to the most junior person if they know how to sort out their gardening problem! There is a natural respect for people who know how to garden.'
Jo Thompson in her garden
Jo Thompson, landscape and garden designer, is designing the M&G garden at Chelsea this year with an all-female planting team.
'From the moment I first walked down the Main Avenue at Chelsea and saw the machinery, everyone working 12 hours a day towards the same end of making beautiful gardens, I thought, 'This is it'.
Gardening played absolutely no role in my life growing up. It wasn't until I got married, having trained as a primary school teacher, and we were living in our tiny first flat in London that I realised how spaces can be transformed. The flat had a little flat concrete space on top of our roof and when I asked the people at Clifton Nurseries, which was nearby, what could be done. They said, 'Leave it to us' and created a little haven.
When we moved to Kent after our first child, we needed help with our odd-shaped garden. That was when I realised that being a garden designer was an actual career - and I really wanted to do it. So, I investigated courses and found one at The English Gardening School run by Rosemary Alexander, which involved two days a week in London plus three days of study. Although it meant scrimping and saving, we got childcare for three days a week, then I fitted the study days into the weekend.
My first paid job was for friends with a big field of a garden. That led to a roof terrace in London that was published in The Society of Garden Designers' annual review which led to my first Chelsea in 2009. I did the urban garden in 2010, which won Best in Show in its categor, and that's when things really took off for my business.
Every day is different and I absolutely love it. I don't mind working evenings and weekends because I've found my passion, which changes everything.'
Jo's all-female Chelsea planting team
Jacqui meeting the Queen at Chelsea
Jacqui Haskins is a marketing director at M&G Investments, and international asset management company, and the exclusive sponsor of the RHS Chelsea Flower Show for the sixth consecutive year.
'When I told my colleagues that we'd been approached about M&G sponsoring the Chelsea Flower Show, many raised their eyebrows as if to say, 'Flowers?' In my five years at M&G we hadn't sponsored anything on this scale, let alone a flower show, so negotiating the deal was a bit of a risk. But ever since visiting Chelsea for the first time several years earlier, I'd fallen in love with the magic of it - and I knew how broad its appeal was.
That first year, we did the deal, launched the M&G garden, did a marketing campaign and organised all our on-site hospitality in just six months. The night before I thought, 'This may now work'. So, when the M&G garden won a Gold medal and the People's Choice Award, I was ecstatic.
Now we start planning more than a year ahead. It's become my 'baby', and, during the week the show is on, I stay at a hotel nearby to be on site from around 6am. We do all sorts, from showing clients the garden to handing out goodie bags, and we've had to contend with heavy rainstorms and hail. But the best thing is that people simply grab their ponchos and carry on.
I've been lucky enough to meet the Queen several times - it's up to her which gardens she sees, but somehow she always comes back to ours.
Every yea, I look at the M&G garden and think, 'We can't possibly top that' - and we do. This year, Jo's garden is my dream garden - there's a hugr natural pond, which you can swim in, and an amazing two-storey oak building, which is like a writer's retreat. With two football-mad sons, I can't be too precious about my own garden yet - but one day, I might create my own Chelsea-inspired retreat.'
Sign up to our free daily email for the latest royal and entertainment news, interesting opinion, expert advice on styling and beauty trends, and no-nonsense guides to the health and wellness questions you want answered.
Jane Kemp is the Features Director for Woman & Home, Woman's Weekly, Woman and Woman's Own. She's worked in journalism for many years, mostly in Women's consumer magazines, and enjoyed a long stint at Practical Parenting while her own four children were little. These days, her interests are more focussed on gardens and books, and she has taken great pleasure in seeing the expansion of books coverage in all the titles, as well as big-name authors writing exclusive fiction for Woman & Home and Woman's Weekly.