Live By The Sea: The Ultimate Coastal Homes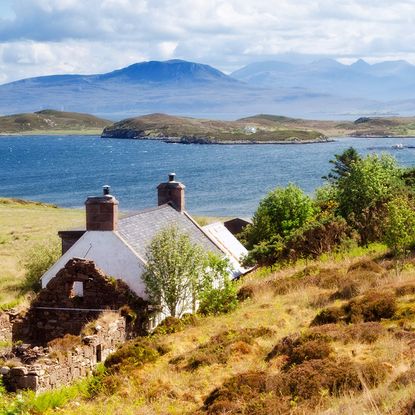 (Image credit: Tim Winterburn)
Want to live beside the seaside? Discover some of Britain's best coastal homes
Why settle for a house when you can have an entire island? Tanera Mòr is a an eco-friendly paradise off Scotland's north-western coast. A pretty whitewashed house rules over 800 acres of woodland, lochs and beaches. The sea around the island is rich with fish - including lobsters, crabs and langoustines off the coast - and this, along with sailing, hiking and kayaking has allowed the current owners to run a holiday letting business in Tanera Mòr's many traditional cottages. The stunning grounds also house a Category B-listed ruin, a café and even a post office that issues its own stamps. The asking price is £1.95 million through CKD Galbraith (opens in new tab).
Plas y Coed, Aberdovey, Gwynedd
Perched high on a wooded hillside, Plas Y Coed enjoys gorgeous views across the Dify Estuary. The best place to soak up the panorama is the outdoor terrace, which is perfect for entertaining. The interiors of this eight bedroom Victorian house, although in need of restoration, have retained many original features, including high moulded ceilings and open fireplaces. £775,000 through Strutt & Parker (opens in new tab).
Overwaters, Newton Ferrers, Devon
A boat-studded estuary, rolling countryside and a stunning architect designed house come together at Overwaters, in Newton Ferrers. All the main rooms at this four-bedroom property, which is being renovated by Stirling-Prize winning architect William Wimshurst, afford long views of River Yealm - especially the sitting and dining room and the 540 sq ft deck. The asking price is £1.55 million through Marchand Petit (opens in new tab).
Cuilan, Percuil, Cornwall
Pretty boats, slim windsurfs and luxurious yachts bob in the water outside Cuilan. This stylish six-bedroom home stands in lush, landscaped gardens on the Roseland peninsula and looks down the Percuil River to St Mawes and Place Manor. The best place to enjoy the views is the stunning garden room which has double glazed windows along an entire wall. £1.95 million through Lillicrap Chilcott (opens in new tab).
Seal House, Dartmouth, Devon
Period style meets gorgeous sea views at this Victorian home in Dartmouth. Many of the charming rooms, which feature fine fireplaces, sash windows and window seats, look out across the delightful landscaped gardens to the harbour and the sea beyond. There's also a panoramic terrace to eat alfresco and soak up the views. £1.75 million through Marchand Petit (opens in new tab).
Castle Keep, Polruan, Cornwall
Turn to one side and the deep blue mouth of Fowey river opens out towards the South Cornish coastline. Turn to the other, and secret wooded creeks stretch past Fowey's picturesque harbour. Wherever you look, this striking house enjoys magnificent water views. But the painstakingly decorated interiors easily rival with the panorama - especially the sitting room, which has a central feature fireplace with wood burner. Outside, a path leads through a sequence of terraces to the water's edge. £2.5 million, Lillicrap Chilcott (opens in new tab).
Slipper Mill Cottage, Emsworth, West Sussex
Once a miller's cottage, this six-bedroom house combines a delightful brick and washed facade with lovely interiors - particularly the open-plan kitchen - and long views across Slipper Pond. On the outer wall of the pond is a leased 20ft tidal wall mooring with direct access to Chichester Harbour that can be transferred to the cottage's buyer. £1.25 million through Strutt & Parker (opens in new tab).
Penley Villa, Kingsand, Cornwall
Set at the edge of the former fishing village of Kingsand, Penley Villa makes the most of its long, beautiful sea views. It has a fabulous wraparound conservatory and a sun-drenched patio garden - perfect to enjoy a cocktail with a view during warm summer evenings. £1.25 million through Marchand Petit (opens in new tab).
Hilton Farm, Isle of Bute, Argyll & Bute
Few places can beat Hilton Farm's views: this restored steading on the Isle of Bute looks out towards the Firth of Clyde, the Firth of Clyde and the ancient tower of Kames Castle. In particular the sitting room, with its many windows and open fireplace, is the best place to enjoy the magnificent panorama. £499,000 through CKD Galbraith (opens in new tab).
Granville Marina, Ramsgate, Kent
Granville Marina offers contemporary living by the beach. The Royal Harbour and Sandwich Bay lie at the foot of this striking, sinuous building, and each of its bright, airy apartment comes with a large balcony enjoying direct sea views. Prices range from £495,000 to £750,000 through Strutt & Parker (opens in new tab).
Carla Passino is a multimedia journalist with more than seventeen years' experience in national and international media.
Carla's primary areas of interest are political, economic and housing trends in global cities. Much of my time is spent writing about the world's prime property markets and the factors that affect it, covering fiscal, legal, political and financial issues linked to home ownership, and reporting on major shifts in British, European and international housing. Over the years, Carla has written about culture, education, interiors, farming, travel, food, wine and more.