La Dolce Vita: How To Enjoy Life Like An Italian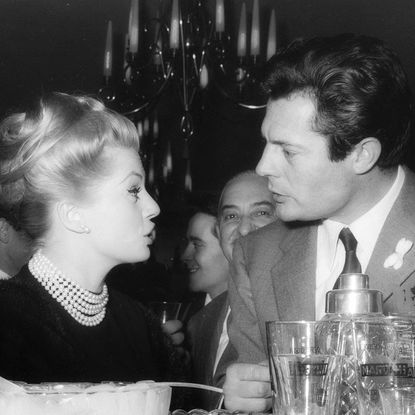 From Italian furniture to fashion and style, enjoy a slice of la Dolce Vita with our guide to living life like an Italian
Italy has never been more popular. Two exhibitions - the V&A's Glamour of Italian Fashion and the Estorick Collection's The Years of La Dolce Vita - have put the spotlight on the charms of the Bel Paese, sparking a revival for its couture, design and lifestyle. The good news is that you don't have to travel to Rome, Venice or Florence to enjoy life like the Italians do. Whether you are after chic, sharply tailored outfits, iconic cars, stylish coffee tables, unctuous olive oil or alluring scents, the best of Italy is already at hand in the UK - and we have gathered it here for you. Image: La Dolce Vita stars Marcello Mastroianni and Anita Ekberg at Milan's Terrazza Martini, courtesy of Martini & Rossi
Drive A Fiat 500
Italy's most iconic car was launched in 1957, a handful of years before La Dolce Vita, when the economy was starting to boom but many Italians still needed an affordable car. The cheeky design and reasonable cost made it a success that marked two decades. After stopping production in 1975, Fiat relaunched the model in 2007 with a larger format and a slightly more sophisticated but still adorable design. The chicest version is the 500 by Gucci, a cabriolet featuring Gucci patterns and Frau leather seats with a Guccissima print. Fiat 500 cars start from £10,160. For dealers, visit www.fiat.co.uk.
Wear Xerjoff...
Launched ten years ago, the perfume house of designer and perfumer Sergio Momo builds on Italy's flair for art and fragrance. Each perfume is a masterpiece, made with rare ingredients following traditional methods yet with a thoroughly contemporary vision. The precious scents are encased in gorgeous bottles made of the finest materials. Fatal Charme, from the JTC range, is the fragrance for trend setters - glamorous, charming women who anticipate fashion. For stockists and details visit www.xerjoff.com.
Or Acqua di Parma
Acqua di Parma's Colonia was 'the' scent to wear among Italian and Hollywood celebrities of the 1950s and 1960s. Since then, new fragrances have been launched - including the fresh, breezy Blu Mediterraneo range, which captures the scents of common Italian shrubs - but Acqua di Parma continues to ooze sophisticated charm. Acqua Nobile Iris is a new, utterly feminine scent that combines the elegant notes of Iris Pallida with citrus fruits, neroli and viola on a warm base of vanilla and musk. £66 through John Lewis.
Step Out In Dolce & Gabbana...
From their very early collections, which paid tribute to Italian cinema, Domenico Dolce and Stefano Gabbana's designs have captured the essence of Italian glitz and glamour as do these fabulous slingbacks, which feature leopard print raffia topped by gorgeous jewels and stud embroidery. £600 from Dolce & Gabbana.
Or Marni
Marni is younger than most Italian couture brands - Consuelo Castiglioni launched it in 1994 - but no less stylish. Eclectic, sophisticated and individualistic, Marni outfits stand out from the pack and this gorgeous twill pencil skirt, encrusted with crystals and beads, is no different. A real head-turner. For stockists, visit www.marni.com.
Be A Prada Devil...
It's not just the Devil who wears Prada. The fashion house has been supplying Italy's great and good - including the Italian Royal family - with stylish accessories since Mario Prada opened his luxury goods shop in Milan in 1913. But it's Mario grand-daughter, Miuccia, who propelled Prada to fashion superstardom with her groundbreaking designs and flair for innovation. In typical Prada style, these tortoiseshell sunglasses, with their tinted lenses and brown acetate frame speckled with blue, are fresh, chic and sophisticated. £215 through Liberty. And if you really love Prada, don't miss Pradasphere, a fabulous selling exhibtion of all things Prada that takes place at Harrods in May.
And Accessorise With Bottega Veneta
With its no logo policy, exquisite attention to craftsmanship and use of the finest materials, Bottega Veneta is a synonym for discreet luxe and supreme elegance. Straight off the catwalk, this snakeskin clutch in lavish gold is the perfect accessory for a glittering evening out. £1,480 through MyTheresa.com.
Choose Bold Italian Furniture...
"Italian-style furniture is all about glossy finishes, flawless craftsmanship and directional designs," explains Linda Holmes of LuxDeco.com. "Whether it is minimalist or elaborate, it exudes a confident air." Take the stylish Edge glass desk, for example. Sleek and bold, it is utterly contemporary yet can be perfectly at home in a grand period setting. £4,109 through Luxdeco.com.
And Light Up Your Home
Whether it's because of its ancient glassblowing tradition or its vibrant design scene, Italy makes some of the world's best lights. Arco is a modern classic: this stunning floor lamp, with its long arm curving up and away from the chunky marble base, was created in 1962 by two established designers, brothers Achille and Pier Giacomo Castiglioni, yet feels utterly contemporary. £1,636 through John Lewis. Image: Gionata Serra
Chill Out With A Martini...
Italy's best known vermouth was the backdrop of La Dolce Vita Years because the manufacturers, which this year celebrate their 150th anniversary, had the brilliant idea of opening several Terrazze Martini - fashionable salons with rooftop terraces that drew the likes of Marcello Mastroianni, Anita Ekberg, Paul Newman and Johanna Woodward for evening drinks and events. To this day, the brand remains popular with top celebrities, from George Clooney to Melanie Fiona (pictured). Have a Martini Rosato on ice for a sip of La Dolce Vita but if you don't like vermouth, you can try a glass of Martini Prosecco instead. Martini Rosato, £11.50 from Ocado. Image: courtesy of Martini & Rossi
Dine In Style With Alessi...
"Quite simply, we are best." Italian architect Luigi Caccia Dominioni allegedly summed up Italian design with these five words. Designers in other countries may disagree, but it's true that Italy's flair for architecture and interiors is extraordinary. Brands like Alessi have revolutionised the way we think of everyday objects, from cutlery and fruit bowls to the humble storage jar so much so that many of their designs are on show in design museums around the world, including the V&A. Love Heart espresso spoons, £19.95 for a set of four through John Lewis.
And Eat Olive Oil
Olive oil can help prevent stroke, can reduce the risk of heart disease and event tastes deliciouswhat more could you ask for? The award-winning Villa Magra Grand Cru, from Frantoio Franci in Tuscany, is very aromatic, with hints of artichoke and a marked, spicy flavour. Try it drizzled on a slice of bread that has been rubbed with garlic for a simple but yummy Italian antipasto. £19 from Fortnum & Mason.
Have A Peroni...
Channel your inner Anita Ekberg with a glass of chilled Peroni. La Dolce Vita's actress starred in the beer's advertising campaign during the years of Italy's economic boom and contributed to making Peroni one of the most popular lagers in Italy. And if you are in London between 2 and 31 May, don't forget to pop to the House of Peroni at 64 Lincoln's Inn Fields, which brings the spirit of 1960s Italy back to life with the very best in art, fashion, design - and obviously beer. For more details, see The House of Peroni.
Or A Glass Of Barolo
Barolo is one of Italy's vinous gems, an elegant, rich wine full of red fruits. This version by winemaker Luigi Oddero, which will be ready to drink from 2017, combines notes of tobacco and wood undergrowth with hints of cassis for a heady, powerful aroma. £55 per bottle through Berry Bros & Rudd. The same company also makes a more affordable, easier drinking but still delicious Nebbiolo, £16.95, also through Berry Bros & Rudd.
Make Coffee The Italian Way...
No Italian home is complete without a percolator, but this opulent porcelain pot, created by Selab and Alessandro Zambelli for Seletti, is more than just a means to making a good espresso - reinterpreting the traditional look in a modern key, it makes a strong design statement. Matching espresso cups are available. Percolator, £70, from the V&A shop.
And Don't Forget To Relax Alfresco
Italian design is all about clean, sleek lines, outdoor as much as indoor. Give your garden a sophisticated Italian makeover with the stunning, streamlined Altea swing nests by Varaschin. £1,350 through LuxDeco.
Visit The Gucci Garden At The Chelsea Flower Show
Gucci is bringing one of its most iconic print to life at this year's Chelsea Flower Show. The Italian fashion house commissioned landscape designer Sarah Eberle to create a garden inspired by its Flora motif, which was first launched by Gucci in 1966 to honour Grace Kelly and quickly became a favourite with celebrities of the time. The garden will have the same whimsical quality as the print, with what the RHS describes as a "delicate composition of flowers, fruit and insects." For more details, see the RHS website.
Read Up On La Dolce Vita
Can't have enough of Italy? Travel back in time to the years of La Dolce Vita with this photo book, which is packed full with paparazzi shots from the days when Italy was the playground of choice for film stars from around the world. £39.95 through Amazon.co.uk.
Carla Passino is a multimedia journalist with more than seventeen years' experience in national and international media.
Carla's primary areas of interest are political, economic and housing trends in global cities. Much of my time is spent writing about the world's prime property markets and the factors that affect it, covering fiscal, legal, political and financial issues linked to home ownership, and reporting on major shifts in British, European and international housing. Over the years, Carla has written about culture, education, interiors, farming, travel, food, wine and more.